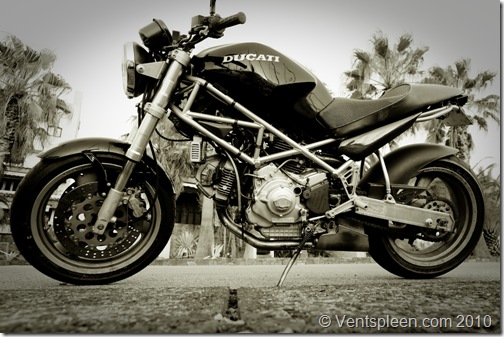 Leica M9, Elmarit 21mm Asph, f5.6 @ 30 sec 160 ISO. (Lightroom preset 'Nostalgialicious')
The thing I noticed most when I first saw Ducati's new Monster M900 was that incredibly wide back tyre. Of course I also noticed the massive twin discs and upside down forks. It even had trick little carbon side panels. Even when it was stationary it looked like it was going fast. It looked pretty bloody good back in 1995. It still looks pretty good today too.
My first impressions on riding it was that it was totally planted. It went around corners as if on rails soaking up bumps and completely ignoring irregularities in the road. Even when I opened the taps a bit I soon realised that this bike had very high limits and I wasn't anywhere near them. I doubted I could even get close to them. This kind of realisation makes riding a Ducati special.
The power was fabulous, even though there wasn't really that much of it. 85 hp is not very much by today's standards and the engine doesn't rev very high. There isn't even a rev counter. But it's got grunt, an immediate rush of power no matter what gear you're in. It's quite possible to ride a Monster very fast without even having to change gear very often.
Then there are those brakes. Awesome is the only word for it. Just the pressure from one digit will pull you up fast and true from any speed. The brakes hiss when applied. I have never heard that before.
Being a short bloke who only weighs about 60 kilos has a large bearing on the kind of motorbike I can ride. One of the good things about the Monster is the low seat height but it's also very light at only 180 kilos so that low hp figure is somewhat misleading. My old 400/4 Honda weighed as much and had only half the hp. A mate has a Bandit 650 which has the same hp but that weighs 50 kilos more than the 900cc Ducati!
OK, so it's not really a bike to ride long distance, with no fairing it's just too tiring, but if you want to ride far buy a Honda Goldwing or a BMW. The Monster is about enjoying yourself. It has no redeeming practical features at all. The pillion position is terrible and neither comfy for the rider or pillion. The grunty nature of the motor and the amazing brakes means you're constantly being nutted by your passenger. There isn't room for a spare change of pants even.
It has a lousy turning circle, thanks to the shape of the frame and this can be annoying in town but here's a clever way of turning the bike around. Out on the open road it's never an issue and this is where this bike was designed to be, not in a car park. It's quite economical and the quoted 17 kms per litre is about right. This means about 100  – 120 miles on a tank. Not a huge range but like I said if you want that kind of stuff you need a different kind of bike.
The funny thing is, I was always a Japanese bike man. I liked high revving, small multi cylinder bikes. I had ridden plenty of other bikes of course but all the big twins that I rode vibrated and made my vision blur and I didn't like the way the engine snatched at low speeds. I didn't even particularly like the sound they made. They were also pretty heavy and that's no good for a little bloke so I was always happy with a 400 or 500 cc bike. Anything bigger would be too much for me in every sense.
A year with the Monster has changed this attitude completely. I never knew that a big twin could be so light and agile. I have to remind my self that I am riding a 900cc bike. That's a big capacity engine. Bike insurance might be expensive but I'm now of an age that makes a real difference. A clean licence and plenty of no claims bonus helps too.
I really do feel at home on the Monster. It might be a 900cc bike and capable of going like one but it feels much smaller when you're riding it. You don't have to ride it like a nutter to get satisfaction from it unlike the Monster 696 I tried. Far better to have a quick bike that you can ride slower and still enjoy. If you want to ride fast you can, the Monster is a very capable bike in the right hands.
It's always a treat to be able to keep up with the serious boys on their new road rockets. They always seem surprised that such an old bike can do so well against their modern high tech ones. They are even more surprised when they get overtaken coming out of a bend. That instant power delivery from the Monster's twin means that while their motor is just winding up towards the power band, you're already in it and it can make a big difference.
On paper the Monster M900 doesn't appear to be any kind of threat to any of the latest bikes of a similar capacity but in the real world it does very well thank you. There are some who say that Ducatis are too expensive or unreliable. The bike I am riding is 15 years old and it has been reliable for the year I have had it. Everything still works. There is no play anywhere and the chassis and running gear still feels very tight.
The Monster is an iconic bike. It has influenced the look of many of the bikes on the road today. It has it's faults but when it comes to smiles per miles you can't do better. If you want a bike purely for the pleasure of riding and don't need any practical aspects why not try an original Monster? Low mileage old ones can be bought for a fraction of what they cost new. These were very expensive bikes when they were first sold.
Recently I hired a Ducati 696 for a weekend and although it was a very competent bike, I felt it was trying to be everything to everybody and had lost some vital element. Given a choice between a brand new 696 or my 15 year old M900. There's no contest. I would take the original without question. It's a great bike and a true design classic.