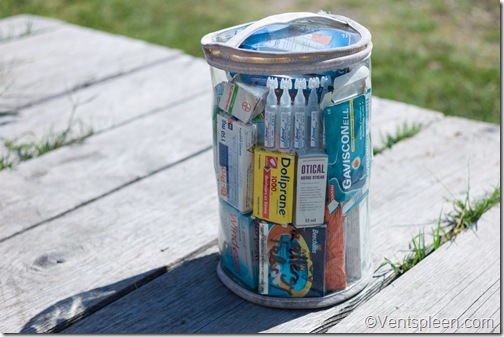 Here is one of things that once you use it you wonder how you managed before. Imagine, you want an Aspirin but it's somewhere in the medicine bag but where? With a normal bag, you'd have to open it up and rummage and if that didn't work then you'd have to tip it up and empty it and have to replace the boxes and tubes so that they go back in. All in all one can waste a lot of time looking for things. With the amazing transparent bag you can immediately see your Aspirins and do not have to take every thing out to get to it.
We have two transparent bags, one for medicines, sun cream etc and the other is for the clothes pegs although it doesn't really have to be transparent as we would recognise it from it's colour and shape and location on the boat but in principal if someone wanted a clothes peg I could tell them to look in the cupboard under the sink and they would immediately see which bag had the pegs in.
The medicine bag has a zipped top with a built in handle but this is more difficult to make as you have to sew the zip in a circle. The edges are covered with a binding. Perhaps easier would be to place the zip along the longest side so it would open like a pencil case. The peg bag has a strip of velcro to keep it shut.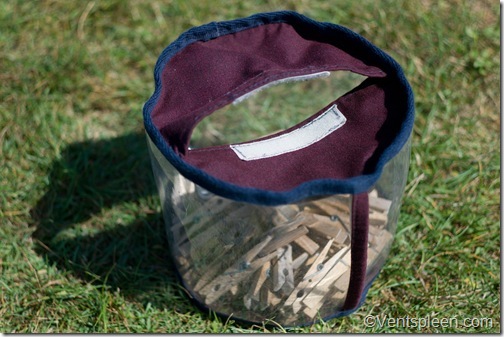 The transparent material used is the same as used for spray hoods and restaurant enclosures. If you are clever you might find that you can get this for free from your local sail maker because often there are pieces on the roll that are not quite perfect and can not be used. They are of little interest to sail makers. Silly really, they could knock up transparent bags like this and sell them!
The binding just makes it look nicer than a rough raw edge of cut transparent material although it adds nothing to the structure of the bags. They can be made in most shapes to suite your needs or the space the bag needs to go into. They don't have to be round but round is easy to make and usually stows fairly well in a boat. They could even open at both ends.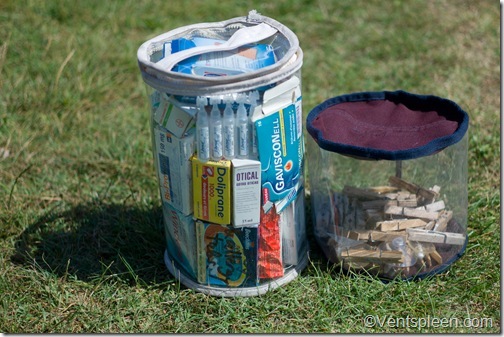 The material is tough. These examples are three years old and are showing no signs of falling apart. They are not completely waterproof because of the zip and the seams but aren't bad. Because the material is fairly stiff these bags tend to hold their shape well and do not collapse.
Of course they are not just ideal on a boat they must surely work well anywhere.