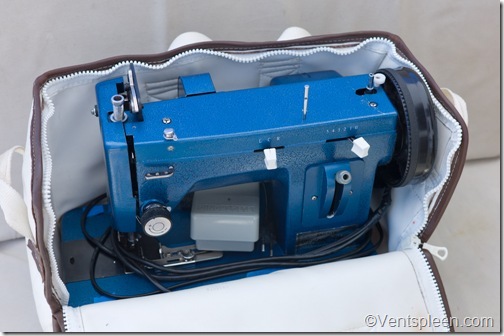 At 22 kilos the LSZ-1 is no lightweight machine but it compensates by being very compact and by having some very good features. It can sew straight stitch or zigzag. It has a walking foot which ensures excellent feeding of the most demanding materials regardless of thickness. This walking foot also ensures very even stitch length. The way to measure stitch length is to measure a few at a time and then divide. As the LSZ-1 can make 6mm stitches, four in a line will be 24mm. The consistency is amazing.
Normally the LSZ-1 is stored in it's supplied vinyl covered mdf case but it is much too bulky to actually store anywhere on the boat so I replaced the enormous and frankly cheaply made box with a simple and considerably smaller wooden base. (see below). The machine is stored in a soft case with handles. It's still a fairly bulky bit of kit to find a home for on a small boat but it lives comfortably in the hanging locker on a shelf quite low down.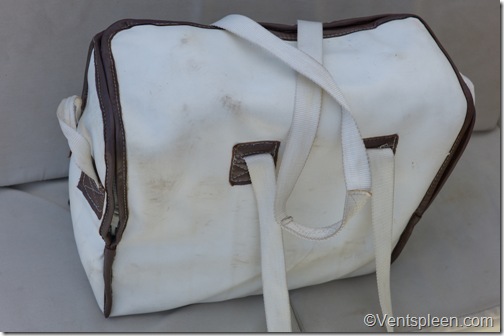 The 'soft' case bag we made for the LSZ-1 now looking a bit tatty after 5 years.
The whole machine is made from metal. there is the odd bit of plastic but only for knobs. Looking at the construction one is led to the conclusion that this machine has evolved. Some of the parts have extra reinforcement welded to them, one suspects because over the years parts have failed consistently and have been modified so that it doesn't happen again. This is a quite crude approach to an engineering problem but we're not talking rocket science here. What we learn is that Sailrite have been listening to their customers and have been slowly improving the machine.
One reason why the LSZ-1 is so popular and works so well is because Sailrite supply the machine with a couple of DVDs which explain in great detail how to use, adjust and even maintain your machine. Sailrite are one of those rare companies that actually remember on a daily basis that the only reason they exist at all is because of their customers. Consequently, they could not be more helpful nor more efficient. If you have a particular problem that isn't covered on the DVD you can call Sailrite and if needs be, they will create a video of your particular issue so that you can understand. Obviously, these videos then go up on their site for others to share.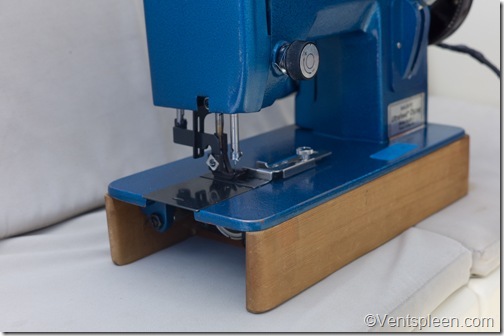 The wooden support I made for the LSZ-1. It is made from spruce so is very light. The left hand side is completely open to allow access to the bobbin assembly. Takes up considerably less space like this than with the huge and ugly standard base/box.
With the machine so simple, the mechanics so robust and reliable and with Sailrite's excellent customer service behind it, the LSZ-1 is a very good choice of machine for someone who has out grown the capabilities of a domestic machine. The LSZ-1 is not particularly powerful, or rather it's 75 watt motor is a bit puny but it has a double belt system which gears down the machine and gives it quite a bit of torque. It can easily sew through Eight layers of Sumbrella fabric. In fact the machine comes with the original test pieces so you can see and admire the amazing quality of the stitches and the incredible thickness of cloth you can sew through. Equally it has no trouble sewing leather, rubber, windows in sprayhoods or almost anything really.
The LSZ-1 is easy to use although it could be easier. For example it would be nice if the thread did not have to be pushed through so many holes. Above the needle there is a hole to put the thread through which could so easily be replaced by a hook removing the need to actually thread it. There is no thread cutter at the back of the machine and I find this a strange and frustrating omission, as to cut the thread you have to use a pair of scissors.
Thread width and length can all be adjusted infinitely and the machine can even sew very fine thread and materials surprisingly well. There are no end to the accessories you can put on the LSZ-1. There is a heavy crank handle that can be fitted so that the machine can be used by hand. It can be left in place and used with the motor to make the machine smoother but it does add more weight. You can buy binding attachments, guides, different feet, lights etc. All in all, there isn't much that an LSZ-1 can't deal with given a big enough needle. The LSZ-1 uses 135 x 17 sized needles. They do not have a flat on them and must be carefully positioned in the machine by eye.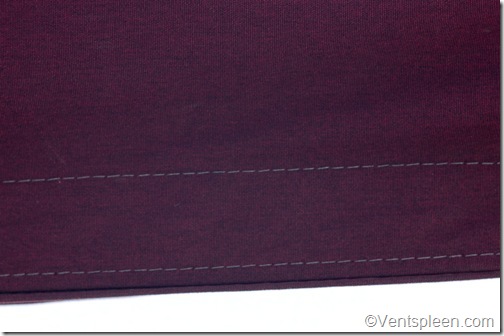 This pic shows the even stitching that the LSZ-1 allows.
Where the LSZ-1 falls down is in the details. The basic machine is solid and made to an adequate standard but the bits that attach to it could be massively improved. The worst thing about the machine is the pedal which looks cheap and nasty and has a rough action. In use the pedal seems to be more on/off than variable. We asked Sailrite for another pedal as ours was so bad. They duly sent us one but it was just as bad. In the end I modified a smoother and better quality pedal from an old Singer machine and now the LSZ-1 is very smooth with a nice controllable speed. That said, a friend has one of the original pedals and it seems to work well enough so I guess we were just unlucky.
When winding bobbins you must disengage the motor and this is done by simply pulling a pin at the crank handle end. The pin in question has a ball bearing in the end which supposedly locks the pin in place in normal sewing mode but it has an alarming tendency to suddenly fly out and fly across the room. This never ceases to shock the user of the machine and amuse onlookers. The system works most of the time and it is indeed simple and maintenance free but could be improved. If one was working on a pontoon and that happened, it's quite likely that the pin might end up in the sea. Naturally we have a spare for this inevitability!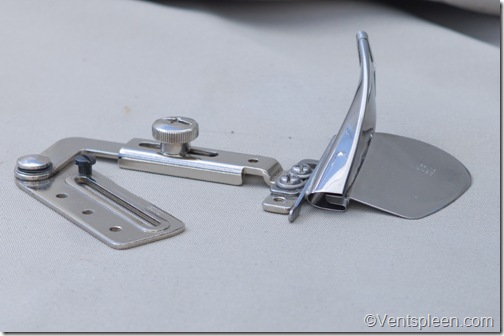 The swing-out edge binding tool, just one of many accessories that are available for the LSZ-1.
The LSZ-1 has a few metal covers that can be easily removed with just a couple of screws. The cover for the motor belt at the back is poorly made and flimsy and liable to damage but could easily be dispensed with. No doubt they fit this to comply with safety regulations.
Having sorted out the pedal the LSZ-1 has since been excellent. We've had it five years and in that time it has done a lot of hard work. It has had to be adjusted a few times and it is oiled frequently. Once it is set up well it is a tireless machine which sews extremely well mainly due to its walking foot design.
Spare parts are always available and you can buy service kits that contain the most commonly required items. It is available in 110V and 230V versions. There is even a straight stitch only version called the LS-1 but I can't really see why anyone would buy that when for just $200 more you get the Zig Zag option too.
There is another machine on the market which is almost identical except for a few small details. It's called the Baracuda and can be bought for about half the price of the Sailrite version. One has to wonder why it is so much cheaper. Maybe it does not have the modified parts within that the LSZ-1 has. Certainly the crank wheel is not the same and has a much smaller diameter. This would make the Baracuda faster but less powerful. It doesn't seem to come with a case, although it does have a very excellent table extension that attaches to the machine. It does not come with the DVDs or such a comprehensive tool kit but $400 cheaper is a powerful argument.  My guess is that it will be an excellent machine, maybe not quite as good as the LSZ-1 but not far off. If you have one, please tell me what you think of it. Biggest draw back that I can see is that is only available in 110V. Reliable, who make this machine have been around for over 50 years.
Conclusion
Pro: A robust and reliable machine with all metal parts. Compact yet heavy. Excellent video help guides for using and adjustment. Superb company with brilliant customer service. Walking foot makes for extremely consistent stitching. Easy to maintain and repair yourself.
Con: Ugly, poorly made and bulky carry case. Weak metal covers and lame pedal. Lacking some basic features.