The sailing regatta at St Tropez in October is always fun. It's the last one of the season and everyone is looking forward to a well earned break at the end of it. Frankly I don't know how the crews do it, racing everyday and drinking every night. They do this for 6 months of the year but at St Tropez it gets a bit mental. The atmosphere is excellent and there's always something going on.
This year, I met the team from airmotion.ch through a friend. They have a remote control drone that enables filming with a new and unique view that often can't be obtained any other way. The 'drone' they use is cutting edge and full of electronics which enable the camera platform to always remain level thanks to a pair of gyros. It can rotate, tip up and down and sway from side to side. Obviously there is also control of the platform remotely as well. 
Naturally I offered my new Fliptail dinghy as a perfect subject to film and they were happy to oblige as they were looking to build up their portfolio with interesting subjects and besides they are young with tons of energy and so we set off with fresh batteries to Port Grimaud, a kind of French Venice with canals and houses with boats moored at the end of the gardens. Amazingly it gets over 1,000,000 visitors every year. What better back drop to film a small sailing boat?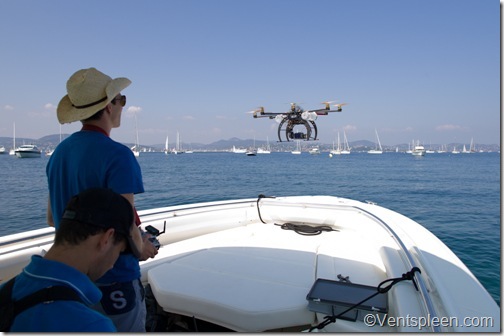 The boys from airmotion fly the drone from a boat at sea. That takes balls! Note the extremely high tec floatation devices attached to the drone. (water bottles filled with helium for extra lift. Not really, I just made that up!)
The drone has 8 arms and at the end of each is a brushless motor driving wooden blades, with a mix of left and right handed rotation. The whole thing weighs about 5 kilos and can lift almost its own weight in equipment. The very expensive Lithium Polymer batteries need special care as they are liable to exploding or bursting into flames if not respected. They are even charged in a special fireproof box. Everything about the drone is high-tec.
It can fly as high as 3 kilometres! but at this distance you can no longer see it so must rely on its built in GPS to bring it home. It can move forwards at speeds of up to 60 kph. It can stay aloft for as much as 10 minutes on one battery but normally less to ensure a decent safety margin, after all, you don't want this highly expensive and fairly delicate tool to fall out of the sky. The whole bundle, which includes, cases, chargers, spares, batteries, video screens, computers, cables and connectors represents a hefty investment.
What makes the drone so interesting is where it can go and how easily it can be transported to any location. The obvious uses are for all sorts of aerial photography and also for film making but with different cameras attached could even be used to film buildings with infra red to see what areas need better insulation. It's uses are only limited by the imagination. The drone isn't silent, those 8 blades thrashing the air make some noise and moves a surprising amount of air and in fact twice we heard someone say that it was noisy but I'd rather listen to the drone for 5 minutes than a helicopter for 1 minute. It's really not that loud but can't be missed, at least at low heights.
A helicopter is all very well but they are hideously expensive, to buy, own and maintain, never mind the huge amounts of fuel they use. If you wanted your posh villa filmed a helicopter could do it, probably with only one pass only and it will be very expensive. The drone has the added advantage that the customer can see the view from the drone and get involved with the end result.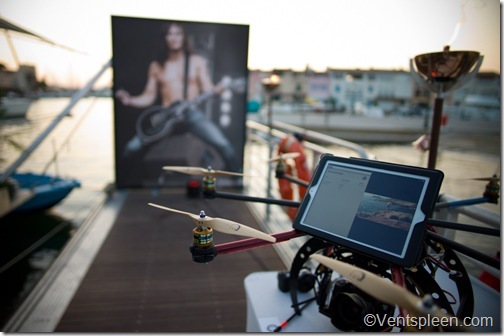 The drone on display at Port Grimaud. It has red and blue led lights so you can see it easily when flying it at night. Seems strange to see wood on such a technical bit of kit but they cut flesh much less than the plastic ones I'm told.
Airmotion's drone is a serious and professional bit of kit with a wingspan of over a metre. This gives solidity and stability. Even with the drone flying about all over the place the image remains stable and smooth. There are not many of these drones about and there may not be. The reason is more to do with the skill needed to fly one of these things than the financing required although that is a major consideration.
It costs 1000€ a day to hire the drone which seems expensive until you consider the alternatives and if the alternatives can't work where you are for any number of reasons, then a drone might be the only realistic way to get the job done. When you consider that you are paying for one pilot and one artistic director/photographer and the use of a very expensive bit of kit it starts to look like very good value indeed.
We had a lot of fun and attracted hundreds of people which leads me on to the main disadvantage of this as a photographic tool which is that people will point, stare and take pictures of it. It never occurs to them that here is a big bit of kit flying at speed with no less than 8 fast rotating blades (they are not called blades for nothing!) and seem to have no fear.
On one trip we did at sea one old man on the foredeck of a French cruising boat dropped his pants and stood there proudly presenting his manhood for us to film. Maybe the novelty will wear off but I doubt it. There is no doubt that airmotion will have a lot of success in the south of France if this week is anything to go by. If you need their services, just get in touch. I am sure they can help you.