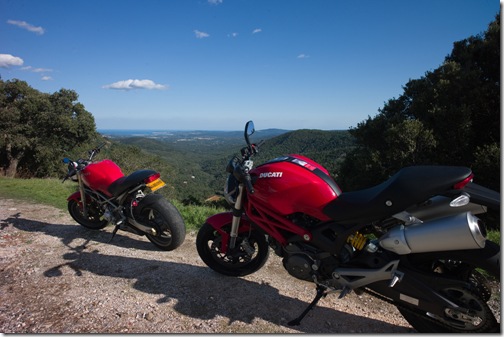 Leica M9, Elmarit 21 asph, f8 @ 500 sec 160 ISO. Collobriere, France, October 2009
Last October my brother visited and we hired a new Ducati Monster 696 with the intention of blasting around the French countryside. Although I am very happy with a M900 Monster I was keen to see what 15 years worth of evolution had done for the beast.
First impressions are of a tight, well engineered nimble bike with quick steering but with harsh suspension. It would have been nice to be able to adjust the set up for my light 60 kilos. The new Monster is aimed at everyone so I wasn't surprised that the suspension was firm. But I suppose better too firm than too soft.
The engine was smooth and the bike quite comfy, all things like switch gear and mirrors worked well. The engine certainly revs but it lacks the bottom end grunt of the M900. Brakes worked well as you would expect from a Ducati. The noise was disappointingly quiet but that could easily be turned up with some aftermarket Termis, no doubt it would also liberate some power as well as some decibels. The engine feels restricted to me with a very flat power curve though it revs freely and now and then the rev limiter would kick in.
To be honest I didn't like it. That's an awful thing to say I know. I really wanted to but after riding it I just don't. What got me most of all was the harshness of the ride. The M900 soaks up bumps with ease and is surprisingly comfy to ride even on rough roads but the 696 jars and crashes over the smallest irregularities in the road which makes riding it very tiring. I also found the throttle very snatchy and hard to use smoothly, maybe this could be adjusted by a remap or maybe freer pipes.
You can see the family resemblance easy enough but I don't like the plastic feel that it has or the LCD display. I mean, plastic tank covers which are really flimsy too. I know you can change it's colour easy enough but that's not reason enough to have so much plastic everywhere. I know that plastic is lighter too but it's just so nasty. The headlight is a split screen affair that most people seem to like though it looks too plasticy to me.
At one point I took it out on my own to see what I could do with it down a favourite winding road. Suddenly it all made sense, the stiff suspension is needed when you're sweeping at high speed around the bends but who wants to ride like that all the time? Plus, I had to shift my feet on the pegs as my feet kept touching the road which was really annoying. The pegs are far too low.
It seems to me that Ducati have tried to create a bike that can do everything for everyone but it certainly didn't work for me. Taking the bike back to Columbus (Excellent Ducati Rental) should have been a great trip along the sea front all the way to Cannes. This is an awesome bike road but by the time I arrived I couldn't wait to give it back, it was so uncomfortable and my wrists were sore from the jarring ride. I have heard that the Monster 1100 is a completely different beast. Maybe I should hire one of them next time! That or the Street Fighter.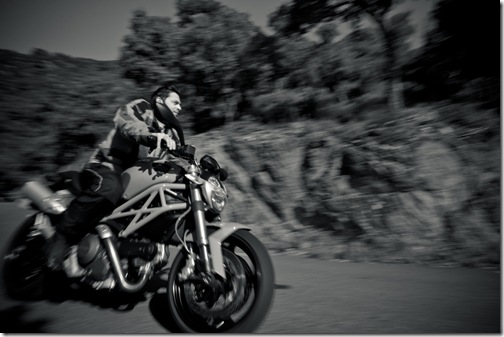 Leica M9, Elmarit 21 Asph, 80 ISO f11 @ 125 sec Ducati 696 Nr St Tropez, France. October 2009