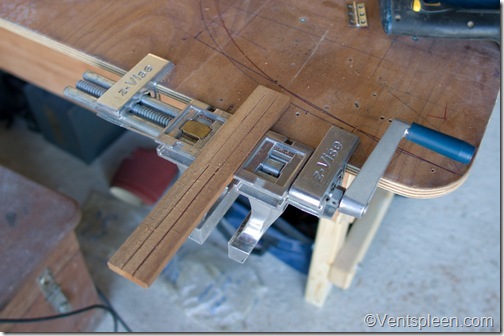 The Z Vise mounted upside down on the bench.
Rather than bore you with words, I suggest you watch the following video to really see what the Z Vise is about. Talk about versatile, it has over 20 functions, some of them very clever indeed. Watch the vid and I'll discuss the vise afterwards
As you can see it's an impressive bit of kit. True, the guy demonstrating the vise is a consummate pro and has obviously done this a few times but there's no denying that the Z Vise could come in very handy.
There are a few issues. For example, it seems like a vise like this is the answer for those who sail, the perfect tool for holding stuff while you work. This is true in a sense but don't forget that to make the most of this tool, you do need a surface to put it on. What I mean is, you could attach it to almost anything but many of the vise's functions require that there is a good surface behind the vise to support the material you are holding. Mind you, even without a work surface the Z Vise is still very useful.
There is a handle that is used to tighten the vise, it is not fixed which means that the vise can be used even in the centre of a work top, although this does make using it a little awkward. As in most things there's a knack to it but if you do the vise up tight, you may find that one 3/4 turn is not enough to release the work. The best is to place the vise at the end of a square table. If the table has rounded ends you won't be able to clamp it near enough to the edge to get the handle to swing 360. Perhaps it would have been better if they had extended the handle a couple of inches at the cost of a little less portability?
The Z Vise comes in a plastic case. The pieces are cleverly packed so there is little wasted space but there's no getting away from the fact that it's a big package although not excessively heavy.
It's strong. It might be made from alloy but it's well designed and made from quality metal. Besides it carries a lifetime guarantee that says much for the product. However I suspect that most people buy a Z vise after seeing a demo like this at a DIY show and feel that they have to have it but then barely use it. This is probably the reason why there are so many for sale on ebay and similar sites. There's no need to buy a new one when there are so many out there in perfect unused condition! I bought mine for £80, it was old but in an 'as new' condition.
Since I've had the Z Vise I have used it a lot. It is a brilliant and very clever bit of kit. I have used perhaps half of the functions. I doubt I will ever use the others but you never know. Just the other day I was short of a clamp so used the Z Vise. It was perfect and I could put a lot of pressure on it. For the price it's very good value.  Highly recommended.