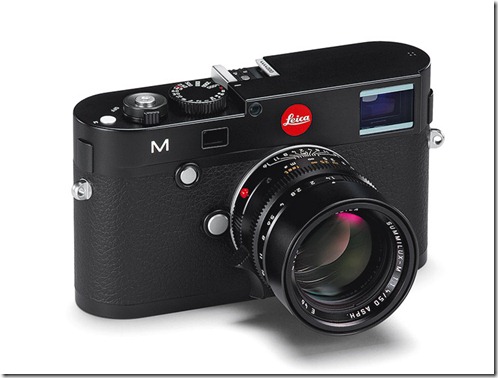 It's hard to believe that's it's coming up 4 years since I have had my M9 but time flies and now Leica have brought out the M9's successor, the M or as most people are calling it, the M type 240 or even the M10. It's all a bit confusing. Leica always go their own way and I'm glad they do or the M9 would never have been made! However I do feel like they have shot themselves in the foot by simply calling it the M. It's never easy to understand the thinking behind these things but you can be sure of one thing, if Leica chose it there will be a good reason behind it.
The name thing could turn out to be a very clever move. Consider this: The M 240 is surely the last evolution of the M3 which first came out in the 1950s because there is no where else to go with it. The screen is as big as it can be. The viewfinder now has led frame lines. Any big changes they make will turn the M into something else. So with this in mind Leica can upgrade the M 240 without needing to introduce a new model in the future. The sensor could be upgraded and with firmware updates the M 240 can be kept fully modern. If this is the case, I like it. We live in such a disposable world these days that it is a nice thought that one could buy the M 240 and keep it for decades while never losing out on the latest technology.
When the M 240 was first mentioned I was excited. It sounded perfect. Like Leica had taken all the things that annoyed M9 owners and fixed the lot but I suspect I was just being swept along by the positive reviews and comments. Unlike many others I quite liked the idea of being able to do video and to use R lenses but now that the novelty has worn off I am not so sure.
To work out whether or not I was being objective I went back to the reason why I love my M9. I love it because it is full frame and compact. The M 240 is 10% bigger and 10% heavier. That might not sound a lot but I consider the M9 to be at the limit of what constitutes a light and compact camera so that extra 10% in size and weight will be noticed by me. It is a real shame that Leica have not tried to reduce the size of the M 240. Every evolution of the M seems to be bigger than the last. Just hold an M6 in your hands and then handle an M 240 and you will realise just how much bigger and heavier the Ms are getting.
My original idea was to buy an M 240 and put the 21mm 3.4 on it. That way I can use the extra ISO ability to compensate for the lenses lack of speed. I would keep the 50mm 1.4 lux for the M9. I wouldn't have to change lenses and that would keep dust off the sensor. But the reality is that I would never use my M9 again as my most used lens is the 21mm. So if I wanted two lenses I'd have to carry two bodies. That's just silly. For me, the whole point of an M camera is that it is compact enough to be carried on my person at all times. (here's how I carry my M9) I have another small pouch that carries one lens and it goes on the same belt as the camera.
All this talk of high ISO seems to me to be rather pointless. How quickly we have all forgotten how we would be happy with a film of 100 ASA with no chance to change it yet now even the M9 can take perfectly good pictures at 1000 ISO, already three stops better than we were used to. But the bottom line is that photography is about light. If the light is so poor that you need 3200 ISO then chances of getting a good picture are slim anyway. Maybe many use the extra ISO to allow a faster shutter speed but that has rarely bothered me with an M camera as a steady hand can easily allow shots taken at 1/15". What I am saying is that I think the extra ISO is overrated and not reason enough to buy the M 240.
The new M is weatherproof. Well, from what I have experienced and heard from others the M9 had no problem being outdoors in the wet (within reason obviously) and after all Leica have long said that their cameras will work in any conceivable situation that you find yourself in so a bit of dampness has never been a problem and it is rare that I find myself taking pictures in the rain so again, this is something that is nice to know but has yet to be a problem for me with the M9.
The video option is certainly intriguing but again reality steps in. For much much less than a M 240 and lenses there are a lot of purpose built cameras that can do much better than the Leica. Many of which have image stabilisation and other clever features like zooms. Of course one could use the R adapter and use it to make video but for that kind of money it would be possible to buy some really choice video equipment.
The R adapter is another feature that seems helpful but that would mean having the lenses in the first place or buying them if you don't. More expense and for me, the simpler the camera and the fewer the lenses the better. Anything that stops you taking pictures should be avoided.
This brings me on to one of the main reasons why I won't be buying an M 240. It takes almost two seconds to boot up. This is ridiculous. The M9 boots up in a flash and can take pics almost immediately. If you want to miss the moment get a camera that doesn't boot up immediately. I know because the Digiliux 2 I had was the same and it was extremely annoying. For this kind of money this is very poor.
Then there's the max shutter speed of just 60 seconds. This is useless. Even the M9 can manage 4 minutes and often that is not enough either but it's a lot better than 60 seconds. I love taking long exposures at night so with the M 240 I won't be able to. Like the time it takes to boot up, it's another situation where the M 240 has gone backwards.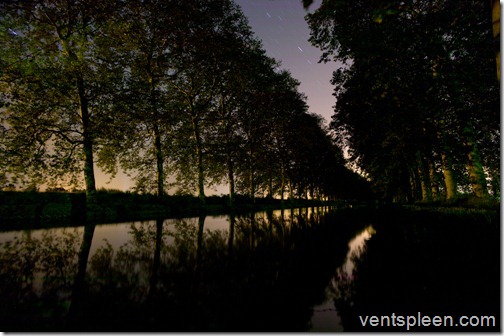 With a maximum 60 second exposure time, shots like this with lines made by the movement of the stars will no longer be possible.
Personally I care nothing for the bigger screen or live view. These are just toys which distract you from taking pictures. With decades of practice I can focus an M while another photographer is still deciding what kind of auto focus would be best for the situation. If Leica removed the screen and the menu I would be quite pleased especially if it meant they could reduce the size and weight back down to M6 levels. (here's an article about a Leica M with simple features and if the comments are anything to go by, I'm certainly not alone in liking this idea.
Everyone is going on about the new menu. Well I never had any problem with the old one. I mostly set the camera once and never touch it again. I used to use the profiles when I first got the M9 and was forever using the wrong profile. It's just too easy to forget to return the settings after use so an improved menu is of no gain to me.
More battery capacity? This has never been an issue for me in the past and if I thought I might be taking hundreds of pictures I could just take along a spare battery. And that leads me on to yet another reason why I won't be buying an M 240. Yet another set of batteries, cables and chargers!!! ( Here's a suggestion for an emergency battery on the M9)
And lastly, I really don't like the look of the M 240. I love the way the M9 is cut away at the outside by the viewfinder, although it doesn't reduce the dimensions particularly it does make the camera look better balanced and smaller. The new M 240 is not as good looking as the M9 and the new bigger central red dot is just showing off.
Now I don't know about you lot but I wouldn't consider that I take a lot of pictures, maybe 4000 shots a year but even that makes for a hell of a lot of storage. To keep back ups and back ups of back ups means a lot of hard drives. Even bigger files means even more storage issues. I have managed to make amazing prints over a metre wide from the M9 so there is really no need for anything bigger. I tend not to crop so there's little advantage for me with bigger files. 
Conclusion
Although the M 240 has bigger files and higher ISOs it is bigger and heavier, takes longer to boot up and can only manage a 60 second exposure. The screen is bigger and it costs more. The M9 was a fantastic camera when it was launched and it remains capable of taking amazing images. It is a classic. I'm not convinced that the M 240 offers big enough improvements over the M9 to justify buying one. Sorry Leica but here's one Leica fan that won't be buying your latest offering.