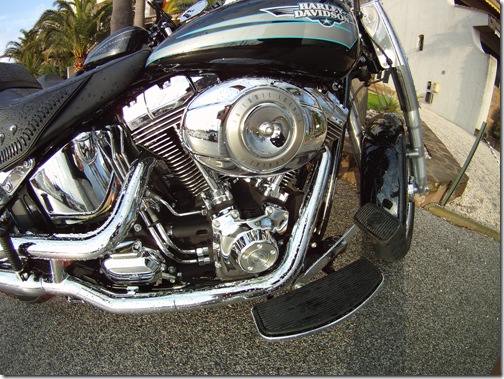 GoPro HD Hero in camera mode. File size for each picture is nearly 2 meg. Quite a lot of distortion here but the camera was only about 50cm away.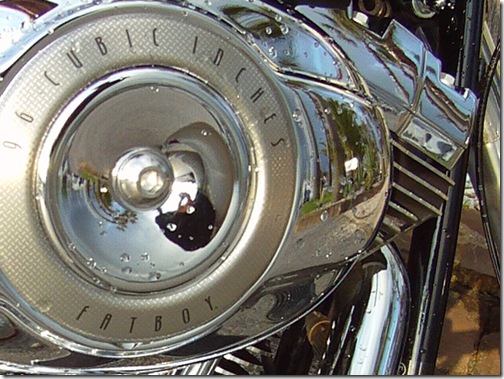 GoPro HD Hero a 100% crop of the photo above. Click on the images to see them bigger. Not bad for such a small package. These images are completely untouched and straight out of the camera.
When it comes to images, I am much more a 'stills' man. There's something magical about capturing a fraction of time. That said, sometimes it's nice to have a movie to watch. I used to have this function on my old Leica Digilux 2 and did use it from time to time. The resolution wasn't very good and I couldn't film on the boat when it was rough which was when I really wanted to.
Then I discovered the GoPro HD Hero video camera. It almost seemed too good to be true, here was a high res video camera that could film for over two hours and was only about 300€. If that was all it would be good value but this camera is also very small, just a couple of inches long. The HD Hero also comes with a waterproof housing that allows filming right down to 60 metres! I'm no diver but it does mean that I will be able to use it in the roughest and wettest conditions at sea and it's reassuring to know that it will still be working on the sea bed if I lose it overboard!
It all seems very nicely put together and clever. When filming, the lens gives a choice of two wide angle views, either 127 degrees or a massive 170. It has an aperture of 2.8 so works even in low light situations. It acts as a hard drive when plugged into a computer so there's no special software or drivers needed.
The interface is a bit awkward but when there are only two buttons to press for all the functions, this is not surprising. Like most things once you get the hang of it, it gets easier to use. Luckily most of the default settings are logical so there's not much to do to get it working.
There is a small LCD screen on the front for the menus and settings but there is no screen or viewfinder. Luckily the super wide view means that setting the camera up just 'by eye' works fine. GoPro are talking about a screen that can be snapped onto the back of the camera but it is not available yet.
Enough about the technical stuff, if you want to know about that kind of thing, visit their site. I'm going to discuss stuff that you won't find there.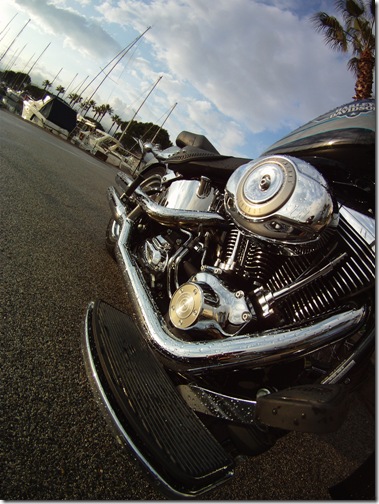 The quality of this little camera is very good. The lens is sharp and not too distorted considering the massive viewing angle. For the price, I doubt you can do better. It seems like very good value to me.
It has some nice features and can be used as a 5 mega pixel camera too. You can also program it to take photos automatically starting from 2 secs interval. This means that you can create some quite funky time lapse stuff or capture the moment without even having to think about the camera. If you take 1000 pictures, for sure a few of them will be excellent.
It takes surprisingly good, detailed and sharp pictures as you can see from the examples. My only quibble is that it is hard to know exactly when it takes the picture as there is a delay of at least a second between pressing the button and the picture being captured. I confirmed this by photographing the sweeping second hand of a clock. The instructions are vague but basically the camera makes a beep when you press the shutter then a second later it beeps again and the red light flashes on the front of the camera. This is when the actual picture is taken. This is fine once you're aware of it and in any case most people wouldn't be using it as a single shot camera anyway.
It is also necessary to hold the camera very steady or you can get camera shake but perhaps this is the reason behind the delay as it gives you a chance to steady the camera for when the shutter releases. A solution is to put the camera on auto shoot every two seconds and just keep snapping away that way you don't even have to press the shutter to take a picture.
Personally I would like to see a wireless remote control shutter release. It's true that the camera can record for hours but who wants to trawl through gigabytes of film looking for the right moment. This would be an excellent option. The red light flashes on the front of the camera when filming so you could easily see that the shutter has been released. Hurry up GoPro!
The exposure is generally good with two options, a centre weighted and a spot measurement. It handles shooting into the sun extremely well and has a nice lens flare that does not intrude but rather enhances the images.
I wasn't that impressed with the quality of the sound when I used it on the front of the motorbike but I'm sure this could be improved by trying different placements. Under normal circumstances the sound is very good and clear but susceptible to wind noise. Placed in the case with the open back stops this but does muffle the sound a bit. A good future modification for the HD Hero would be a microphone jack so the camera could be placed for best view and the mic placed for best sound.
There are three versions but they all use the exact same camera and waterproof case, the difference is in the mounting options depending on how you want to use it. I chose the motorsport version and also bought the bracket that allows it to be fitted to a bicycle seat or handlebars. This will be perfect when I come to attach it to the boat.
So now for the things that could be improved.
The camera arrives packaged in a transparent plastic case which no doubt makes it look more attractive on the shelf in the shop but I would have been more than happy had it come wrapped in newspaper. I do not know why manufacturers have to use so much packaging. Maybe they should market one for the shops and a 'less packaging' version for Internet sales.
The lenses on the case can be easily changed and it costs about 20€ for a kit containing two spares. However it's a shame that the HD Hero doesn't have a lens cap for either the camera or the case and without a soft case to keep it in it's likely to get scratched and because the case lens is so close to the camera lens and because the lens is so wide and has such amazing depth of field, it seems likely that a scratch will be noticeable on the finished result.
Despite the many brackets and extensions I have it is still far from ideal. What is really needed is a ball and socket end like you get on a tripod as this would allow much better and faster adjustment to get the camera level.
The plastic brackets are tightened by thumb screws but they need to be tighter than they can be done up by hand or they slip. The screws do have a Phillips head so they can be tightened more with a screwdriver but that means you need to have one handy.
The thumb screws do not hold the screws and they have a tendency to fall out and consequently are not long enough to catch the nut on the other side of the bracket. There are small mouldings that are supposed to jam the bolt into the thumb screws but they don't work.
The waterproof case is very nicely made but there's a lot of force on the catch when it is closed. How the plastic will stand up to these forces in the fullness of time is anyone's guess. The good news is that a whole new case is about 40€ so it's not the end of the world. The force is required to ensure a completely water tight fit. The lens sheds water beautifully so I suspect it has been treated with something.
The camera is guaranteed for a year but NOT if it gets water in it! That does mean that if the housing leaks you haven't got a leg to stand on. This is a shame and doesn't really instil much confidence in the housing. The housing also lacks a place to attach a lanyard. I would have thought a way of tying it on would be a wise precaution should it come unstuck for one reason or another.
Another niggle is the upside down option. It doesn't exist! Soon it will be available as a firmware upgrade but who knows when that will be. It is supposed to allow you to fit the camera upside down so that when you play back the film it will be the right way up on your screen.
Not having this feature is particularly annoying as the case mount is on the bottom so if you want to hang the camera under something you need to link up all the little extensions to make it work. The whole process would be much better and simpler if it could be simply hung upside down. Adding lots of extensions together does not lead to a very stiff support and the camera, although small, has some weight to it and bounces up and down in use. This can be cured by tying the supports down with bits of string and wedging pieces of rubber in where possible thought it's not very elegant.
UPDATE DEC 2010: The upside down version is now available as a firmware update. Excellent and very helpful.
It is very important to make sure the camera is mounted so it cannot move about. If you don't do this the image seems to wobble. It's not terribly distracting but it would be better if it didn't do it.
The motorsport kit has an excellent suction cap attachment allowing for a quick set up, at least on a car or a motorbike tank. It also comes with some self adhesive quick release pads that you can stick wherever you want. They use VHB from 3M which is an unbelievable product and sticks like the proverbial. There's no chance these will come unstuck. The problem here is that although the brackets click into place very securely there is still play. GoPro do supply a small rubber clip that fits to it but this does not stop the play particularly although it does stop the clip coming undone accidentally.
Also available soon is a bigger battery and a screen for framing and viewing movies and I hope it won't be long before they are available. It in no way detracts from the cameras performance so it's not really a problem. What is a problem is that you need 3.5 gig of Ram to get clean and smooth playback on your computer. Films will play back on less but the image is jumpy and amateurish. The size of the films is pretty big so make sure you've got plenty of processing power or anything you do to them will take ages.
The HD Hero produces Mpeg 4 videos so that they can be played back on numerous players. If you want to manipulate the films, add titles, crop etc then you'll need a program to do it with. They recommend Windows Movie Maker but you'll need a new codec or something if you want to import films direct from the camera. It all seems ridiculously over complicated to me.
If you have it, you can open the films in Quick Time and if you have upgraded to their 'Pro' version you can do basic work, such as cropping, on the movie from here. Then when you are happy with it, you can convert it to an AVI and import it into WMM for the final touches. I have found that a program called MP4cam2Avi did a very quick and tidy AVI conversion unlike the export I tried from Quick Time.
It would be nice if GoPro offered their own program like WMM that would allow the ability to do more than the fairly limited functions that WMM offers.
One last thing. You'll need an SD card. Anything from 2 to 32 gig and not forgetting plenty of storage space for your films too. Ten minutes of filming could be one gig alone. If you use it a lot you'll soon fill up your hard drive!
All in all I think this is a fabulous bit of kit. It's simple and has it's faults but it is capable of taking wonderful images, that and it's very reasonable price make this a must have for the adventurous and the imaginative alike.
Here are some samples of videos from the GoPro HD Hero:
Some sailing footage taken above and below the water of a Pacific Seacraft Dana 24
Tear along the dotted line. A ten minute burn through the lovely French countryside on a Ducati Monster M900.
Sailing the world's lightest nesting dinghy. A short film of the Stasha dinghy sailing in a breeze.
A short sailing film of some classic yachts in Cannes.
Suction cup mounting on petrol tank test. A short test with the HD Hero mounted on the tank with sound, not music.