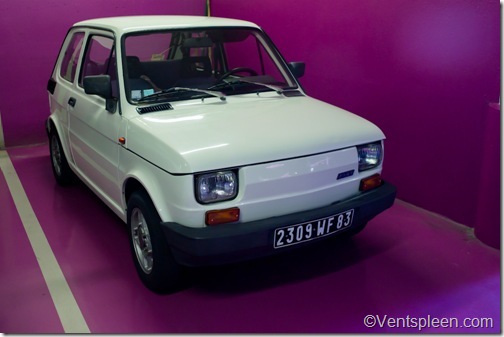 Wilf, our trusty (well not that trusty) 126 Bis in Cannes. Leica M9, 21mm Asph
You know how it is, when you don't need to buy a car, you see them for sale simply everywhere but when you suddenly need one, there's not one for sale. This is the situation I found myself in about 7 years ago. I didn't really want to buy a car but I had to get to work somehow.
It was amazing, I couldn't find anything anywhere. Secondhand cars in France are shockingly expensive, even the crappiest, abused and dented twenty year old Peugeot 205 will cost over 1000 Euros. In the end I even went to the garages, often they have old part ex vehicles they can't be bothered with that they will sell cheap. Still no luck.
Eventually I found myself at the local Fiat garage and asked if they had anything cheap and cheerful for sale. As it happens, my luck was in, they had a 13 year old Fiat 126 Bis in white. One owner with an unbelievable 4000 kms on the clock!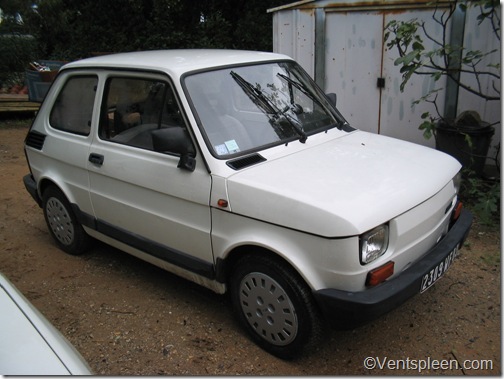 Wilf as bought by me in 2003 at 13 years old and with only 4000 kms on the clock. Note nasty wheel rims and plastic panels on the doors.
Obviously I doubted this at first, well it's only natural isn't it. How can a 13 year old car only have 4000 kms on the clock? But there was the possibility that it was genuine because the garage had known the car all its life and was bought from them in the first place. The guy swore that the mileage was for real. Then there's the fact that small cars don't get used as much as bigger ones and often their small high revving engines blow up long before they go around the clock.
The cars condition was very good. It needed a bloody good polish as the paint was flat. The drivers side door had loads of small dents in it where someone must have been opening their door on it for years on end. I could see this little car sitting unloved in the driveway getting bashed all the time. The interior was faded too. It might have done very few miles but it had spent its entire life outdoors. It still had it's original yellow headlight bulbs which were about as effective at lighting the road at night as a lit fart.
The guy was asking a shocking 1800 Euros for the car which at the time seemed a ridiculous amount of money to pay for a 13 year old Polish 126 but then I hadn't found anything else and it was very low mileage and only one owner. Also it had been Ziebarted from new so had absolutely no rust on it. And anyway it was a 126, it seemed like fate. I had bought my partner one years ago for 50 quid. 'Sterling' was a good little car while it lasted. We got 15,000 miles out of it for £50. Motoring doesn't come much cheaper than this!
So we bought it. It has a WF in the number plate so we called him Wilf. It seems to suit him. Fiat 126s are nothing new to me. My first car was a green 126 my dad bought me for £80. I loved that car but it didn't last long. Constant wheel spins and handbrake turns soon killed it. I soon lost first gear and then discovered that I could wheelspin in reverse so then soon after I lost reverse gear. No big deal as it was so small and light it was easy enough to get out and push it backwards.
Pulling away in second gear soon burned out the clutch and then when being towed home by a mate I thought it would be a laugh to slam the brakes on and try and stop him. All it achieved was to pull the whole front of the car off. How we laughed.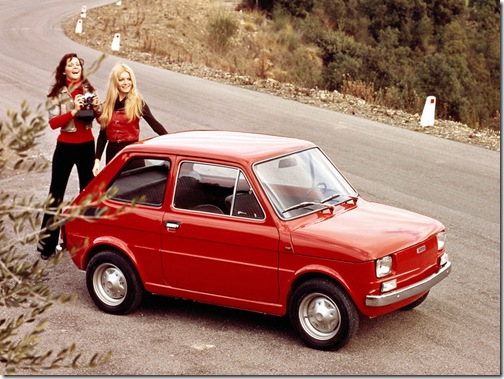 How cute is this? Steel wheels which filled the arches. Just enough chrome and a simple unadorned body. This early model doesn't even have opening rear windows. Later models open an inch or two. A design classic.
Since then I have had any number of Fiat 126s. In fact I am solely responsible for Quik Fit exhausts refusing to have anything to do with them. I would buy an exhaust and a week later it would snap at the manifold so I'd go back for a new one. They soon got sick of that! The reason why they broke so often was certainly due to the fact that I caned the shit out of the poor little things. I often managed 90mph (140kph) going down steep hills with the wind behind me. The speedo only goes to 80 and I often saw the needle way beyond that.
Stopping a 126 from speeds like that is impossible without cooking the brakes. The only way was to let gravity and friction do it. Suffice to say I had a few arse clenching moments trying to stop. Then in a moment of madness I fitted a 60 hp Suzuki Whizz Kid engine to one, mainly because my mate Shaun said I could never do it. Well I did it. It was rough and ready but hysterical fun and frankly lethal with it's original skinny tyres, poor suspension and brakes.
Fiat 126s may not be fast but they can surprise on corners. Often I would catch people up and they could never get far away from me much to their surprise and annoyance. You don't use the brakes much when you drive a 126. You learn to anticipate and think ahead. I think everyone should be made to drive a 126 for a few months before being allowed another car.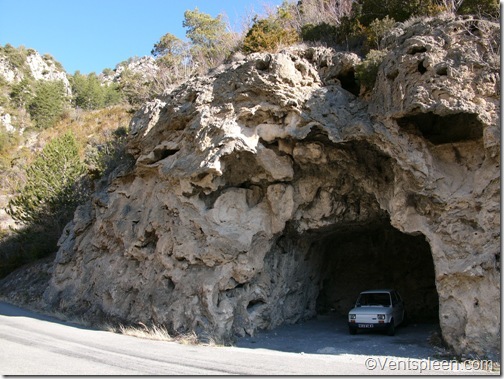 Wilf looking very small at les Gorges de Verdon. Leica Digilux 2
Anyway, back to Wilf. He is the Bis, the very latest version of the 126. It has a hatchback and that is the most obvious difference between the old 126 and the Bis. Under the skin the engine is completely different and lies on its side rather than bolt upright. It still has two cylinders but now has a tarmac ripping 27 horse power. It's quite nippy off the line but could never be described as fast. If you thrash it you can easily keep up with the fastest moving of traffic.
The 126 works surprisingly well on rough terrain and snow. It will get to places that a lot of cars can't. Steep inclines are no problem unless the engine is cold. Once we suffered an embarrassing 5 minutes when we couldn't get up a slope and out of a car park. The solution, if rather unorthodox was to go out backwards!
It's not as economical as you might think. We regularly get about 50 mpg (or about 20 km/lr and sometimes more depending on how many hills we can turn the engine off on and coast down. Even with the engine off we still catch people up on the bends!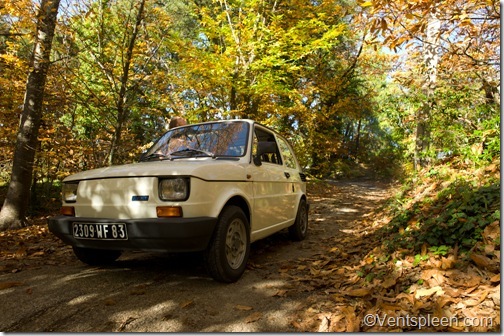 Wilf as he is today. 20 years old an despite a few faults is basically very sound and has passed his Control Technique every time with nothing needing doing!! Leica M9 21mm Asph.
Wilf has been surprisingly reliable except for a couple of issues. The first was when the timing chain snapped at only 25k kms Luckily the engine was only ticking over at the time so it didn't do any harm. 30 Euros later and we were sent a new chain and sprockets to fit. It was a relatively easy job and since then has been fine.
The 126 Bis is prone to head gasket problems and Wilf was no exception. Luckily gaskets are not expensive. In fact most parts are cheap. The head had to be skimmed to flatten it. Later gaskets are better so once replaced is unlikely to cause further problems. That happened at 30k kms. Since then he's gone wrong about every 5000kms on average.
The wind winder broke. That was fun fitting a new one! Both headlights went black when the chrome came off their insides. The fuel pump died and the fuel pipes are such crappy quality that they needed replacing. Wilf's latest problem is the breaking of the rear shock absorber mount. This is a bit annoying as it means the removal of the rear swinging arm.
He's a crappy car really. My other half gets quite upset when I say that but it's true. He's noisy and uncomfortable, has hardly any suspension. Perhaps this was no big deal back in the 70s when he was designed but these days with speed ramps he is really bloody awful. That said, he is a lot of fun and generally gets us from A to B without costing too much or using too much fuel.
He has his faults, like the wipers that won't switch off when it's damp. There is a way to stop them though and that is to turn off the ignition just as the wipers are parking! I've got it down to a fine art! The head lining fell down years ago. It sounds very tinny without it.
I'm being harsh. The 126 is a laugh. It's fun to drive, like a little go cart. You can park them in the tinyest spot. Just the other day I took a place that had a mere 8" either end and got in easily. A passing motorist stopped and clapped his approval. Little kids point and smile. In St Tropez it gets as many looks as the latest Merc or Porsche. We are very fond of him. I have never owned a car this long in my life.
He is mildly customised. He has 12" alloy wheels instead of the original 13" steels. To my mind he looked stupid on 13" rims. Luckily I knew a fellow 126 owner who needed some cash and he sold me his VERY rare alloys. All 5 of them. Look carefully and you can see that the wheel hubs are nothing more than sprayed jam jar lids! They fit perfectly.
One of the first things to do was get some decent alloys on him. These are 12" which look much better proportioned. Perhaps they used bigger wheels to make the car higher to pass regulations? Jam jar wheel hubs yet to be fitted!
I fitted wheel spacers to bring the tyres out a bit. I believe for looks, a car's tyres ought to be as near level to the arches as possible. I also took off the nasty plastic door covers/protectors. Plastic bumpers is bad enough but with all that plastic it was awful. If I had the money I'd love to replace the plastic bumpers with chrome ones. The first 126 was the best looking, no doubt about it. The earliest ones are now over 35 years old!
The Bis is still very much a 126 but it has luxuries, like water cooling and a key to start the engine (early 126s had a pull lever between the seats!). It even has a two speed fan, rear wash wipe AND a heated rear window. Surprisingly, apart from the aforementioned issue with the intermittent intermittent setting of the wipers and the ever glowing water level light, all the electrics still work.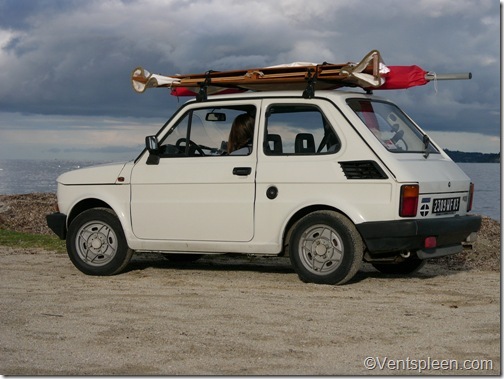 Wilf with a Woodenwidget folding dinghy and sail on the roof rack. The dinghy will actually fit inside the car! Leica Digilux 2
He's quite surprisingly practical, with the seats down at the rear you can stuff an amazing amount of stuff into him. The front seat comes out in a few seconds to gain extra space. The boot at the front is only big enough for a few tools, a set of jump leads and a tow rope. Wilf has a roof rack and that allows some very big loads to be carried. He has even carried a 10 metre long mast on his roof before now.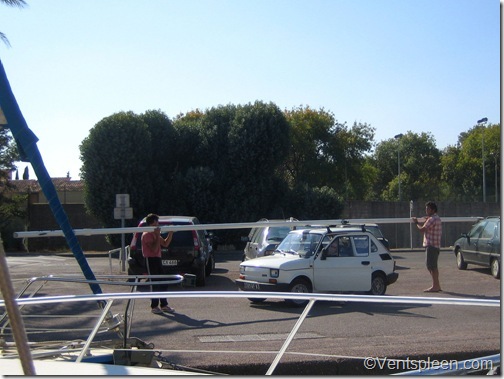 He's nearly 20 years old himself now. For all his faults I must say he has been a faithful friend. I try not to abuse him but he's a Fiat and almost begs out to be thrashed and thrown around the corners. I just can't help myself! He now has 40,000 kms on him. Still very low mileage for a 20 year old car.
Prices are rising. With Fiat 500s going for silly money, the 126 is the next obvious investment. Just the other day I saw a 126 Bis for sale for 6500 Euros!!! That's not to say it will sell for that but it does show that others have already seen this car as the next excellent investment. As small cars become ever more popular the prices of these cars can only rise. Many have rotted away by now, but those that have been cared for have stood the test of time.
You can get any part for your 126 and most parts are very cheap compared to many other cars. The sensible thing to do if you have one is to buy up a few others while prices are low. In the UK £500 will buy you a perfectly usable 126 Bis and if it's not on the road it could go for peanuts. If you have space to store a few spare cars, you could keep one going for decades!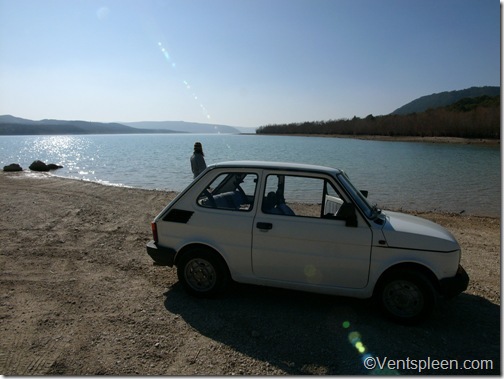 Wilf at lake de St Croix, at les Gorges de Verdon. Leica Digilux 2 with 23mm lens adapter.