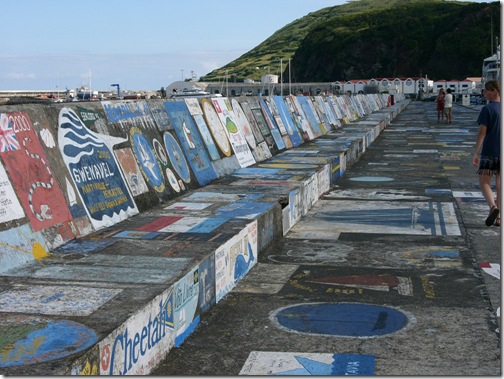 What a splendid place Horta is. A famous sailor's stopover situated as it is practically in the middle of the North Atlantic. Every boat that passes through leaves a painting in the harbour somewhere. Over the years thousands have been done and many of them are simply awesome. Now they literally cover the harbour of Horta on the Island of Faial. I find it excellent that the powers that be have not tried to stop this lovely custom. It's graffiti yes, but it's not mindless tagging. Each one of these paintings tells a story. What you see below is just a very small selection.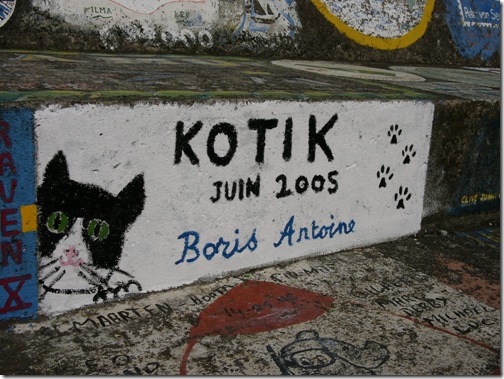 I love this one. Crude it might be but the cat is classic. Kotik 2005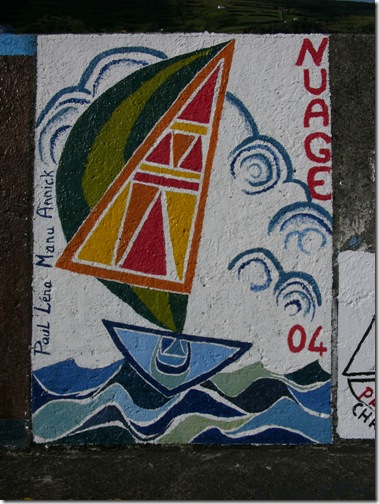 The local hardware shop must have made a fortune every summer selling pots of paint to passing sailors! Many of these paintings have a lot of colour in them. Nuage 2004 
Boats come from all over the world. This one from Canada. Shadowfax 2003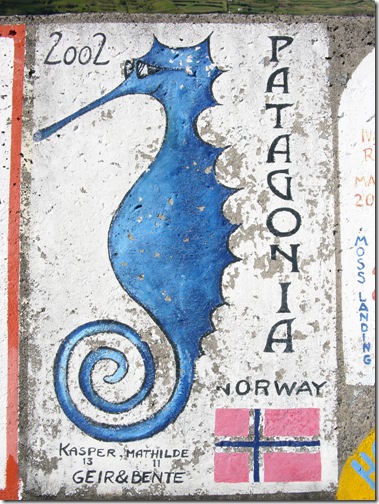 There are a lot of common themes in these nautical paintings. Sea creatures are one of the most popular. Here's a rather chilled out sea horse from Norway. Patagonia 2002.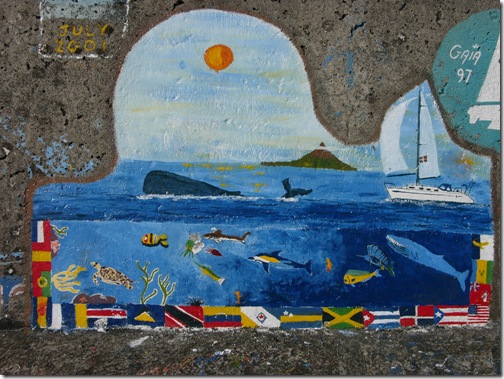 There are so many paintings in Horta that sometimes you have to paint over an old faded painting. They generally seem to last a maximum of ten years. This one is obviously very recent and very colourful and full of sea creatures.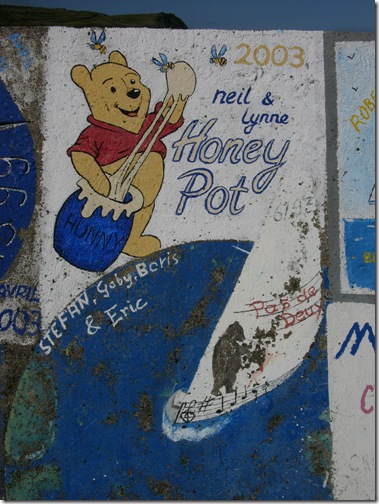 There sure are some talented sailors out there. Honey Pot 2003.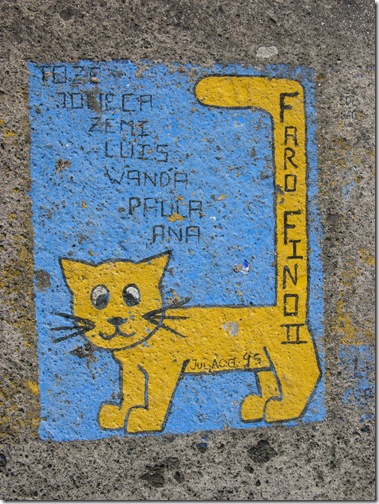 This one's doing well. Ten years old in 2005 when this picture was taken. Every picture tells a story. What can this one tell us? We could surmise that they didn't have too much money as there are only three colours. Also there were seven crew so the boat was probably about 40 feet long. The name could be Portuguese or Spanish perhaps but the names don't seem latin. Cat looks a bit cross eyed. I guess we'll never know but it's fun to wonder. Faro Fino II 1995.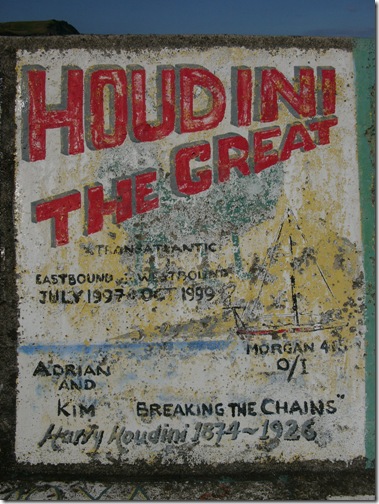 Houdini the Great 1997 & 1999, eastbound and westbound.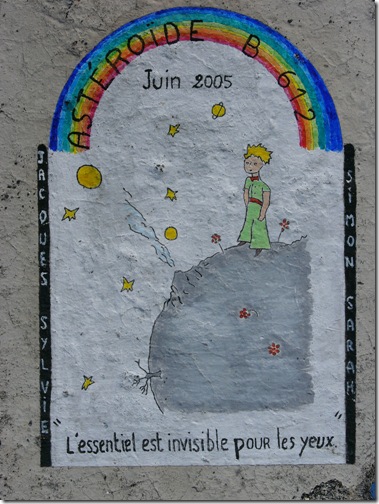 Unquestionably a French contribution. The French are great and adventurous sailors. This is from the 'Petit Prince' by Antoine St Exupery L'essentiel est invisible pour les yeux, basically translates as: The important things in life are invisible. Asteroide 2005.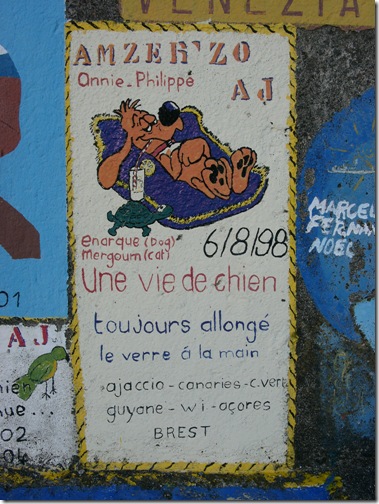 This translates: Always reclined, glass in hand. As well as the obvious use of sea creatures in many of these paintings, booze also features prominently! Amzer'zo 1998.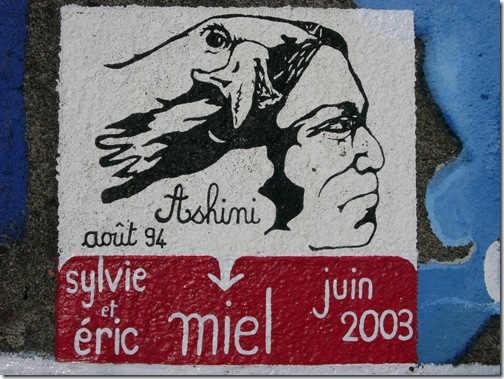 Yet another French painting. Can't work out whether the boat is called Ashini or Miel. 2003.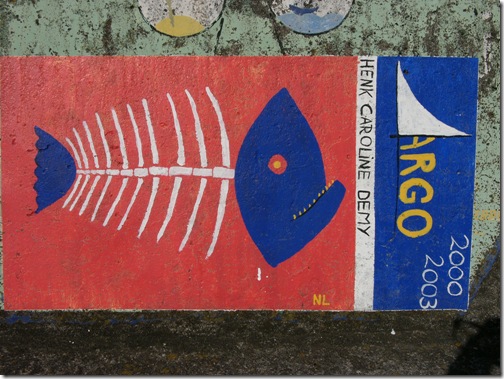 One of my favourites. This one from Holland. Argo 2000 & 2003.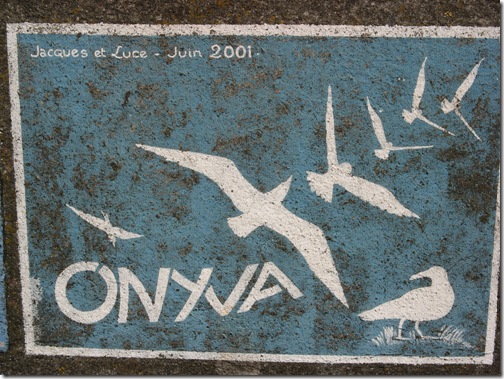 Another French painting. Onyva means 'Let's go'. 2001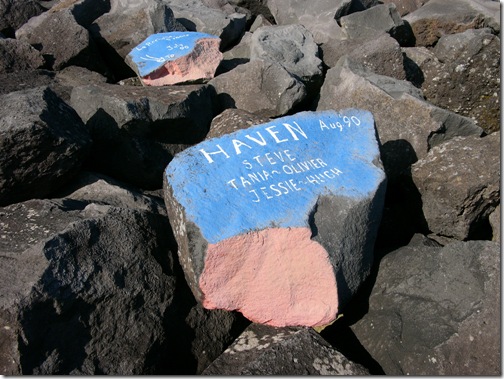 When there's no space left on the walls they even start painting the rocks. According to the date this was 15 years old when the picture was taken. If that's true they used a damn good paint! Haven 1990.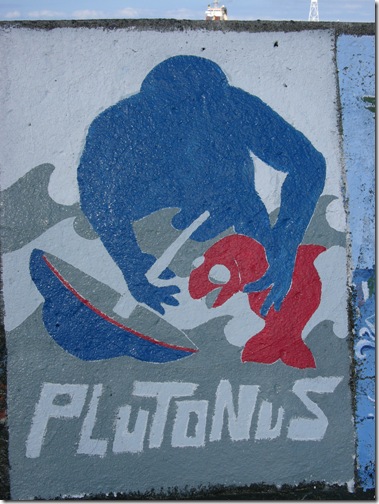 No idea what the date is but I'm guessing 2005. No idea what the artist was trying to say. Maybe they had a hard crossing and felt victimised. It's a bit odd but has a certain charm none the less. Plutonus.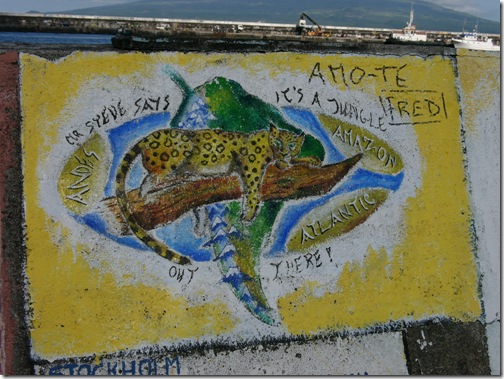 No date but about 2003. Looks like they sailed from south America to get to the Azores.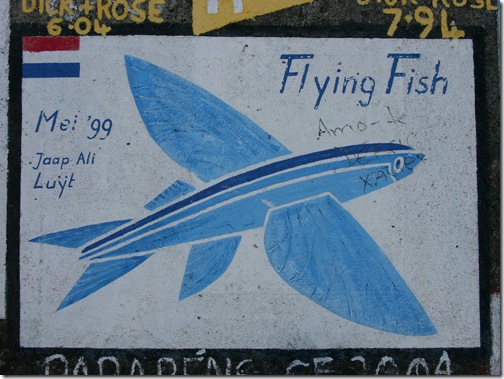 Great simple graphics. Flying fish 1999 from Holland.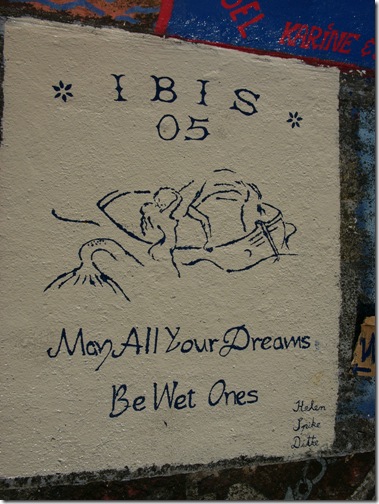 This one from Ibis, They are from Cornwall.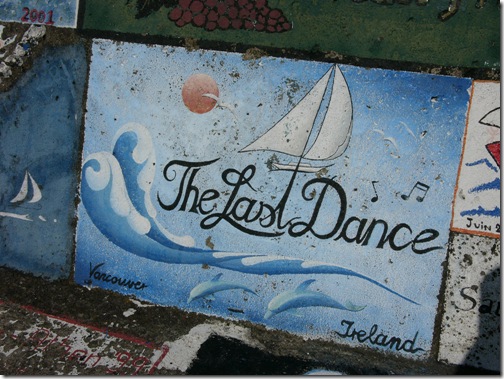 No idea of the date but it's a lovely bit of art work. The dolphins are excellent. The Last Dance  from Vancouver.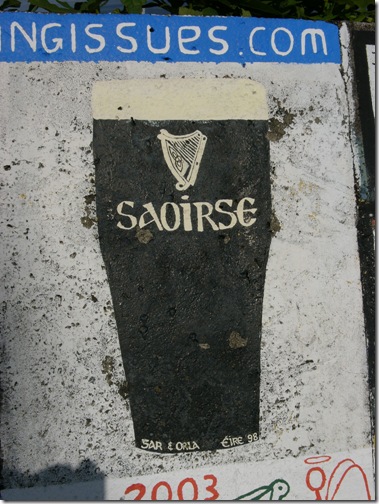 Ah, that booze theme again. Saoirse 1998.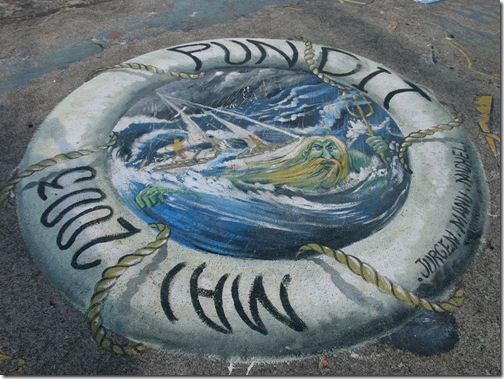 This amazing painting was about 4 feet in diameter and must have taken days to do. Absolutely brilliant. Pundit 2003.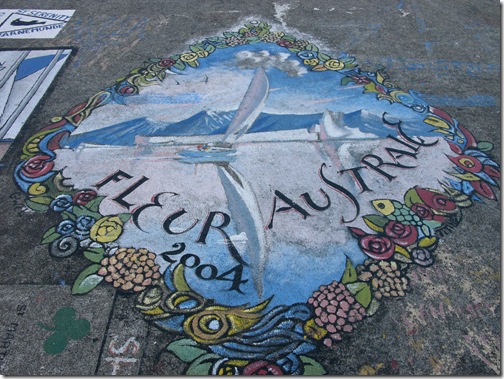 Another stunning bit of artwork Fleur Australe 2004.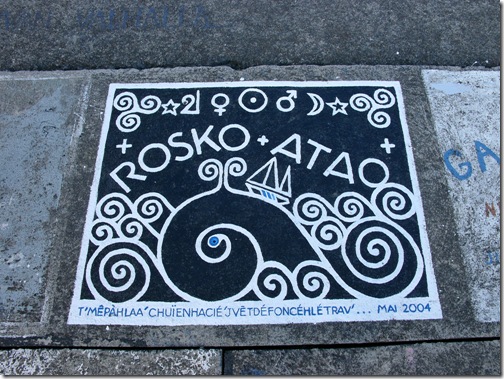 Another one of my favorites. Really different but still on the sea creatures and waves theme, with some other symbols thrown in for good measure. Rosko Atao 2004.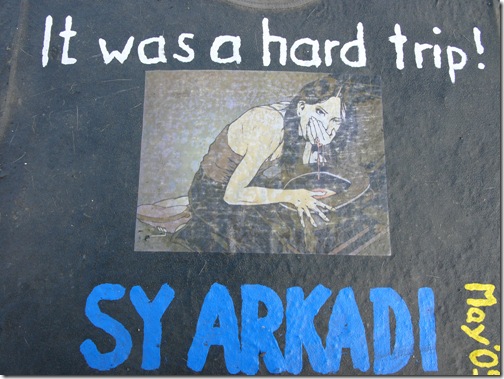 I guess not everyone has an easy trip. I love this one of a sea sick girl puking into a top hat. This was printed on a T shirt and then the whole thing was glued down and epoxied over. Arkadi 2005.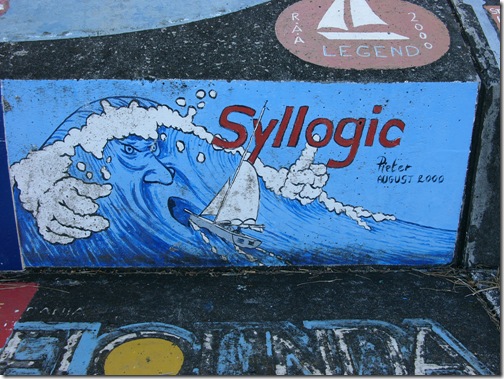 More waves. Great stuff. Syllogic 2000.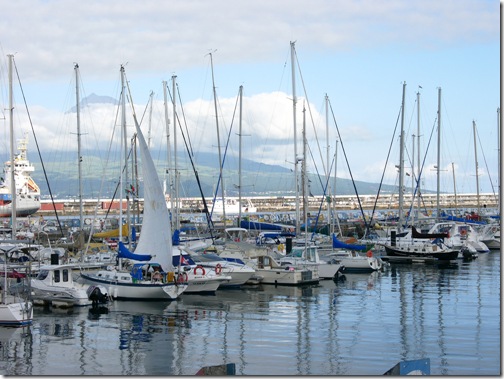 Look in the back ground, you can see how the paintings go all the way around the port. Volcano Pico just poking out of the clouds. The whole time we were in Horta, we only once saw it without a cloud! Note the little black boat on the right, that's Doolittle.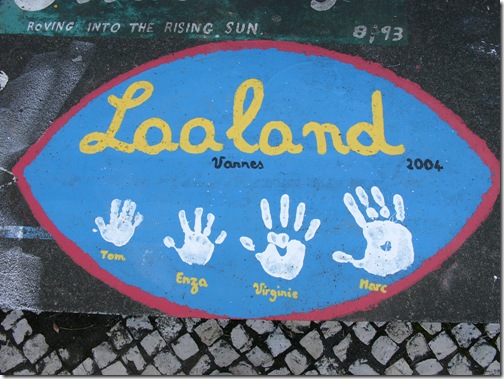 Looks like another French effort. This is so sweet, a real family affair. Laaland 2004.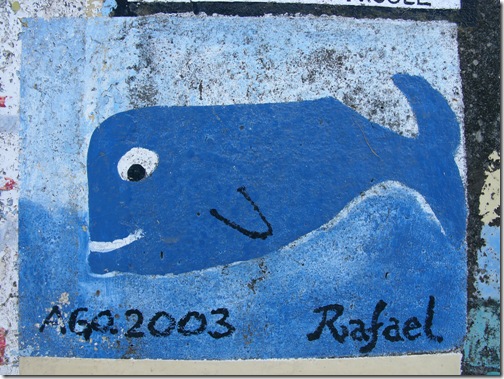 One great whale. The Azores only banned whale hunting about 25 years ago. Now, I'm please to say that the Islands make more money from tourists who pay to see the whales alive than they ever did from slaughtering them. Ago 2003.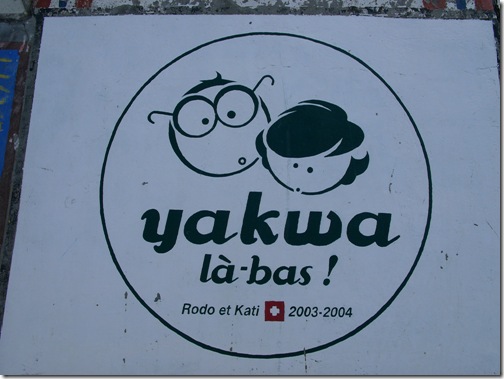 So professional and nicely done. Yakwa 2003 & 4.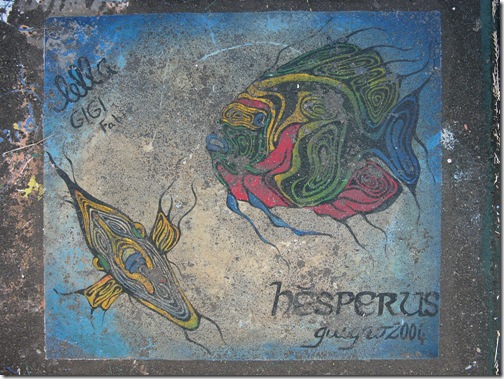 Faded but fabulous. Hesperus 2004.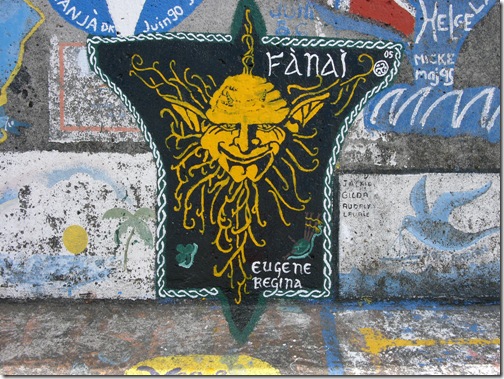 An Irish contribution. Fanai 2005.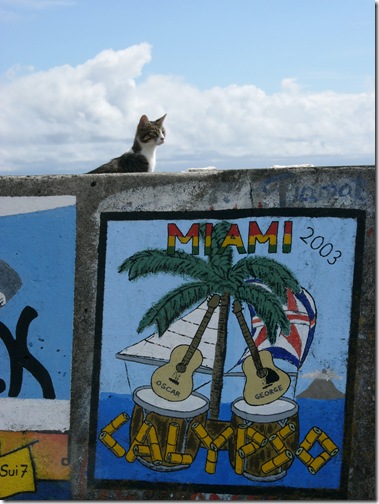 A lot of effort went into this one. Cat looks impressed. Calypso 2003.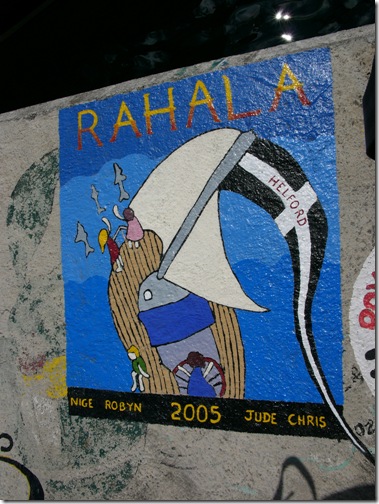 Another Cornish painting. Rahala 2005.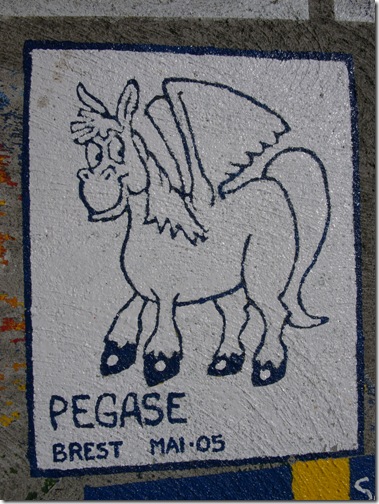 Love the look on his face. Pegase 2005.
And last but not least, our contribution. Not being much of a painter I asked my brother to paint and glaze a tile for me. I figured it might last longer than paint. It was a sushi plate (note the dimples for sauces) Not being much of a sailor, he turned Doolittle from a sloop to a Schooner but it's still great. It was glued down at the top of C pontoon where we had the boat. I used epoxy and polyurethane to stick it down. The only way to get it off will be to smash it off. That was 5 years ago. Wonder how it's doing… If you happen to be passing, please have a look and let me know. Doolittle 2005.
This was just a small selection of the thousands of excellent paintings in Horta. I hope you enjoyed seeing them.