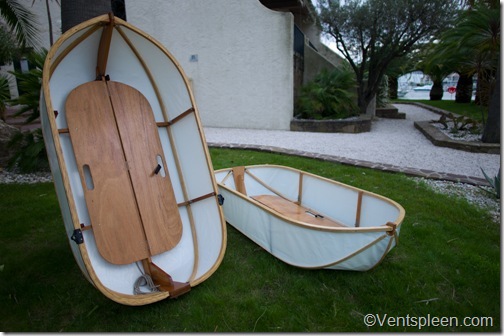 The Woodenwidget Fliptail folding dinghy. Available in 6 and 7 foot versions.
Looking for a small and light yet competent and stable little dinghy for your yacht? Or a easy to transport craft that you can use to go fishing in? Or amuse the kids during a camping trip? Then look no further. Woodenwidget, already famous for their range of dinghy designs for the spatially challenged have introduced the Fliptail 7 folding dinghy.
The Fliptail 7 really does everything. It weighs only 18 kilos and has built in handles which make it really easy to move. It folds flat in moments ensuring that you can find a place to store it wherever that may be. There are no separate pieces to get lost. All the pieces needed to assemble the dinghy are always attached to it.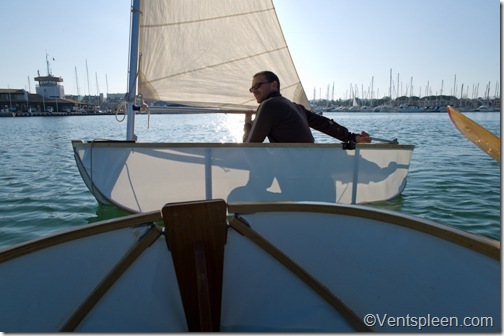 The Fliptail 7 under sail.
It can carry three people and it rows well. The floors are off the bottom of the boat so you never get a wet bottom. If you don't want to row then you can even fit an outboard motor of up to 3.3 hp. With this engine, the Fliptail can plane at speeds of up to 14 knots! If noise is not your thing then you can easily adapt the Fliptail to a competent little sailing boat with a lift up keel and a free standing mast.
So what's the catch? You have to build it yourself! But actually that is not so hard as it sounds as one of the great things about Woodenwidget plans is the way that they have been created to lead the builder through the whole process in a step by step manner using just simple measurements. You do not have to have any prior boat building experience at all. All you need is a bit of confidence and the ability to use a jigsaw and a plane.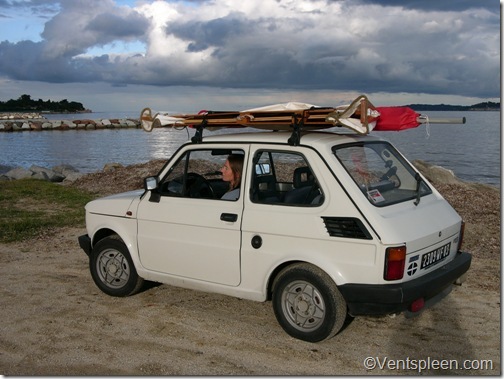 The Origami 6, mast and sail on a Fiat 126.
All aspects of boat building, from using and sharpening tools to mixing epoxy glue are discussed in the plans. Every step of the build is illustrated with quality pictures taken during the actual build of a dinghy. Plans cost from just £25 and Woodenwidget will even plant a tree in your behalf for every set of plans sold.
Other designs in the range include the Deckster, a hard dinghy with a removable section which allows it to be stowed at the foot of a mast. The Deckster can be modified to take the revolutionary Hobie Mirage drive to propel it. If you want a super light dinghy, take a look at the Stasha. It's the World's lightest nesting dinghy weighing as much as a baby bird! ( A wandering Albatross chick weighs 10 kilos!).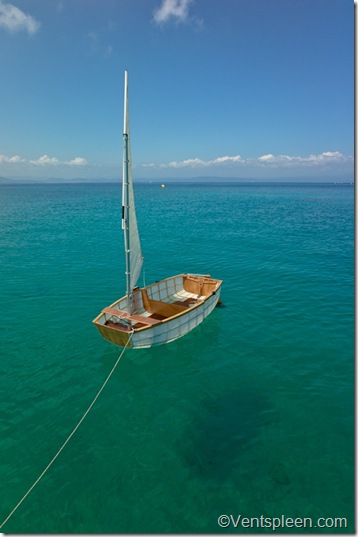 The Stasha nesting sailing dinghy. The rear section comes off and fits inside the front part for easy stowing. Both sections float independently making the Stasha easy to assemble ashore or on the water.
Maybe you want the simplest folding dinghy? Then the Origami is for you. Made from plywood and PVC cloth, the Origami is well proven and much tougher than it looks. It comes in two sizes, a 6 and an 8 foot version.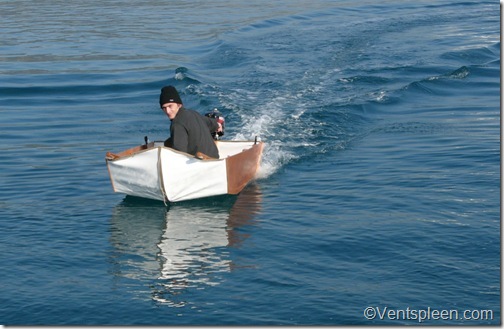 The classic Origami 6 on the plane with a 3.3hp motor. Speeds of up to 14 knots have been registered.
So if you always fancied building your own boat, then maybe now is the time. It's never been easier.
Please visit www.woodenwidget.com  to learn more. There are also plenty of revealing videos on the site showing the various dinghies sailing, rowing and planing.