For me there's nothing quite like picking ripe fruit from a tree with your own hands and eating it on the spot. For some reason it always tastes better than the fruit you buy in a market or other shop. The same is true for fresh baked bread. There's nothing quite like it. What could be better? Well I'll tell you, organic fresh baked bread that has been baked in a real traditional bread oven. Add fresh laid eggs and salted butter and you have one awesome lunch. Simple but delicious. In fact delicious doesn't quite do it, there must be a better word to describe such a wonderful indulgence.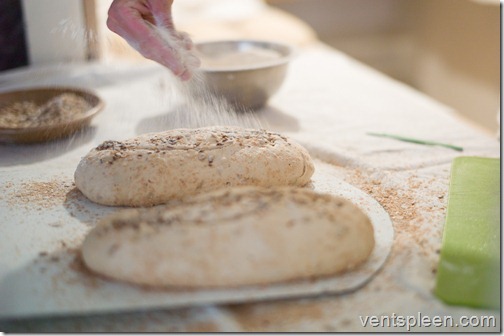 Even before the loaves are cooked you just know they are going to be GOOD.
It might be an indulgence for me but it's work for Virginie and Yannick. On a bright sunny and very warn July day in La Creuse in the centre of France it's no joke to be loading a brick lined traditional bread oven with dried twigs and branches until the whole oven is evenly heated to over 400 degrees Celcius! Virginie's day began at 05-00 and the bread finally came out of the oven some 6 hours later.
Once the oven is up to temperature, the ashes are removed and the stones are cleaned down. The bread, made from organic flour from just a few kilometres down the road is placed inside in neat rows and the metal door is sealed to keep the heat in. What do you think they use to seal the door with? Yep, you guessed it, some bread dough rolled up! Very clever. This is such a natural product that there is no waste, even the dough used to seal the door gets eaten by their aged dog Banjo. He loves it and it might just be the secret to his long life.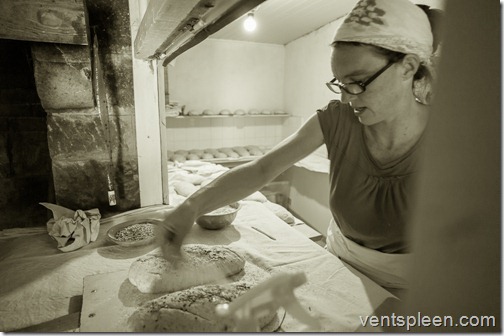 It's a labour of love. Maybe that's the secret to why this bread just tastes better than any other that you can buy anywhere.
After just 35 minutes the door comes off and the bread is removed. The smell of fresh baked bread makes you hungry. Even though I had vowed not to eat another thing after my meal the previous night (when I was invited to share a beef bourguignon but that's another story) I could not resist Virginie and Yannick's offer of eggs and bread for lunch. I was not disappointed. Amazing how such a simple fare can taste so damn good when the ingredients are of such high quality and so fresh.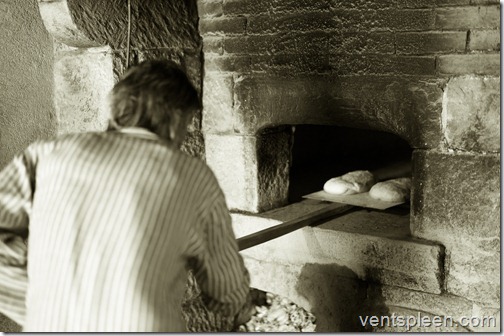 Loaves going in to the oven. The door is sealed with dough and 35 minutes later the most delicious bread comes out.
Virginie works with a type of co-op where artisans sell their wares at local markets. Of course this bread is not cheap how could it be? But I think it compares very well with the best bread you can buy anywhere else especially when you consider that it doesn't go stale or mouldy for ages. Naturally I had to buy a loaf and although it's huge I dare say it won't last very long. It's just not possible to have just one piece. It's deadly. So good.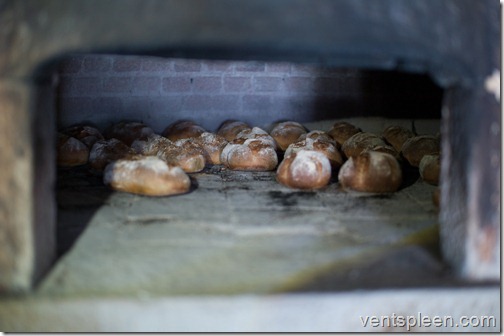 After 35 minutes these beautifully browned loaves are ready for eating. It might be an old and primitive way to bake bread but the end result justifies the effort. No question.
A 50 km round trip for a loaf of bread might seem extreme but it's worth the effort and anyway Virginie and Yannick are lovely people so any excuse to go and say hello is welcome! My only fear is that by the end of a summer here in this beautiful neck of the woods I am going to be 20% heavier than I was in the springtime. Oh well, it will have been worth it!
If you happen to be in La Creuse and want some awesome organic bread baked the traditional way you can find them hard at work on the weekends in a little town called Sannat not far from Evaux les Bains. Worth the trip! ninyan@hotmail.fr