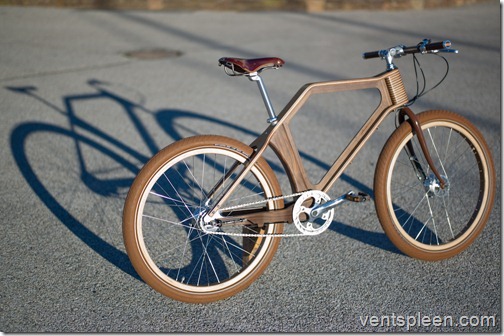 The Haibrid from Splinterbike. Wooden frame, wheel rims and handlebars.
Recently I made a promo video to promote the Foldavan bicycle caravan and I thought it would be a good idea to borrow a wooden bicycle so I got in touch with a few companies who made them. I didn't have much luck but I kept trying. Then I came across the Haibrid made by a very interesting fellow called Michael Thompson who you may have heard of from his previous project, the SplinterBike, a bicycle made entirely of wood which currently holds the world speed record for an all wooden bicycle. He kindly agreed to lend me his demonstrater for a week.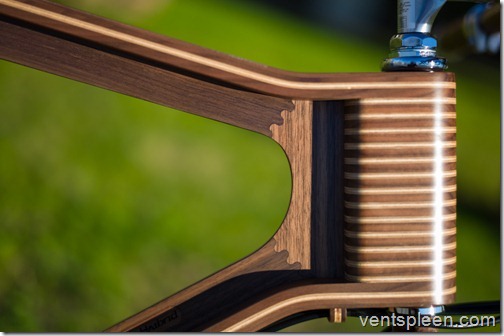 Here you can clearly see the quality of craftsmanship that has gone into the T section frame.
The Haibrid is a different beast altogether. This limited edition is made from sustainably sourced American black walnut and European birch wood and is an elegant looking machine. Obviously a bicycle made completely from wood just isn't practical for every day use so the drive train is metal but the frame, wheel rims and handlebars are made of wood.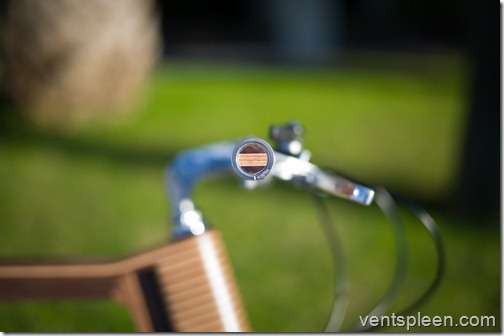 Even the detail on the wooden handlebar ends is considered.
Most of the metal parts are made by Sturmey Archer and they are very high quality. I particularly liked the 'handbrake' option on the rear brake. This is an essential option for any bike because it removes the chance of the bike falling over when you lean it against something. The brakes are in the hubs which helps add to the very clean look of the Haibrid.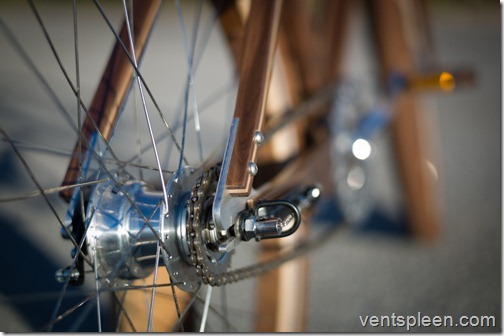 Sturmey Archer three speed hub and brake. It has a very smooth action.
There are three gears in the rear hub and the system is very smooth. I felt the bike could have done with a tooth less on the rear sprocket but this is something that is easy enough to change at some point.
The seat post and handlebar attachment is pretty standard and the Haibrid has a lovely Brooks titanium saddle fitted finished with copper rivets. I found it a bit hard but a Brooks saddle takes many weeks of use to become comfy. The handlebar grips are also made by Brooks and are leather with a metal end. Very smart and nice to grip. No expense has been spared on the gear on this bike, it's all top notch stuff.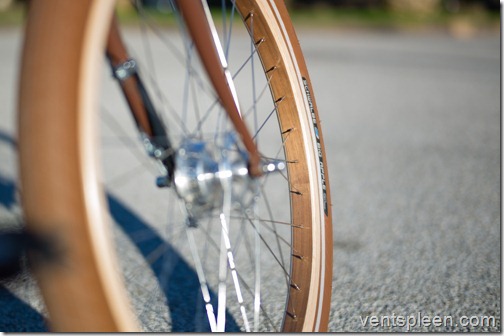 Wooden rims and fat brown tyres is a unique look. Gives a comfy ride too.
The wheels are made of birch by August Wheelworks and are really quite something. Fitted with brown fat tyres for a very comfy ride they really look the business. There are many wooden bikes out there but few have wooden wheels. It's a nice touch.
As a boat builder and someone who works with wood I can appreciate the work and detail that has gone into the bike. Michael tells me that 2500 hours of development and testing went into the Haibrid. I can well believe it. The frame is made with a combination of steam bending, vacuum lamination and CNC machining.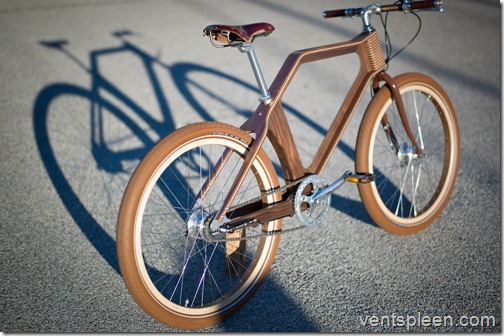 What's it like to ride? I prefer to sit a little more upright but that is just a personal opinion and in any case a change of handlebar would sort that out. Otherwise the geometry is good although the high cross bar might not be to everyone's taste. Michael tells me he is working on a Ladies bike with a lower cross bar. It is a comfy bike to ride and very smooth. The brakes were a bit unfeeling but effective for all that. Gear changes are smooth and seamless.
All in all the Haibrid is a very sweet bike. It's not particularly light but neither is it heavy. As one French mate said, it's an 'honest' weight. I would say that sums it up about right. Michael tells me the frame itself weighs less than 3 kilos. The wooden wheels are about 40% heavier than metal rims.
This kind of exclusivity and craftsmanship doesn't come cheap, nor should it. Each Haibrid takes 200 hours to hand build and finish in a special UV lacquer. The price of £6600 reflects that. Michael is working on bikes using other woods such as Brazilian Mahogany, Santos Rosewood and English Ash. Splendid.
Contact Michael Thompson at Splinterbike for more info or to place your order!