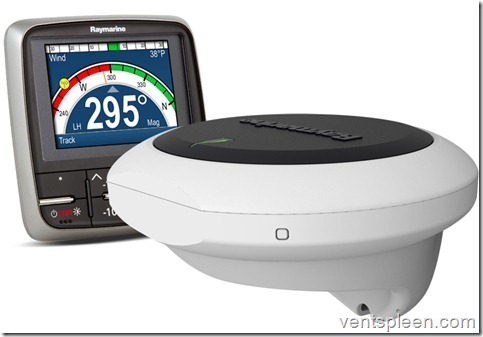 Borrowed this pic from Raymarine. It shows the colour display and the EV 9 axis sensor.
Today I sea trialled the EV100 Tiller pilot and although I have only so far tested it on a flat sea under motor I have to say I am hugely impressed. It was a real joy to see the wake behind the boat which was straight as an arrow. This is the first time I have seen this on Doolittle. In the same conditions the TP30 would still have the boat weaving slightly. What else is good? The drive arm hardly moves. This is a massive improvement over the TP30 because one of the things that always annoyed me was the amount of unnecessary movement it used to make along with an annoying noise. The EV100 hardly moves and even when it does it is very quiet. The wireless remote is a fine accessory. I sat at the bows and happily changed course with it. Obviously this is hardly a comprehensive review but what I have seen is very hopeful.
Long gone are the Gain and SeaState that we're used to. Replaced by a simple choice of three settings, Leisure, Cruising and Performance. I tried all three but I found that the Leisure setting held a near perfect course only deviating a couple of degrees. In Performance mode the pilot was a little more active and the course was held to within one degree which is pretty damned impressive. It will be interesting to see how this works with wind and waves. At one point we had some swell to deal with and the boat was rolling quite a lot yet despite that the tiller never moved. That kind of thing would have upset the TP30 for sure
No longer do you need to do a compass calibration by going round in slow circles although you can if you want. If not, the unit just does it itself automatically. You can lock the calibration later so the pilot doesn't try to do it again. Right from the start the display was showing a compass reading which seemed almost bang on compared to the ship's compass. I wasn't expecting the compass to work straight out of the box with such accuracy. There is a dockside wizard which you need to run before seatrials but that is all. All that does is push the helm one way and ask you if it pushed it the right way and if it did you press 'continue' and that's the pilot set up! In my case it didn't push the helm the right way as I have the drive arm on Stb where as it should be on port. You could switch the polarity on the motor if you wanted to swing it around but since it is so easily done in the display I did that.
The drive arm is the same one that Autohelm have used for years. They no longer offer the GP unit which had a better (Swiss made) motor for longer life but you can still get your standard drive arm modified. To do that it has to go back to Raymarine. I was quite keen to do this until they told me how much it would cost. A shocking £1000!!! So I don't think I'll bother. Not quite sure how they justify such an enormous sum unless the motor is gold plated and studded with diamonds.

The same old drive arm that Autohelm has sold for years. At least getting spares for it should be easy enough.
I don't know how important it is but adjusted the rudder angle (the angle of the tiller from one side to the other) which default setting was 30 degrees. I reckoned it was actually about 33. I also adjusted the hard over time from the 4 sec default to 5.4 seconds which is what I timed it at. This is all in the instructions. It probably would have worked just fine on the default settings but I can play with this at a later date and see if it makes any difference to anything. There are settings for Sail boats, fast sailboats, motor boats etc and you can change the characteristics of the pilot by selecting a different type of boat. But for now I have followed the instructions to the letter and told the pilot it is steering a sailing boat.
The display is very nice with a very bright colour screen. The interface is pretty straightforward and simple to use. The display has a few settings for viewing with different colours, red for night time and of course the screen can be dimmed as well. You need to cut a big hole (about 3") to fit the display which is a bit of a shame. I fitted the display in the engine instrument panel. When I ordered Doolittle I asked Pacific Seacraft to fit the engine panel as far to one side as possible. I'm glad I did because there was JUST enough room to fit the display next to it. I also managed to fit the TWIST shower and two sockets, one for the new pilot and a 12 v supply which also powers up the TP30 which I shall keep for when/if the EV100 dies. Although they offer a 2 year guarantee which is extendable to three years for free if you register online. Not bad.
The installation was made much easier by the fact that the EV Unit (compass) can be placed anywhere above or below decks. I installed most of it (computer, wireless base station etc) behind the engine panel in a space which is used for nothing else. The EV unit lives in a locker far from electrical or magnetic interference. All the components are waterproofed but putting them somewhere that is always dry can't hurt either.
The wiring up of the components is not straightforward although Raymarine have attempted to simplify the system with colour coded connections. The problem comes from wanting to have the wireless remote and an NMEA 0183 input to the pilot. Perhaps it is harder on my boat because I do not already have a seatalk system, only a Tacktick system (now owned by Raymarine but not seatalk) so it requires some complicated additions to make it all work.
The EV100 uses Raymarine's latest protocol the SeatalkNG system. The wireless is Seatalk1 so one must buy a converter block ($100). It's easy enough to wire up as the connections simply plug in to it. The NMEA is a bit more complicated as it first has to be converted to seatalk before it can work. This also requires another interface to do that ($200). I wired it all up on the table before installation to check it worked and also to get a better feel for how it goes together. It was quite shocking to see how many wires, cables and connectors there were.
At first I could not get the thing to work so I called Raymarine in the UK who were extremely helpful and we soon discovered why it wasn't working. If you have not plugged into a blue socket you must fit the special blanks instead. Once I did this it all started working. So, not the simplest system to wire up since you need three power supplies, one for the NG converter, one for the Seatalk connector and one for the computer. But it was all made much easier by the fact that I could stick it all in the same place at the back of the boat. No need to dismantle the boat to feed wires through impossibly small conduit! Bonus.
Next I'll have to connect up the NMEA Interface and feed the pilot with that info. They suggest that the pilot is fed with speed info from the log or at the very least SOG from the GPS. It helps the pilot to know what speed the boat is doing. It makes sense to me. Also the display can be programmed to display any number of NMEA info, from wind speed to depth so that's useful too.
Next a sea trial with wind and waves and then I want to try and get it to steer to the wind as well. I'll update this report when I have done that but I'd like the boat to be clean before I do that and since I didn't haul last year it most certainly isn't. I might even try one of the many steering patterns that are built into the EV-100 such as a figure of 8 or a cloverleaf just because I can!
Update July 2014
Well I finally got to try the EV100 in the real world. One thing is certain, the EV100 holds a fantastically accurate course. In fact it's too accurate! What I mean by that is the pilot is working very hard to keep the boat on course. And this is on the lowest 'leisure' setting.
When it's working hard, the drive is also noisy. Much noisier than the Simrad TP30. If it didn't work so hard it probably wouldn't matter but with its constant back and forth it gets extremely annoying and in fact if you are near it you cannot hear someone asking you something. It's that loud. It's a bit of a disappointment to be honest.
On day two of our sailing trip, headed downwind in 20 knots of wind, waves building the drive suddenly burst. So we put Dave (our ancient TP30) on instead and were amazed at how much quieter he is than the EV100. A very large difference. Maybe the Raymarine is ten times louder than the TP30. Is this just because the TP30 uses a belt drive whereas the Raymarine uses cogs only? Or maybe there was a problem with the Raymarine drive and working hard brought it to light.
I wrote to Raymarine of course and heard the usual, 'We've been selling these units for 15 years and they are very reliable' etc. Well the EV100 is supposed to be automatic. It is supposed to calibrate itself and set its self depending on the sea state and as I was already on the lowest setting I didn't see what I could do to slow it down. The instructions are not very helpful and in fact had no mention of the fact that if you manually turn on the Calibration lock setting you get further menus where you can in fact adjust the rudder damping! I wish I had known that before. I only found this out from the very helpful chap at Raymarine. Who also explained why changing the hard over time can also affect the performance.
Here's what he said: The hardover time will influence the  rudder gain and increase or reduce the amount of rudder for a given off course error, changing the damping will reduce sensitivity and switching between Leisure and Racer will affect the response levels.
The manual simply says this:
After setting your Hard Over Time, observe your autopilot's behaviour and if required, make small adjustments to the Hard Over Time value until a satisfactory result is achieved.
As you can see that is not very helpful at all. It's almost as if the people writing the manual didn't know how it worked either so decided to be vague and ambiguous instead. Perhaps for most people the new system works perfectly and doesn't need any adjustment. However, I am not most people and it is extremely rare when a product works perfectly right out of the box.
When the drive burst it was working a lot but there was very little pressure on the helm so even like this I would not expect a drive designed for boats much bigger and heavier than mine to explode after just 12 hours use, certainly not when you consider that the TP30 costs half as much and Dave is ten years old and has steered the boat for 2000 hours even for 24 hours as we ran bare poled before a gale and right across the Atlantic Ocean. As I said I was disappointed when the new pilot turned out to be noisy and then burst, but not altogether surprised.
When I took the drive apart I immediately noticed that the four (plastic) cogs that fit around the motor's brass drive cog had all been ruined by their pins smashing through them. The nice man at Raymarine has promised to send me some replacements to a friends and we will collect them from there in due course.
Now that I am able to change some settings I have hope that I will be able to get the system working properly and only moving when needed and not all the time! I don't suppose there is much I can do to shut it up. I could try an insulated cover but I think there may be a problem with the drive. When it fell apart, the recirculating nut came unscrewed from the shaft. It may have been this that caused the problem in the first place. Maybe it just wasn't tightened enough at the factory?
Also the casing does not align properly. Maybe this is not enough to effect the arm going in and out but it could mean that the O ring is not sealed correctly all the way around and it may mean that it is not completely water tight. I will probably send it back after the season and get them to replace the whole unit.
A comment or two about the display and its interface. The display is very nice and it is excellent to have extra info on another screen. But there is no easy way to adjust the screen for night time use. Yes, there is a red/black setting for using at night but the display brightness does not dim. That has to be done manually. So not only do you have to change the display once to get the night time setting but it needs adjusting again to lower the brightness. It just seems very clunky to me.
Also, another thing I did not discover until it was explained to me is that there is an option under diagnostics called 'about pilot' when you select this option it shows just what you would expect, the Version number and the serial number. But in fact this page can scroll and stupidly enough, once you select the up/down button to scroll the page, a small tab appears on the right! Now if that tab was always there, one would know that the pages scroll. I know it's a small thing and I know that had I studied the instructions more carefully I would have learned this but it just stops the interface being intuitive.
The overall feel that I am getting is that this product needs some serious refining. It's a great idea and I'm sure that they have got the basics right but it is crude, the interface is clunky, the instructions vague with far too much emphasis on the system just working perfectly straight away. Also having to use NMEA to seatalk to seatalk NG is just daft.
I'll update this again soon and hopefully by then I will have some more positive news to impart! Until then…
Update Aug 2014
The nice man from Raymarine sent me a few spare planet gears to fix the drive. I used Loctite on the shaft so hopefully the drive won't burst again. I also used plenty of silicone grease when I assembled the drive in an attempt to make it quieter.
The good news is that the drive is working fine and I have a working autopilot once more.
Since rebuilding the drive I have had plenty of opportunity and some good varied sailing conditions to really test the EV 100.
On the plus side, the EV 100 is able to steer my boat at high speeds whereas with 'Dave' the Simrad I always had to reef early or he would be unable to keep up and have us weaving all over the place. This is very welcome and encouraging. Admittedly the pilot still works hard and is still very noisy.
Although the pilot is supposed to learn the boat and adapt I do not feel that this has been happening. Even turning down the rudder damping all the way to its max setting of nine has not stopped the pilot working hard when the sea is up a bit. That said the boat steers a good course.
One can supposedly adjust the hard over time to help as well but despite trying a lot of different settings none seemed to make a difference as far as I could tell. So the only real settings you can change are the rudder damping and basic response modes.
The pilot seems to work best on the lowest 'Leisure' setting. with the rudder damping set at 9. However this setting is no good for sailing on a flat sea as the boat drifts way off course before making any adjustments.
There are some very annoying things about the EV 100 and one of them is that you cannot adjust the parameters without putting the pilot into standby! So someone has to take the helm while you adjust the pilot. This is hopeless. Even my Simrad allows on the hoof adjustment of all the important settings.
Even more annoying is the brightness adjuster. The short cut button to access this is actually on the standby button itself so if you want to adjust the screen brightness, something you might want to do a lot, you will first put the pilot in standby. So you will need to get back on course afterwards and press auto to re engage the autopilot. Brilliant.
So where am I? Luckily I still carry the Simrad tillerpilot which is quieter and still works better than the EV 100 in most conditions. The EV 100 is great for when it is rough and windy as it can keep the boat on course and of course one minds the noise a lot less when it is noisy and windy.
One day sailing with 15 knots of wind, all sail and a flat sea the EV 100 was able to hold a steady course but I had to set the rudder damping at 3 and despite being set on 'Leisure' would insist on small movements the whole time although the boat would probably sail itself in those conditions anyway.
I'm not sure what is to be done. My man in Raymarine is on holiday for a while. Maybe the software needs updating. Maybe there is some way to adjust the rudder damping to suit my boat better.
I also feel that although the EV 100 is supposed to recognise roll, it does not seem to. Sailing upwind on a flat sea, the pilot doesn't move much if at all but when a passing boat makes waves and we roll, the pilot goes crazy when all it has to do is NOTHING. Maybe the 'roll' sensitivity can be modified in the software. This would also help when it is rough as most of the movement is roll. The boat tracks extremely well with its long keel so it's not as if it is coming off course as it rolls.
So to date: It works well though moves far too much and is way too noisy but can cope when conditions are rough and windy. This is already a massive improvement on 'Dave' but it needs more refinement and adjustment. The interface is a big let down. Not being able to access important settings when in Auto mode is hopeless.
I will update this in the weeks to come and I try to get the EV 100 working quietly in all conditions.
Update 11 August 2014
Yet more exciting sailing to gain more knowledge of the EV 100. Again it has steered us downwind with a reef in the main and the staysail poled out in 25 kts with no trouble at all. That said it does this with a lot of fuss, almost as if the pilot is trying to justify itself by moving so much.
There seemed to be more roll however and that I believe is due to the fact that the pilot is over steering the boat. A boat travelling at 6 knots will change direction fast and it will heel over, then when it goes the other way it will do the same, each time adding to the roll. A curious thing happened at one point.
The pilot crashed. It brought up an alarm saying the speed data had been lost but in fact all the fields were replaced with dashes so something serious had gone wrong. What was amazing is how the pilot just stopped making noise, we started to roll less. In fact the drive was hardly moving at all, just making small gestures every now and then and yet it kept the boat on course. This was in 25 kts of wind from behind and fairly large waves too. It drifted about 7 degrees off course either side but that is more than acceptable under those conditions.
What it does prove is that the boat is capable of being steered in a straight line, even over waves with very little input from the rudder. So why is the pilot working so hard?
Personally I'd like to see a special menu that contains adjustments for all the parameters such as sea state, rudder gain and damping, roll, pitch and yaw. Then the three modes (leisure, Cruising and Performance) would make perfect sense.
I have since been in touch with Raymarine who have asked me for info on the version I have and the deviation (5%) how this will help I do not know but one has to be patient in these cases.
Also I tried the autotack function but cannot make it work at all. The boat turns initially well but then straightens up so barely manages to come through the wind. As far as I can tell the boat did not turn an equal distance from one tack to the other. My Tack Tick wind indicator on the top of the mast appears to be set correctly, with no more than a degree or two off so it seems unlikely this is it. I tried this a few times, on both tacks and with the same result. I thought it was because the rudder damping was set so high but I tried other settings with the same result. Also it seems the auto tack option is only available in Wind mode. I suppose I am meant to use the Autoturn function instead when steering to a compass course. In an attempt to simplify things it is actually more complicated.
This dumbing down of interfaces is all well and good if the system works as intended but when it goes wrong there are no adjustments to be made.
Although I think changes should be able to be made to the pilot without having to go into standby first the man from Raymarine thinks it's safer not to. I think it's ridiculous myself. An autopilot that can't be adjusted on the hoof? That must be a first. I guess they're working on the assumption that the pilot will just work and that there's no need to address this issue.
So that's where we are at the moment. Conclusion: It works better and quieter when it crashes but I have not managed to discover how to make it crash so until it happens again I can't experiment further. When working normally it over steers regardless of the setting, rudder damping etc and because of that it wears the drive unnecessarily, makes noise, uses more power and makes the boat roll. That said, it does hold a good course, even if the boat is over powered or badly trimmed. This is good although it comes at a price.
I'm really not sure what Raymarine can do but even if they can't make it work any better I will be able to live with it. I can use Dave for most of the time but if it's windy or rough and I need more power and better course holding then I can use it. I'm thinking a good compromise would be to buy another TP30 and wire the motor direct and let the EV100 power that. At least it would be quieter!
Surely more to come soon….
14/8/14
Some more thoughts.
It always amuses me to read about a new product. Here's what Raymarine say about the new EV100 pilot:
No calibration required!
Engineered for simplicity, Evolution autopilots eliminate the need for complicated set up and calibration. Once Evolution is installed, getting started is as easy as switching the autopilot on.
Thanks to the intelligent EV sensor core, the autopilot automatically evolves and adapts to your vessel's steering characteristics without any user adjustments.
Well that's not been my experience. Nice idea though. Or rather, maybe it has evolved and adapted to my vessels characteristics, it just hasn't done it very well!
Evolution AI™
The culmination of Raymarine's 30 years of autopilot expertise, FLIR Systems research and development, and advanced aerospace guidance technology, Evolution AI™ control algorithms deliver a new level of accurate autopilot control.
This innovative breakthrough in autopilot intelligence enables Evolution autopilots to perceive their environment and then instantly calculate and evolve steering commands to maximize performance. The result is precise and confident course keeping, regardless of vessel speed or sea conditions.
Hmmm…
I have recently discovered that the Interface Raymarine use in their displays is called LightHouse. Well it needs work. It could do with a way to reduce the brightness without having to put the pilot in standby first, or having to navigate through the menus to find the option that way. Then there needs to be a 'Home' button so that you don't have to press 'back' five times to get back to the main screen.
Also it seems I may not be able to update the pilot, ecu and display as I don't have any other Raymarine displays and it seems that you need one to be able to update. I hope that this isn't the case but I won't be at all surprised if it is.
Update 21/8/14
Oh dear. The man at Raymarine has asked me to compare the various compass readings on the pilot against a fixed one. I did this but frankly don't see what good it will do. The deviation was small on all points. He also asked me for all the info regarding the settings I have used but it is getting boring now. Clearly there is something wrong.
I decided to try and reinitialize the pilot. This can be done by restarting the compass. But in my case it simply says 'task completed' and seems very pleased with itself even though it has managed to come up with a deviation figure of 188 degrees. Apparently going around in circles will change this but all I get is dizzy and a figure of —
So now I have no working pilot.
The man at Raymarine has been very patient (as I have) but he now suggests I call in an engineer to sort the problem. Funny this: I have been here before and after that last time I vowed never to buy another Raymarine product as long as I lived. Will I never learn? That was on my old boat. The engineer came and he was about as useful as a chocolate fireguard. He had no idea why the pilot wouldn't work and I suspect the engineer that will come this time will be none the wiser.
Either I have been supplied with a dodgy unit or the EV100 won't work properly on a Dana unless one accepts a lot of unnecessary movement and noise. Now I have to waste more time with an engineer on the boat while we go through all the obvious stuff all over again. I suspect the man at Raymarine thinks I am an idiot and have poorly installed the pilot. Despite that he has at least offered to pay for an engineer to visit even though I installed the pilot myself. So full marks for Raymarine's willingness to solve the issues I have been having.
The saddest thing about all this is that had the pilot worked well from the start (as it should have done if their blurb is to be believed) I probably would never have started to look closer and discovered an almost endless host of issues.
It has been an education fitting this pilot. Until it starts working properly on my boat I cannot recommend it at all. Had it worked I might forgive the limited adjustments, the poor interface, the noisy drive and the three different NMEA protocols and their associated wiring and converters. Far too complicated.
Update Sept 14
The software has been updated. The engineer came with a Raymarine chart plotter that he had to wire up and use to get the updates onto the EV.
Then I was told to turn off the calibration and compass lock, make sure the speedo is working and turn at at least 4 knots through a 3 to 4 minute circle. Yeah right. I can see them there laughing at the thought of me driving round in circles. Like I haven't got anything better to do with my time. Emails back and forth. Waiting for an engineer. Staying in expensive ports while waiting. I am getting very bored with all this.
So I went around in circles for half an hour and nothing has changed. Still just — marked for the deviation and if I try a compass reset it comes back straight away to the 188 degree variation.
Then I got a call from the French engineer who came. The fact that the deviation is 188 degrees is no problem. So long as the light in top of the sensor is green and constant it's fine. Well it is but Raymarine UK say that it is not fine and should be replaced.
Update 22/9/2014
This morning a new compass arrived which was duly fitted. Straight away the pilot seemed to work better with very little movement and fairly quick responses to what wind and wave there was. It is impossible to tell with so small a test if the pilot will work better in more severe conditions but it proves one thing and that is there was a problem with the EV compass sensor.
This explains a lot. If the compass is sending dubious information, the best autopilot in the world won't work well. There's no reason why the EV won't steer my boat especially as it is an easy boat to steer by hand in the first place.
So apart from the drive exploding, the compass unit failing, the strange interface and inability to change certain parameters while in auto mode it seems to work well. Raymarine have been very helpful and got to the root of the problem eventually.
I'll update this blog sometime in the future after the EV has had a proper work out in all conditions. What I can say is that on a flat sea under motor it works very well. For the rest you'll just have to wait.
Update March 15
It was a lovely day with a nice breeze blowing. 'Let's go sailing' I said and so we did. A great opportunity to use my new working pilot. My arse. As soon as I put it on I could tell there was something wrong. The boat would come off course and sails would start flogging. Frankly it was pathetic. 'Here we go again' I thought.
Despite messing with hard over times, response levels, rudder damping, nothing I could do would make the pilot steer the boat. So I checked the deviation only to find that instead of reading a nice small number like 4, it said —. This basically means that the deviation is over 25 degrees and there is a problem.
So with little to lose I decided to restart the compass. Again it came up with 188 degrees. The man at Raymarine says this is perfectly normal and what it actually means is that I now have to turn in a circle at more than four knots taking four minutes and that I must have a speed input into the pilot. The man at Raymarine thinks I don't understand this. True, I think it extremely strange than rather than say, 'go around in a circle' the display simply says 188 degrees. Nothing in the manual makes this any clearer.
So I wrote to Raymarine. Again. The reply was hysterical. 'Go around in circles at four knots etc'. You are having a laugh right? Clearly there is a problem. The pilot has never worked well from the start and I realise that reading through this fiasco I have been making excuses for this pilot because I so want it to work although it clearly doesn't and never has.  I am done with going around in circles. It's all supposed to be automatic anyway. What's with all this compass calibration anyway?
Anyway the upshot is this. It's going back to Raymarine. I have insisted on a complete new system in the hope that there is some strange bug that causes the pilot to be chronically inconsistent and lose its mind every time I want to use it. I am thoroughly disappointed. What a waste of money and my time.
Maybe a new unit will work better although I hold out little hope but I have to at least try. There's a gaping hole in my boat where the display should be for a start. There's no guarantee that they will give me a new system. But that's up to them. If they do, it will be the least they can do to sort me out. If they don't I'll just put it down to experience and make sure that the next time I absolutely DO NOT buy anything from Raymarine. Twice bitten Thrice shy!
Update: April 2015
Duly received the complete new unit. Installation was easy as all the screws and cables were still there.
I ran through the settings changing it to Sail and telling it what kind of rudder I have etc and then went out to calibrate the compass. This is automatically achieved when the boat turns through a circle at some speed.
The first time I did this with the old unit, it initialised before the boat was even out of the marina. I thought it a bit odd at the time. This time the deviation was still marked — even once out at sea. After about three quarters of a circle the deviation came up initially at 0 degrees but soon after 5 degrees. This is exactly what should have happened with the original unit.
The last time I used the old unit, the deviation had disappeared and gone back to showing — it also wouldn't steer the boat. Somehow it had lost the plot from one day to the next. Not that it ever worked properly in the first place.
This time the boat immediately held a steady course. The wake behind the boat straight as an arrow and what is even more encouraging is the fact that the turns were crisp and fast and the boat would come back on its new course quickly. The original unit never worked like that.
Admittedly I have only tested the EV100 under motor but already this seems a vast improvement and when I switch the unit on and off it does not lose the deviation setting.
Maybe I got an early test version before. Maybe it was just a dud, I don't know. I'll update when the EV100 has been tested under sail too. Fingers crossed.
Update May 2015
Finally some good news to report. I have had a chance to test the new EV100 under a variety of conditions and am pleased to report that it works well. It could do with some fine tuning but straight out of the box with no adjustments it has managed to steer the boat under sail, in light airs, with more wind, with the spinnaker up and with waves.
What is apparent is that this EV100 is nothing like the one I had before. This one is quieter as it moves less. It only really moves when the boat does and if the boat yaws strongly, the pilot moves strongly too. It seems like it is working as it should be.
Obviously it will need to be tested more thoroughly over a longer period of time but I can say that it works better now than the Simrad. It is stronger and more able to cope without having to reef down so early. It seems more intelligent than the Simrad. One senses that there is a brain inside that does something more than just turn left or right.
If only it had been working like this last year when I had more time to test it. I'll update this post in the months to come after the EV100 has had a proper work out.