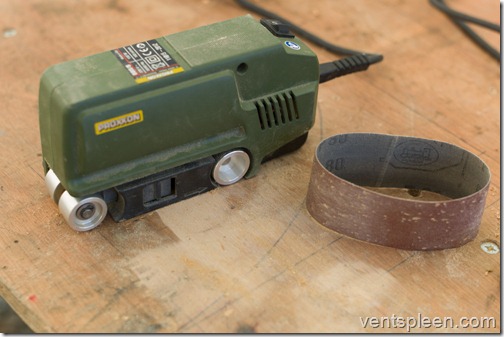 Hard to see the scale of the sander in this picture. See the next pic below to see how small it really is.
It's often crossed my mind that many power tools are just too big for my needs. Boat building is a unique trade and often tools that are fine for construction tasks on a building site are either not up the task or are too bulky or heavy to be practical.
Many years ago I had a small Bosch belt sander that was excellent. It was powerful yet small and light, both useful traits when holding a power tool above your head in the small and awkward places often found on boats. When it expired I felt its loss keenly. I bought a bigger Bosch belt sander and although it is an excellent tool and is still going strong I do miss that little tool. Bosch stopped making it and I have not been able to find another since.
Enter Proxxon, a German company who have been making miniature tools for 30 years. In their catalogue of amusing tools I found a small belt sander. It is hard to see how small it is from the pictures on their website but you can get an idea from the belt size and contact area. It uses belts 40 x 265 mm in size and they are available in grits from 80 to 240. The contact area is a tiny 40 x 60mm.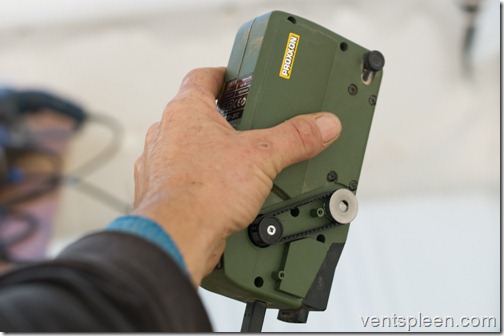 Tiny little machine. Belt cover off for inspection.
The motor is 150 Watts which isn't much but then it's not bad either for so small a power tool. At 175 mm long and just 700 grams it fits perfectly in one hand. There is a rocker switch on the top/back of the tool. The rollers are alloy and seem high quality. The belt is held in by spring pressure alone and is easy to change. The backing plate is made from some kind of hard plastic. There is an adjuster on one side that adjusts the belt's position.
It comes in a plastic carry case which even has holes for a padlock which makes me laugh. It can be mounted upside down on a bench and comes with the necessary clamp. It also has a dust extraction pipe and adapter. It is delivered with a selection of belts. The power cable is not very long but I forgive that in a small tool.
It's quiet and does not seem to spin that fast. Proxxon claim 160 metres a minute. That's about half the speed of a full sized model, despite this, it is surprisingly effective at removing material with the 80 grit belts on it. It seems to be made from nice quality parts and it feels like a serious machine despite its toy-like look. It costs about £130.
The reality though is that I broke it after just a few minutes work! The belt lost a tooth and that was that. I did not use excessive pressure on the tool yet it stripped a belt. On inspection it seems that there is not enough tension on the belt and of course there is no way to adjust it. I could be wrong, it could be that I have just been unlucky to get a machine with a defective belt. However the motor's cog is made of plastic and the teeth do not seem to grip the belt very well.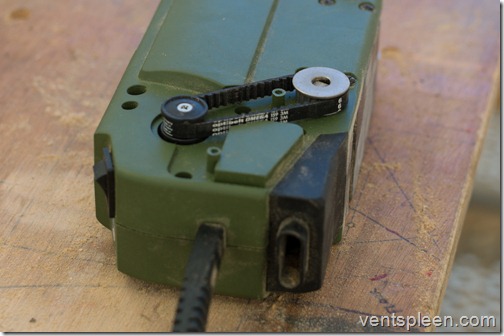 Despite hardly any use at all the belt has already lost a tooth rendering the tool unusable.
Before it broke I was already disappointed with the machine. I looks great and is very quiet but I can't really say anything else positive about it. It has a host of issues that were apparent right out of the box. The first thing is the on/off switch. It should be housed at the front of the machine where a finger can operate it. It has very little resistance and can switch on very easily, a potential hazard.
The plastic moulded base plate is far from flat. This is very poor especially for a miniature tool which will do a lot of delicate work.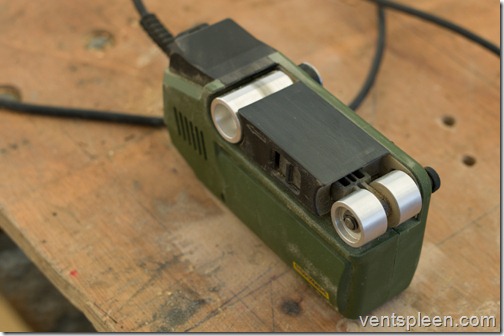 The backing plate was nowhere near flat. I had to do that with a block and some sandpaper!
The belt adjuster screw is far too sensitive and it is hard to get the belt to run centrally without it wandering off. The tiniest touch of the screw will move the belt which is really annoying. The screw is also a very loose fit and it has the habit of undoing itself. This is not so easy to rectify.
Conclusion:
A really disappointing experience. A very poor tool let down by a over sensitive belt adjuster which comes undone, a poorly moulded base plate and a switch which does not naturally fall to hand.
The belt lost a tooth after a few minutes of gentle use. It is possible that I was sold a duff machine with a weak belt but even still, there is far too much that is wrong with this machine.
A real shame as there is a place for a decent quality mini belt sander in my tool kit but  it's not this one!
Update 30/12/12
It's been two months and I still do not have a working machine. Proxxon have been as useful as a chocolate fireguard and love to tell me how they have not had any reports of problems with belts on the machine. Axminster power tools in the UK (where I bought the machine) have been no better. They sent me a replacement belt which had teeth missing!!! This may go some way to explain the problem with mine. It's likely that there are a few dodgy belts out there although Proxxon say they have checked all theirs and they are fine.
So the sander will go back and I will never buy another Proxxon tool again. That's twice I have tried buying Proxxon tools and twice I have been disappointed. They look like such clever little tools but in reality they are a complete joke. Proxxon do not seem very interested in proving that I am wrong but keep blathering on about how many units they have sold with no problems. Why do companies do this? Do they not realise that I couldn't give a toss about other customer's machines. I have spent good money for a quality tool that turns out to not be quality at all ( for many reasons) and doesn't even work at all. Months have passed and it still isn't working. Pathetic.