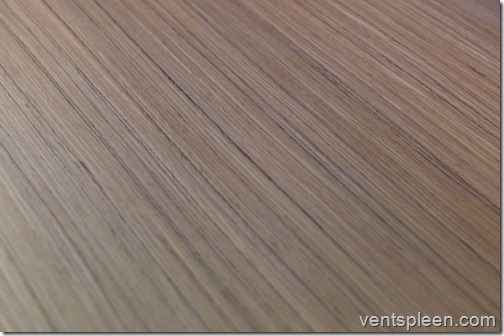 Clever stuff. Imitation teak. The colour and graining is convincing, only the regularity lets it down slightly.
Last year I was at Mets trade show for boats. It was an impressive set up with acres of stands covering all aspects of boating. Quite by chance I came across an Italian company selling wood veneers. I couldn't resist a look. I was very impressed with their huge range of veneers all of the highest quality. What's more the veneers were in large sheets displayed on hangers. I was surprised that such consistency could be had from wood.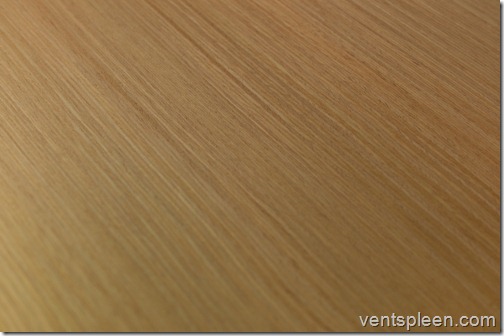 Not sure what this one is supposed to be but it's rather nice.
When I got home I did some reading and came to understand why the veneers were so large and so regular. The reason is because it's not real wood. Well it is wood but it has been reconstituted. Let me explain.
Alpi wood starts life as a fast growing and sustainable wood like poplar. It is then turned in to large veneer sheets which are then dyed with eco friendly dyes. Then they are stacked together and glued to make one massive piece of plywood which is then cut to the final veneer. The colour of the dyes and the orientation of different coloured sheets can create a surprising number of convincing veneers. Even the colour of the glue can help to add to the effect. Where a wider grain is needed, the block of plywood is cut at a slight angle to create the effect. The idea is simply brilliant.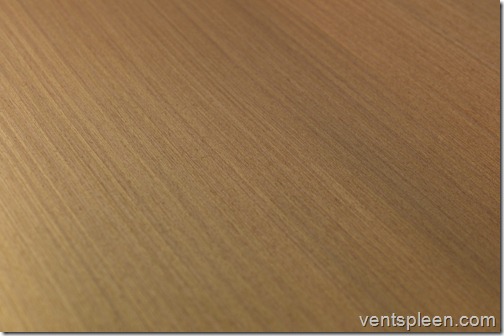 This must be mahogany. If you like that uninteresting regular grain pattern then why wouldn't you use this instead of real wood.
What we have here is a sustainable solution for exotic wood species. This is a completely eco product. Further more it is more stable than genuine veneers and available in much bigger sheets. You can even design your own wood. The possibilities are endless. Alpi were kind enough to send me some samples which I shall test in due time. They are not designed for outdoor use but I reckon if they are coated in a good UV varnish I see no reason why it wouldn't do very well outdoors.
The only real problem is that the wood can appear too perfect. It lacks the flaws that give wood its character. However in the right situation Alpi wood could be a very good solution. I look forward to playing with it.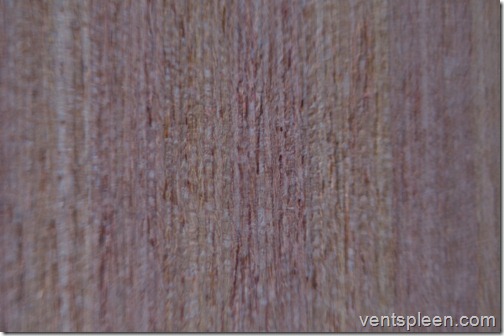 In this close up you can clearly see the individual layers. By laying slightly different colours in varying order almost any wood grain effect can be achieved.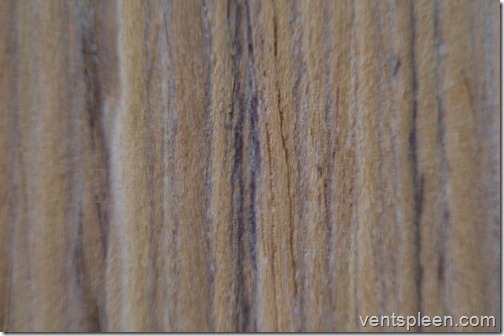 Close up of the teak version. There's a lot going on in here. The layers are thicker so this must have been cut at a slight angle and not square like the sample above this one.