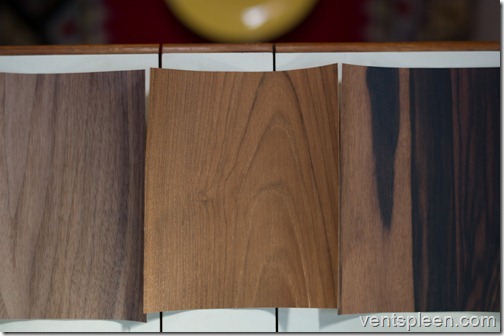 Tennage super thin veneer. Here is Walnut, Teak and Ebony.
Doing research for an upcoming project, I have been delving into the various wood technologies out there. What I am learning is that there are some truly amazing wood products out there and not only that, most are also eco friendly.
Since there are so many interesting new woods out there I will post about each separately. The first is a very thin veneer called Tennage. It is so thin that light can pass through it making it an interesting choice for lighting. It is just 0.2mm thick (or should I say thin?) and to keep it from splitting or breaking has a very flexible backing bonded to it.
This product's green credentials come from the fact that it is produced from wood that would otherwise be considered waste. An astonishing 5000 square metres of sheet can be produced from just one cubic metre of waste wood! So although the wood itself may not sustainably managed it is still a step in the right direction. The backing is made from a natural resin so it can claim to be a non VOC wood veneer.
It can be bent around curves or even sharp corners. It can be pressed into a shape using a vacuum press. It can be laser cut and stretched out for a funky affect and it can even be sewn. It is more resistant to UV and humidity than normal thicker veneers. All in all this is a very exciting product with no end of possibilities for its use. 
Tennage is available in over 30 species of wood so should satisfy most peoples' needs. It seems reasonably priced starting at about $150 a sheet rising to over $500. Sheet size is 900mm by 1800mm.
The only downside is that there is a minimum order of ten sheets which is over 15 square metres which is a lot if you only want to make a few lampshades!
As if the Tennage itself wasn't amazing enough there is a product made from it which is totally extraordinary. Called Ki-Ori Tennage it is a woven wood fabric based on a traditional method invented by the Japanese over 1200 years ago called Kyoto-Nishijin-Ori .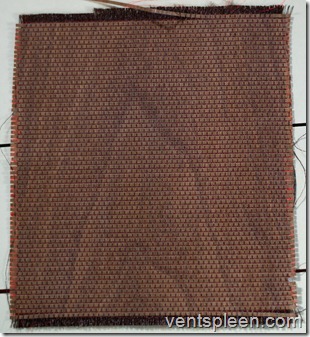 The Ki-Ori Tennage wood fabric. Quite extraordinary.
One might think that a woven wood would be rather stiff but in fact it is surprisingly supple and nice to the touch. It feels like a fabric but is made of 2mm strips of Tennage wood veneer. It is not strips of wood woven together but rather parallel strips held closely in place by thread. To all intents and purposes it appears as if the strips are woven together.
There is even a clearly visible grain pattern in the fabric. The look of the fabric can be changed by using any number of different materials for the thread. Cost is about $300 a square metre so it's certainly not cheap but it can do stuff that no other woods can. Thanks to its weave, it can be formed over compound curves which makes it very versatile. It comes in one metre wide sheets 1800mm long but comes on a roll and can be made any length you like.
All this was too irresistible for me so I bought a sample pack. I am impressed with the quality and the concept. It amazes me that anyone can even produce a 0.2mm veneer in the first place. I have seen varnish thicker than that! It remains to be seen how the woven wood will look when it has been shaped and varnished but I'll update this post with pics as soon as I get around to it.
Again, the only real downside is there is a minimum order of ten sheets which would add up to over $5000 plus import duty and shipping. I'm guessing that would equate to about 6000€. Ouch.
Here's their website: www.onlyone-pro.com.