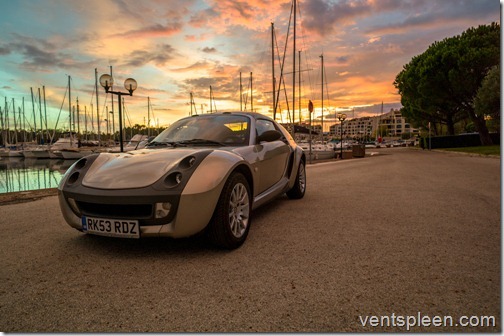 Ten years old but looking very tidy. The Smart Roadster Coupe hard top in Champagne Remix colour scheme. It's a lot of fun.
Sports cars these days are amazing but ridiculous at the same time. As beautiful as an Aston may be, in the real world it's just a headache. Too big and hard to see out off in most towns and way to fast for the roads. Maybe some years ago you could have had such a powerful car and actually get to use it but now with speed cameras, mobile radar, average speed cameras, parking restrictions and congestion charges it doesn't make a lot of sense. Not to mention the envy created in others by owning a car that costs as much as a house.
You could do a track day I suppose but if you had the kind of money that would allow you to buy an Aston why wouldn't you have a race car instead? Why use just a road car? You can't use its full potential on the public roads, that would be just foolhardy and could only end in tears. You would be forced to occasional bursts of power when the rare opportunity arose. Personally I couldn't own such a car and only use its power and performance so liberally. I'd want to push it and if I did, I would either crash or lose my license. Or both.
This is all academic. I can't afford an Aston and even if I could it's the last car I'd actually want to own. I would feel too guilty driving it. I would be constantly reminded that I was far better off than 95% of the world and that I clearly don't care about the environment. I have never cared what other people think but I do care about how I think so I need to have a more realistic and PC approach.
Enter the Smart Roadster. An expensive (for what it was) car when it was launched in 2003. Today prices start at about £2500 which for a car that cost 6 times that just ten years ago is amazing. True to say that a lot of eager initial Roadster buyers lost out when they came to sell.
Mercedes also lost out as they had to pay about £3000 per car in warranty claims to right the leaks on the cars. Not every car was affected but they got a bad reputation that remains to this day. The other criticism is the gearbox which is slow and sometimes annoying.
That said, there is a lot to recommend a Smart Roadster. Now that they can be bought for a much more realistic price, they offer cheapish and fun motoring, the like of which you though you would never see again.
Forget all the problems. This car is just such a laugh to drive and lets face it, if you were interested in practicalities you would not be looking to buy a tiny sports car with only two seats, limited luggage space and a car so low that you run the risk of looking a complete tit as you struggle to get out in and out of it.
There are some things that are important buying a Roadster, one is that it is better to buy a higher mileage version because it means it has been used. If it is being used it suggests that it must be reliable. A full Smart service history is the other essential. If it has always been serviced by Smart, the chances are that any issues have long since been dealt with. The Roadster has a highly tuned engine which needs more care and servicing that most modern cars. It needs an exact type of oil and has 2 spark plugs per cylinder. It is a complicated little car that needs understanding. This is why a Smart dealer service history is so important. Even a Mercedes dealer service history could be suspect. Word is that Mercedes didn't care for servicing these cars and lacked proper understanding.
I bought my roadster on line from a garage selling left hand drive cars in the UK. The idea was to drive it to the south of France where it will become my everyday transport and weekend toy. It had 60,000 miles on the clock and a full Smart service history. I could tell from the pics that it was a tidy car. The guy at the garage said that everything worked. That is true, despite having heated seats, cruise control, electrically heated and adjustable wing mirrors and gawd knows what else, everything really does work.
Really I think that is quite impressive. No ten year old car that I have ever owned can say the same. Will it prove reliable? There is no way to know although I can say this. I have just completed a 2500 mile trip around the UK and then to the South of France in it and it never missed a beat, as happy on the B roads or in the rain on the motorway.
I may feel different once I have had to replace a few parts but I'm not unrealistic about owning this car. I know it will cost me money. Cars do. But even if it does go wrong and cost me money I frankly don't care because it is just such fun to drive.
There have been a lot of comments on various forums and articles slagging off the gearbox and because of this a lot of people have been put off owning one. Or perhaps they were looking for a valid excuse not to buy one knowing that as much as they wanted one it was too hard to justify for many reasons so it was better to say that you would have bought one if only the gearbox was better.
The funny thing is that I think the gearbox is a stroke of genius. It's a clutchless manual 6 speed box that can be an auto as well. The best of both worlds. who wants to be using a clutch in the traffic that we see these days? Not me. I have wanted an automatic car for a long time but they are so drab that until now I have not been able to do that.
The car must be learned. I think it took about 1000 miles of all sorts of driving before I felt I had the measure of the car and the gearbox. You cannot do certain things because the car won't let you. Fine. All you have to do is learn to drive the car within its limits and when you do you will discover that it enhances the driving experience. It keeps you more focused as you drive.
There are lots of tricks. They say that an engine remap often speeds up the gear change. I tried that but couldn't notice the gear change being any faster. Still it was worth a try and has made the Roadster even more fun to drive. The adjustment of the clutch actuator is critical. If there is too much play the clutch action takes longer and since the gears cannot change until the clutch has done its thing it slows every thing down.
Using the Auto option also slows the gear change down. At low speeds or in town the gear changes are very smooth and imperceptible it's just when you take the engine to the redline in every gear that the changes are slow and snatchy. However if you change gear manually you will find that the changes are much faster. If you can get it so that you change just before the redline it helps too.
But what helps the most is letting the car warm up properly before thrashing it. This is good for the turbo in any case but like an old Fiat it just gets better and better the warmer it gets. Once you get the hang of the gear change it is not really so slow at all. I would say it is like a leisurely change gear in a normal car. The reality is that this is quite fast enough for the road. Perhaps on a track you might lose a fraction of a second with every change but what most people fail to point out is that you don't need to change gear as often as you think.
On the road once rolling you don't change gear much. The little 700cc turbo engine is remarkably torquey and pulls like a train from 3000 rpm to the 6000 rpm redline which means that blasting down a country lane you are mostly in 4th gear. You can accelerate from 40 to 70 very quickly in the same gear.
The 0-60 time is misleading because it changes gear just a few mph before 60 which spoils an otherwise respectable time. Most decent remaps allow more revs in third gear so that it changes after the car has reached 60mph and this makes a huge difference to 0-60 times, I'm guessing about 8 seconds which is quick enough in the real world. There are a few methods for a faster get away. There is a switch at the bottom of the throttle pedal that speeds up the get away by raising the revs to 3000 before releasing the clutch. There's also a way of using the ignition key to get the revs up before the clutch is released. It takes some practice to get right but does make the Roadster rocket off like a scalded cat but I doubt it would do the clutch much good.
Unless you're drag racing the slow gear change is not a problem. On the road, in the real world the Roadster can hold its own against most challengers. This is where the Roadster shines. It has a low centre of gravity and a 45/55 weight distribution and ridiculously wide tyres for such a small and light car so it sticks to road and is beautifully balanced. I read somewhere it can generate almost 1 G which is astonishing.
The problem with the Roadster is not that the gearbox is pants it's just that you can't drive this car as it was an ordinary car. You have to rethink what you are doing and drive it as it dictates and then you will understand it's charms. Sure, sometimes it seems a bit slow or snatchy but I'll take that over a clutch. 99% of the time the gearbox works just fine so long as you stay within the confines of the system. No doubt this kind of thing disturbs the purists but the fact is cars have been taking over many functions from the driver for years now and no one complains about that. Things like auto choke and ABS for example. In the future, cars will do more and more for us so you might as well get used to it.
The technophobes of this world will always diss a new or different way of doing things. For years now Airplanes have not had mechanical systems to operate the wing flaps. It is all done by wires and servos. Yet planes are more reliable because the Human element has been taken out of the equation. No one doubts this because we still get on a plane and expect to arrive. The Roadster has no throttle cable. It too is 'fly by wire' and that seems to scare people. The simple fact is that electronics will rule our lives more and more. For those not afraid of technology the Smart Roadster is a great toy. To those pessimistic technophobes I say; Build a bridge and get over it. Even if it breaks down it's not the end of the world. RAC membership and a mobile phone will get you home. Not like a plane that simply falls out of the sky.
The steering is direct and it changes direction instantly with no roll. It is only marginally affected by cross winds and passing lorries at speed. I don't know why the Roadster has power steering but it does and it does make town driving a doddle and since it is speed sensitive you don't really notice it. The steering wheel needs a fair bit of movement but maybe this just adds to the experience as you have to move the wheel so much. A bit like a kid with a toy car wildly swinging the wheel and making screeching sounds. The only thing that is missing from the Roadster experience is squealing tyres which it just doesn't do. The standard wheel is quite large but you can fit the Brabus version which is a couple of cm smaller but it's no prettier than the original wheel. The horn is operated by buttons on each side of the wheel but they are never to hand when you want them. I would prefer that the centre of the wheel operated the horn.
The handling is amazing. It just sticks to the road and seems completely unfussed how you drive. You can change direction mid corner, you can brake or accelerate. It just goes round the corner so easily. Perhaps it's being so close to the road and since the centre of gravity is so low there's practically no roll at all. I have not noticed much understeer and the back end seems firmly planted too. My guess is that if you really do push it it will be the back that goes first. I have yet to do much driving in the rain so I can't really comment on what it will do if you over do it. In theory the ESP will take over the car and sort it out. The system is able to control the throttle, clutch and the brakes. It can even brake individual wheels to help the car back on line.
The ESP can be turned off but in fact it only allows wheelspin, it will still take over if you over cook it. That said despite some fairly spirited driving the warning light has yet to come on indicating that the system is taking over. Sometimes if you go over a bumpy road too fast the light can come on but I was not aware of the car taking over in any way. From what I have read it seems that even when the system operates it is never intrusive. I think the only way to tell is to do a track day and see where the limits are. On the road it is hard to know that.
The brakes are good. They are not sharp and require a fair bit of pressure but the car slows quickly. I tried braking hard from 70mph and it pulled up straight with no drama at all. A tiny bit of intermittent squealing could be heard as the ABS cut in and the car nose dives a little but the way it stops is very impressive. How they will cope on the track I have yet to find out but on the road I have not experienced any fade.
The motor is a fabulous creation. Three cylinders means it sounds like half a Porsche and the turbo waste gate makes a delightful chirruping noise when you change gear. You're so low to the ground that you really think you're going faster than you actually are. This is a good thing and is why I would rather have a Smart Roadster to drive than any of the latest Supercars out there. You can drive it like a nutter and still have a good chance of not having your licence taken away. What is maybe even more extraordinary is the fact that over that 2500 mile journey on all sorts of roads I still managed to average an amazing 45 mpg. Considering how much I was thrashing it that is a remarkable figure.
The Interior is a nice place to be. Once you have 'fallen in' to the car. It's all a bit plastic and the switch gear isn't the smoothest but it's still cosy and yet spacious. Water leaks into the windows when you lower them as there is no roof gutter. But it's a sports car. One expects some compromise. The answer is simple. Don't open the windows when it's raining! The sun visors are hysterical being tiny and unable to move to the side. Actually they work fairly well but clack back shut noisily. There is very little reflection from the dash and the instruments are easy to read although the speedo over reads but this just makes you think you're going faster than you are.
The stereo in my car is the CD version by Grundig. It's not bad. It's easy to use and the sound is good. What is pants are the speakers so I changed them for some high quality German ones. Not cheap but the sound is excellent and the mounting tabs correctly placed for the Roadster, often people install a normal speaker but cannot screw down all four tabs and this leads to vibrations. The Stereo Koncept speakers come with tweeters which are supposed to be fitted below the speakers in the doors but since my car already had tweeters in the dash below the windscreen, I simply swapped them for the original ones. I also added some tape to the tabs that hold the speaker grills in place to stop them buzzing. The speakers are very small but they have a surprising amount of bass and sound very good. Just loud enough to listen with the top down.
The seats are firm and comfy but I find they lack lumbar support for me. Three hours driving is fine but after that you really fancy a stretch. The seating position doesn't really work for me. I find that when the wheel is in the right place I can barely touch the pedals so I have to be closer to the wheel than I would like. I also find myself a bit low being a short arse. I raised the seat about ten mm and that has helped enormously. There's plenty of headroom. The seats grip you well in the corners so you're not constantly being thrown about by the considerable G this car can produce. The seats have metal backs and protect in the event of an accident which is a comforting thought and they have side airbags in their tops. (at least on my car).
The passenger seat folds down but the driver's one doesn't. The driver's seat can be reclined but the passenger's is fixed. Getting the passenger seat to fold is a two handed operation but that is because the seat has to be massively strong and needs two clips to lock it in position. I dare say Smart could have made a single lever system but the seat is not often folded so it's no big deal.
Visibility is good considering although it's impossible (for me) to see the front nearside of the car. The rear screen has no wiper but then it doesn't need it as it just doesn't get wet or dirty. The windscreen washers have 4 nozzles and do a great job of washing the windscreen. Side mirrors are electrically operated on my car and that can be helpful when reversing against a curb.
Air conditioning works well as does the heater and heated seats (ridiculous) but since my car has them, maybe one day I will be grateful for them. I used the aircon almost all the way on the last 2500 mile journey in the UK and France in July. It was hot and I was glad of it. Basically the car works just fine and most people when sitting in it for the first time are surprised at the space and the coolness of the interior.
What surprises most people is just how quiet and smooth the car is on the road. My car has 15" wheels which must help a lot. I can't imagine what the 17" Brabus rims are like. Must be horrible. The Roadster handles bumps and potholes as well as you could expect for such a low slung and sporty little car. What surprised me most was the mellow way it deals with speed bumps. That is a helpful trait for any modern car what with so many speed bumps about. Passengers always comment on how quiet and smooth the car is. I guess having the engine behind helps to keep the noise behind you.
On the motorway the Roadster works brilliantly. My car has cruise control which is essential if you do a lot of motorway driving. I find that the throttle pedal is not well placed for me and if I didn't have the Cruise Control I suspect that my foot would ache after a while. There is a fair bit of wind noise at 80mph but it's not terrible. A strip of insulation tape along the front edge of the hard top cuts down the noise dramatically. But the Roadster is not a motorway car and any excuse to get off and find a B road is welcome.
There is a boot at the front that is quite commodious and for the overspill there's always the rear boot which is 180 litres. The only down side is that it ruins your rear vision. The hard top stows in the back too so that cuts down the space you can use. That said this is a surprisingly practical car which can carry a lot of stuff considering its size. The power steering and auto box make town or traffic far more tolerable.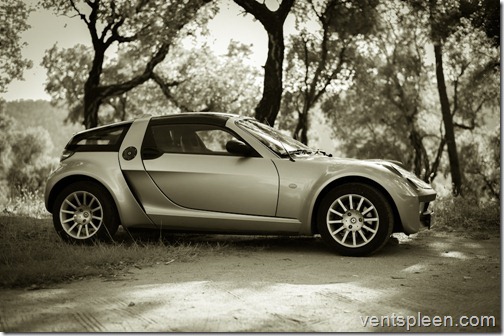 A great looking little car. The wheel base is the same as a Porsche 911. These are the 15" standard wheels.
My car has the hard top roof only. It takes a couple of minutes to remove or replace. It's very easy. It is a joy to drive with the roof off. It really transforms the car. For a start you can't hear the creaking from the roof panels as the chassis flexes slightly. It's so nice to have that open air right above your head and it is very nice to be able to thank other drivers by raising your hand out of the roof. Although you will not be popular with your passenger especially if she has long hair as the wind does buffet around in the cabin although it's not too bad. There are two small plastic ridges on the top of the windscreen surround which may be there to cut down on wind noise or deflect air away. I can't think what else they could be.
The outside of the Smart Roadster is clever too. All the panels are replaceable and made of plastic. So you could have two sets of panels and change the car's colour in a couple of hours. One of the best things about plastic panels, apart from the obvious lack of rust is that they do not dent like metal. My last car was perfect except for a line of small dents down each side where people had been opening their doors on it in car parks. The Roadster might get the paint chipped but the door won't dent!
The roof hinges are far too large and the paint flakes off them. I don't know why they are so big. In my opinion they spoil the looks somewhat. The door handles work well and the doors open and shut easily and with a nice noise. Maybe they shut too easily and can get slammed by people used to much heavier doors. The electric windows are fast, quiet and smooth and although I prefer the switch on the door it's not terribly hard to reach to the centre consul to operate them. Most of the switch gear is within easy reach.
Parts are available from a number of places and don't seem too badly priced. I think the secret with the Roadster is careful and preventive servicing and maintenance. Only time will tell how reliable the car is and how often it needs parts such as clutches, brake pads etc.
There are also a lot of good sites with how to articles about all the aspects of the Roadster and that really is very helpful. When these cars came out they had a dedicated and keen following. Loads of companies offer tuning parts and wheels for the roadster. You can even buy doors that lift up when you open them just like a Lambo. The question is not what do you want to do to your Roadster buy how much you want to spend.
You can even buy active woofers that fit in the passenger foot well. The look a bit bulky and must surely take up some legroom but with the seat right back, there's plenty spare. You can get chrome trims for the instruments and lowered suspension and uprated brakes. Quite a few companies make exhausts too. The one I keep coming back to is the Janspeed Stealth. Just like the original exhaust, you cannot see it's exit hidden as it is behind the rear valance. The Brabus versions have a central exit that requires a new section of the valance.
The roadster looks great to me with it's bulging arches and smiling face but some don't like it at all. It's true, the back end isn't the prettiest and a centre exit exhaust doesn't even help. In my opinion, the less you draw attention to the back end the better. The first cars had sections of dark grey plastic for the headlights and a part of the rear valance. I guess in a way to reduce visually the large area of paint. Some owners colour code these parts but I think it makes the car look a bit cheesy. Although the dark plastic bits aren't too pretty they offer a good contrast to the paint. Despite that the Roadster is eye catching and unlike anything on the road today. It offers a welcome antidote to the majority of modern cars which are hard to tell apart.
It's amazing how many looks the car gets. Kids love it especially and it's always a treat to see another on the road. There are not many cars left that always flash and wave when they see another one the same. Just the other day I stopped alongside a Portuguese Roadster exactly like mine. The guy was so surprised. He was touring Europe with his girlfriend and having a great time. There are not many Roadsters on the road but if you keep your eyes open they are around.
There are problems with the car being so low is that it seems less visible to other road users. Or maybe they see a car and assume it's as big as a 'normal' car and thus further away than they think. But I think it's the fact that it has a very angled and small frontal area that's just hard to see unless you're looking and sadly today not everyone does look. However with good brakes and quick steering you should be able to stay out of trouble no matter what everyone else does.
There is also a cheeky aspect to the roadster, with the roof off, windows down you can change lanes and nip in front of people without upsetting them, a hand waved through the roof in thanks is all that is needed. No one has hooted me yet! Though I have been flashed at when overtaking sometimes. The car coming the other way just doesn't realise how quick you can overtake and over reacts.
My conclusion is this: Who cares about all these details really? The one question you need to ask yourself is do you want to have fun when you drive? Do you want to enjoy the journey or do you just want to arrive? The Roadster is not for everyone but for those who want to let their hair down and simply have a laugh without losing their license or spending too much would be wise to consider the Smart Roadster.
The Smart Roadster has competitors. There's the Mazda MX5 and the Toyota MR2 to name but two. Now I haven't driven either of these and I'm sure they are excellent cars which are super reliable and quick enough to excite but I'll bet they won't make you smile as much as the Smart Roadster will. It's not for everyone but if you want to have a laugh for not much money then test drive one. Bear in mind what I said about learning the car before you judge too soon.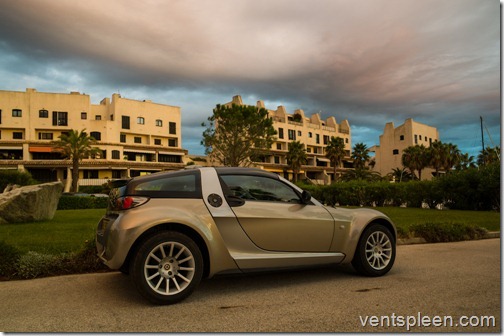 Update: After 10,000 kms
The roadster has yet to let me down but it did develop some faults. The first problem was a slipping clutch. It came suddenly so I suspected the actuator. My local friendly Smart garage greased it up and adjusted it, first by pulling the actuator towards the clutch using a special spring balance. Then the actuator is fixed in that position. Then the car must be attached to a computer which then adjusts it. This seemed to help.
Then on a long journey the car would accelerate in a weird way and the turbo boost gauge was not steady. Some quick research on the Internet and it soon became clear that the Turbo was knackered or the manifold was cracked or both. In any case the solution was a new turbo. It comes ready assembled on the manifold. Prices vary but I got one for about £400 which isn't bad really. The Turbo is so cute, smaller than a donut with tiny little vanes. It seems impossible that so small a fan could boost the power on this little engine.
So while the Turbo was being replaced I also serviced the engine, changed the gearbox oil, replaced the two belts and even a broken front engine mount and the entire sump. Many roadsters have rusty sumps which can start to leak. I bought a plastic replacement which even has a drain plug, something the standard Roadster doesn't have. Oil is extracted via the dipstick, a poor and inefficient way of doing things. I also replaced the aging actuator with a new one.
At first the car felt a bit underpowered and the boost was not rising above 1 bar. I thought for a while that the remap had been overwritten by the garage when they reset the gearbox and the actuator. Not so, after a few more miles the boost started to climb and now tops out at just under 1.5 bar. It never managed that before so I guess that the Turbo was getting tired even when I bought the car. No worries, now the Turbo is new it should last a few years.
Then the clutch started slipping again. One of the reasons for changing the actuator was so that if the clutch still slipped it would rule that out once and for all. A slipping clutch could only mean one thing, a worn clutch that needs replacing. So I ordered a clutch and release bearing and while I was at it, a new oil seal for the crank. It can leak and cause a slipping clutch though my Smart man thinks it unlikely. In any case since I ordered the clutch (about £250) the current one is working just fine again. In fact the car has never driven better. It is up on power, the gear changes are crisp and the throttle response excellent so for now the new clutch will stay in its box until needed.
Then today I booked the car in for an MOT and driving away the handbrake button popped out of the handbrake so the handbrake no longer locks. Most annoying. Here's a fault I had not yet read about. In order to remove the handbrake it is first necessary to remove the carpet. In order to remove the carpet, you must first remove the stereo to get access to the bolts that hold the facia in place. Remove the seats (first disconnecting the battery because of risk of explosion from side air bags) and the gearlever, shaft and tunnel. It seems like a ridiculous amount of work just to remove the handbrake but actually it wasn't too bad at all. I don't suppose it took an hour and this was the first time I did this so I can only get faster. Having the carpet out was the perfect opportunity to wash and scrub it as it was not smelling so nice. Maybe from a leak that was since fixed. The car was immaculate under the carpet however.
The problem, and here is a classic example of why Smart failed with the Roadster. The ratchet that holds the handbrake is connected to a plastic arm with a hollow in it to catch the rounded top of the ratchet piece. Being plastic and poorly designed and engineered, it was only a matter of time before this happened. To have done a proper job with this piece might only have cost a few pence more but Smart decided to go with plastic and for moving parts it's a poor idea.
Unfortunately the handbrake is not only hard to remove because of the aforementioned other dismantling that has to take part first but it is also NOT designed to come apart being riveted together. It is pretty nasty. I could buy a new handbrake for £100 but have decided to repair it by adding metal to the plastic to reinforce it. That way it will not happen again. Amazing really when you consider how much work it is to remove the handbrake why they used such shitty plastic that was bound to break one day.
So that is where I am today, with the car in pieces, seats out and handbrake in pieces. But I am not disheartened. The Roadster is such a clever car in so many ways that despite the failures here is a car which can go on forever because the plastic panels don't rust and the Tridion chassis is very well painted and protected by plastic. Unless you prang the car it could go on for decades slowly replacing all the mechanical parts as they fail. In the future the Roadster would make a perfect donor car for an electric vehicle. Yes the car has cost me money but it has not stranded me and the pieces I have replaced are things that would need replacing one day anyway. So, until the next exciting episode. What will break next I wonder?
Update Nov 2013
A very amusing day was spent at a local race track. Most of the cars were Lotus and Porsche and I am pleased to report that the Roadster was not the slowest car by any means. The single seat racing cars were doing a circuit in about one minute. The Roadster managed a respectable 1.12. It scores well in the tight corners and corners which change direction quickly. It also scores on stopping, being able to brake ridiculously late.
It was let down by two things, one being the lack of outright acceleration although to some degree this was mitigated by not really needing to brake in the first place! The second thing that was a bit frustrating were some of the gearbox ratios. There were a couple of corners that required third gear but at the exit the revs just passed 6000 rpm so the gearbox would change into 4th when it should just stay in third. It was only a matter of a few hundred revs but enough that I had to back off the revs slightly so that it didn't change. This happened again at the next set of bends where I needed forth but if I didn't pay attention it would change to 5th and mess up the next set of bends. That said, this is true of any car on a track, gearbox ratios will often to finely tuned for particular circuits and corners. It's a minor gripe but made more noticeable because of the Roadster's gearbox.
What I did discover is that the Smart Roadster is a fantastically well balanced sports car with an astonishing level of grip and a very forgiving stance even on the limit. I found that even with the tyres screaming their protest it was still possible to change direction, exaggerate a slide or reduce it just but playing with the steering. Many sports cars rely on throttle response to change the car's attitude in a bend. Not so the Roadster. It doesn't have the power for this so it's just as well that the basic chassis is so well set up and allows you to do this. I was very impressed.
I was surprised at how far I could push the car. The tyres, which never squeal on the road were quite vocal on the track. It might have been something to do with the surface which certainly seemed considerably more grippy than your average road surface. Maybe it's the surface itself, or maybe just the rubber that has been laid down over the years or maybe it was the fact that I was driving it like a maniac.
I tried many different styles of driving to get the best lap time and the fastest was achieved by driving like a lunatic with tyres complaining on corners and ABS cutting in under heavy braking but it doesn't seem very skilful so I tried a more elegant approach but times dropped by a couple of seconds. Most interesting.
The ESP was turned off and this allowed me to do 4 wheel drifts through corners. On the occasions that I forgot to turn it off I did notice it take over the throttle and stop the drift and in doing so slowed the car down enough to ruin a good lap time.
Under braking the car is so balanced and composed. I was in company with a French guy with a Lotus Exige who was about 6 seconds a lap faster than me and he was surprised how late I was braking at the end of the straight. From 100 mph to 30 mph in no time at all. He was braking before the 100 metre mark and I was braking well after it. Now, how much this has to do with the fact that although I was doing 100 mph at the end of the straight, he must have been doing considerably more so perhaps it is normal that he had to brake earlier than me. What I do know is that many of the slightly faster cars all used the hard right hander at the end of the straight to pass but with such late braking they were frustrated every time.
What surprised me most was that my lap time was about the same as the bulk of the Elises. I would catch them in the bends and they would catch me on the straights. The cars were well matched. In the end I let them go so as not to slow them down but would always catch them up again and they would let me go past. This alone is quite amazing that a car with just a 700 cc engine is able to hold its head high against some of the best sports cars in the world is very impressive. Remember also that apart from a remap, my Roadster has completely standard suspension, brakes, wheels and tyres while most of the Lotus have upgraded everything including special soft tyres.
What I have realised from this track day is this. If you want to have a laugh on the track for not very much money you would be hard put to do better than buy a Smart Roadster. Lots of other drivers commented on the handling of the Roadster and were surprised at how quick it was.
Just a couple of hours driving round a small track with quite tight bends took its toll on the tyres and they were all beaded up and torn although not as badly as some of the other cars I saw. It is a light car and so well balanced that although the tyres wear it's not too bad. In any case brakes and tyres are bound to wear at a much higher rate on the track and of course this needs to be costed in. Track days are expensive all in all. The actual track only costs a couple of quid a lap but the wear and tear on the car, brakes and tyres will probably double or triple that figure.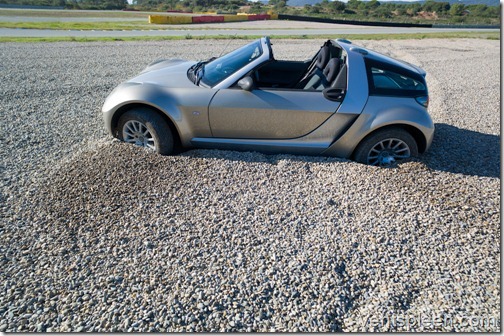 The result of over cooking it. The car ended up beached a surprisingly long way from the track.
Then there is also the chance of damaging the car, the paintwork and the windscreen. And of course if you push too hard and and end in the gravel traps then the wheels and lower bodywork will take a beating. That's what happened on my second outing after about 15 laps. For no reason at all I lost it after a corner and I don't know why. Probably the simplest solution is that I was going too fast but it didn't happen again. It remains a bit of a mystery really but it does prove that it is definitely possible to spin a Roadster even with the ESP which never turns itself off completely.
The track day was a useful experience which has given me so much confidence in the car and its handling. There is no way you could drive like that on the road but it's nice to know that even at good speeds the Roadster is well planted, offers excellent grip and handling. Powerful brakes that are undaunted by uneven surfaces. It does nice 4 wheel drifts and if you over cook it that turns to understeer and then if you really over do it, oversteer.
All I need to do now is polish out the marks made by the gravel in the bodywork and see if the wheels will polish up. If not, they'll need to be resprayed. If I was going to do this more often I suppose the best would be to get another set of wheels and put racing slicks on them and change them at the track. Of course then the suspension and brakes would need upgrading. Then I'd probably start thinking it would be nice to have a bit more power. I think the standard Roadster is brilliant and can be used with much effect even completely standard.