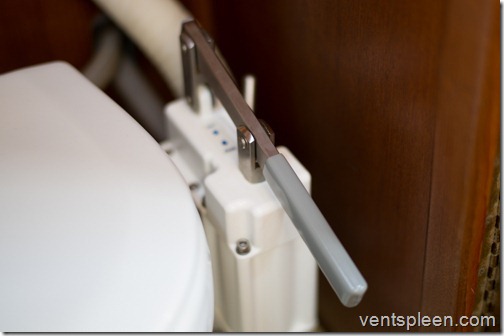 The Rheinstrom Y3. The lever makes pumping very easy and keeps the shaft straight minimising seal wear.
Normally I wouldn't write about a boat toilet but when I tried to research this toilet I could find no reviews or any comments of any kind. This is very strange because Rheinstrom obviously make a very nice product and they have been doing so for over 50 years. No company that lasts that long can be selling rubbish. Then consider that Rheinstrom is a German company and it looks like being a quality bit of kit.
The toilet on Doolittle was a Grocco HF. It is certainly a better toilet than most of the offerings on the market today and a new one will set you back about 600€ and because it is made in America it's not the easiest toilet to service and get bits for. It has a bronze base which is something but it is let down by the plastic pump assembly which either breaks or becomes unreliable and needs constant attention. To be fair it has done ok. It coped for eight years of two people living aboard.
I almost missed Rheinstrom during my research for a better toilet than I already had. At first glance these toilets don't look pretty having a very functional and practical look. However in place it is a great improvement over the Grocco. There is something about solid trustworthy well considered engineering. That in itself is enough to make such a mundane object almost attractive.
There's a lot to like about the Y3. The pump can be fitted on either side which could be helpful if you were left handed or short on space. The entire toilet (apart from the bowl) is made from metal. They do two versions of the same toilet, a bronze one and an aluminium one. The alloy version is half the weight of the bronze one at 8 kilos it's surprisingly light.
It's made from high quality aluminium and then deeply coated with an easy to clean protective hard white plastic finish. It's been very well considered and is very nicely engineered. Unlike the Grocco which needs a whole host of screwdrivers and different sized spanners to dismantle, the Y3 uses the same size stainless Allen key for most of its fastenings.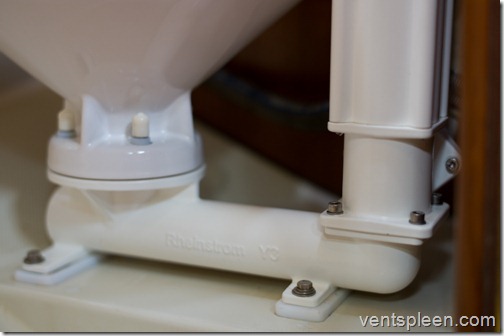 Quality castings. I like way it is possible to remove the pump without disturbing the big outlet. Stainless Allen key heads for most of the fastenings keep things simple.
The pump action is very smooth. It has a relatively short stroke but a wide pump body. Even the main base piece has a large internal diameter making this a hard toilet to block. Not only that but it should not need such regular servicing as the Grocco did as it has been designed to minimise wear in all areas. The piston pump rod has a machined guide to keep the rod from wearing the top seal. To help this, the pump uses a lever rather than a handle connected directly to the rod as most toilets do.
Even the dry/flush lever on the side has been well thought out. It is made from a cast piece of stainless and is very elegant but the sealing system is very thorough and a vast improvement on the Grocco which often leaked at this spot. The required O ring is NOT supplied in the toilet rebuild kit which is ridiculous. I called Grocco and they told me to just go to the nearest hardware shop and buy one, they only cost pennies. Well, if they only cost pennies, WHY DON'T YOU SUPPLY ONE IN YOUR REBUILD KIT?
Despite the short stroke, the toilet requires less pumps than the Grocco. The Y3 requires 7 full pumps for every one metre of piping. The Y3 is available with two bowl sizes, small and large. I chose the small version which is about the same size as the Grocco one. One of the things that was good about the Grocco was its small size. The head in Doolittle is not massive and I didn't want to fit a large toilet and the small Y3 is not much bigger than the Grocco so it fits in very nicely. I was even able to get it to sit a bit further back too so actually there is more space in the head than before.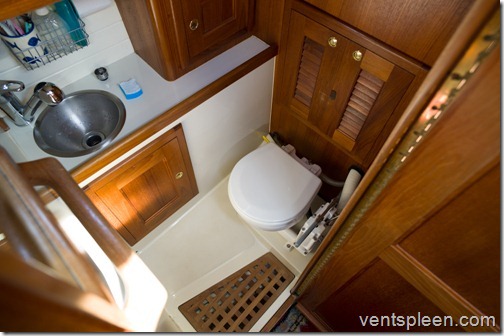 The Y3 in place on 'Doolittle' Of course the mounting holes were different and the aft outboard coach screw needed cutting down a bit but otherwise it was a straightforward swap. None of the hoses needed moving or cutting.
The toilet lid is a standard plastic covered MDF affair with plastic hinges. It's not beautiful but neither is it offensive. It is at least easy to clean. If the Y3 has one failing it's that it's not going to be the easiest toilet to clean with all those bits and pieces on it. I also question the wisdom of using Allen key heads because they can fill with liquid. Maybe it is possible to get plastic caps for them. But these are issues that might be applied to almost any toilet with a pump.
The Y3 has not been fitted for very long but it looks very hopeful indeed. You can see that it is a quality product made with excellent materials and it has been very well designed and thought about. It should last years. I bought a rebuild kit which cost about 80€ which is expensive but even the seals and O rings are of excellent quality. It's not much more than most other kits from other toilet manufacturers. The toilet itself cost about 800€ which is a lot but it is a good product and if you want quality then you usually have to pay for it.