Please note that this post was written in July 2010 long before Leica launched the M9-P Sorry for any confusion!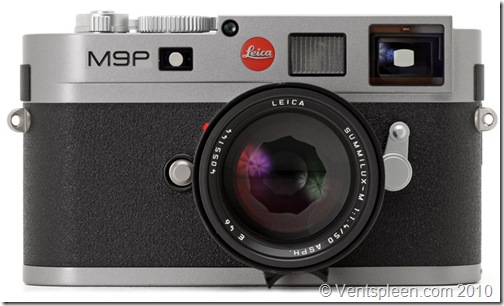 It was a post card that I received from an elderly sailing friend that set me thinking about an M9 re-design. He had recently bought a new GPS to replace his trusty old one but was annoyed that it just did far too much. All he wanted was a few basics like the Longitude and Latitude. He couldn't have cared less for maps and cross track error. His missive said that he was getting used to the GPS although it had far too many USELESS (in caps) functions.
For a long time now I have believed that we are being offered far too much of everything and it's getting completely out of hand, almost as if manufacturers of electronic goods are showing off by installing so many functions that the instruction manual weighs more than the product! None of these extra functions make us any happier, nor is the end result any better. At best we are blindly trusting electronics to run our lives, at worst, we are losing any skill we once had as these 'indispensible' features do everything for us.
My last camera is a case in point. It was a Leica Digilux 2 and it was good. It took better pictures than me and for 95% of the time it was spot on. The bottom line is that I got lazy and my photos lost that certain 'je ne c'est quoi' so when the M9 was launched I thought, 'great, here's a chance to get back to basics' but in fact even the M9 does far more than I will ever require from it.
So of course I played with the menu, considered the choices and set the camera up as I wanted. It even has profiles so you can easily get back to a previous setting that you liked. What happens in practice is that you forget to put the profile back to the one you normally use or the profile you think you are using has changed because you changed something somewhere else. Many times I took a picture only to realise I had only a black and white JPG and not a DNG. Having all these choices does not make me a better photographer, nor do I take better pictures and I'm certainly not faster either.
I tried an experiment with the M9. I imagined it was my beloved old M3 and all I had to play with was the shutter speed, lens aperture and composition. It was a revelation. I found that I didn't even need the light meter after a while, the human eye being surprisingly good with practice. My pictures suddenly looked better to me. It might only have been because they were taken by me and not by an electronic brain. There might have been something subconscious in my subject that no computer could see. A sixth sense which made me stop down a little more than the camera might have done, but which gave a completely different result.
Take the M9, a simply awesome camera but still way too complicated and I believe that it's too far from Leica's philosophy to be quite right. No doubt Leica themselves thought that no one would cough up £5000 for a body that didn't try to justify it's high price with impressive electronics. But I beg to differ. Having used the M9 for half a year I would be quite happy if it didn't have any of the features and I don't think I will be alone here.
For decades about the most technical advancement any M user had was a light meter. We had no choice about ISO, you put a film in and lived with it until it was used. None of these restrictions stopped people taking amazing pictures with their M cameras. So I'm going to suggest something that will surprise many but may well be applauded by others. See what you think, and please comment so we can get a consensus.
We need the M9P (P for pure) and do away with ALL the superfluous nonsense. No screen, no menu, no choice. Not only will this M9P be simpler and less likely to go wrong (surely reliability is a core Leica philosophy), the battery will last longer and you'll spend more time taking pictures than looking at a menu on a screen. You keep the light meter, the Aperture priority option and AE lock. ISO would be chosen by rotating a knob in the middle of the back (exactly where the ISO reminder dial was on film M's). Exposure compensation can be easily added to the ISO knob. (see pic below). There would be no other controls.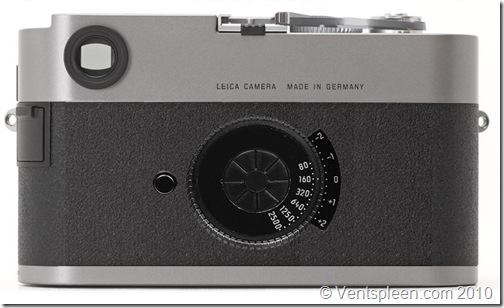 Two dials: Outer dial adjusts exposure compensation, inner dial for ISO adjust. The advantage over the standard M9 is that this important information is always visible at a glance without having to press any buttons! Adjustments can be made without even looking.
I'd go even further than this too. I'd be happy to see a lever for cocking the shutter and lose the continuous shooting option. The motor that cocks the M9 shutter isn't very quiet and it's a shame that it's not nearly as discreet as film Ms with their almost silent silky 'click'. Having a wind on lever would not only add a mechanical touch to the camera and make it much quieter and more reliable, while using still less power but would also be able to act as a small power generator every time the shutter was cocked. In an emergency, the wind on lever could be disengaged from the shutter and operated enough times to charge the camera and allow it to carry on taking pictures even when the battery has run down.
Think about it for a moment, it makes a lot of sense. Let's work our way through the menu and you'll see that there is a logical solution to not having a screen. I suggest a camera that would work with default settings that could be user changed when the camera is connected to the PC.
Lens Detection: This could be set on Auto and you can simply use coded lenses. Lenses can be coded in minutes using only a felt tip pen so there's no argument for not doing this. The camera could have a default setting so if it didn't recognise the lens it would go automatically to a setting that would work for all lenses. If you only use one lens you could preset the camera for that lens by using the 'Camera control' software that Leica would supply with the M9P.
Save user profile: You won't need this option as you have no settings to prefer over others.
Advance: This will be set to Standard so that you can have AE mode when the shutter dial is set to 'A'.
Self Timer: Set for 10 seconds as it was on old M cameras.
Auto Iso Set up: Here's another one you won't need. If you want more sensitivity, simply turn the ISO dial at the back of the camera.
Sharpening: M9P doesn't take JPGs. If you want that, make one in Lightroom afterwards.
Colour Saturation: As above.
Contrast: As above.
Bracketing set up: No need for this either. Want to bracket, rotate the speed dial or aperture ring!
Exposure compensation set up: Simple, by using the knob on the back of the camera.
Monitor Brightness: What monitor?
Histogram: What histogram? Film Leicas never had these.
Folder management: I can't see the point in this. If you wanted to name the folder you could do it when the M9P was connected to the PC.
Auto Review: Nothing to review!
Auto Power Off: Could be set to 5 minutes or user set via computer.
Flash Sync: M photography has never been about using fake light. Personally I couldn't care less about any flash functions and if it wasn't for the need for somewhere to put viewfinders etc I'd remove the hotshoe altogether. In any case, this could be user set when camera is branched to the PC.
Auto Slow Sync: As above.
Colour management: Can be user set via computer.
DNG Set Up: Set on uncompressed. After all if you have the best camera in the world, why would you risk lowering the quality? In any case, user set when connected to PC.
Reset: Nothing to reset!
Sensor Cleaning: This could be simply achieved by holding down the shutter release, then turning the on/off switch to Self Timer. (or whatever).
Date: Set by PC connection. Do you really need to see the date?
Time: As above.
Acoustic signal: No loss and no need for it either.
Language: No menu, no language. A truly International camera, any one can use it.
USB Connection: Default: PTP but can be user set to mass storage by PC connection.
Format SD Card: I see no reason why you couldn't only do this when the camera is connected to the PC. Most Pros would have plenty of spare cards which can all be formatted before they go out.
Firmware: This doesn't need to be in the camera menu. It could easily be viewed or changed via the PC connection.
That is the M9 menu. As you can see there is no reason why the M9P couldn't be set up to work perfectly well with some default settings which can all be changed by connecting the camera to the PC. The simple fact is that an M9 is completely useless without a PC anyway. With digital photography you need a computer to go with it. The camera is just for capturing images until you can get back to it, download and work on them.
There are other buttons on the back of the M9 of course. The Play button is no longer needed. There's nothing to play.
Delete: Some might think this useful but even my 16 gig card can take over 400 pictures at no compression DNG quality so who cares if I take a few bad ones. I'd rather carry another card.
ISO: As already mentioned, the logical step is to put the ISO setting on a round dial like the old Ms used to have. (I'm sure Leica can come with a more elegant solution than my pitiful efforts in Photoshop!)
Info: This could be reduced to remaining pictures and battery life. A simple window as the M8 had would suffice.
Set: The only button here that matters is the White balance which should be set to Auto since for 999 times out of a 1000 the camera does it perfectly. Since there is adjustment for this in Lightroom anyway I don't think anyone would miss it. It could be set via the PC connection of course if you really wanted.
Losing the screen and all it's associated electronics would also free up space in the camera body allowing Leica to reposition the sensor further back. This would mean that the lens mount could then be flush with the camera body. This would reduce the thickness of the camera by a good 5mm.
So that's about it. An M9P would be simpler to use, lighter, the batteries would last longer, it would be more reliable but most of all it would be less expensive. Maybe this would allow Leica to drop the price so that even more people could afford to get into the M philosophy. Either the M9 or the M9P will be able to take exactly the same high quality image.
I'm convinced there's a large market for this M9P. I would be quite happy without a screen. You think you want one but you have a viewfinder for composing the shot anyway, and the screen it pretty hopeless for viewing images anyway so why not wait until you get home to branch the camera and look at your shots. After all, in the old days, you had to develop them first so it's still much quicker!
Even a very simple M9P would offer massive advantages over any M film camera ever made but the best part is that as a photographer, you will be made to think and make those choices alone without some gadgetry doing it for you. You will learn and you will improve your technique. Allowing the camera to do your work for you won't make you a better photographer. All these so called 'time saving devices' are making us more stupid. If we're not careful, we'll become a race of morons, completely unable to think for ourselves. It fascinates me that my own eyes and brain are quite capable of calculating light and I like to keep my brain active. Taking your own pictures is a good way to do this.