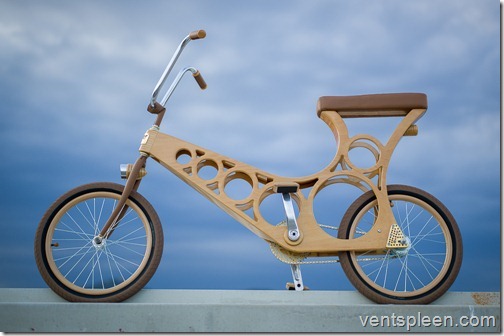 The Hoopy lightweight wooden bicycle that you can build yourself.
Ever fancied building yourself a wooden bicycle? Well now you can. Woodenwidget offer the Hoopy, a funky, one size fits all, lightweight, easy to build wooden bicycle. Right from the start, the Hoopy has been designed to be as easy to build as possible requiring no specialist tools or materials.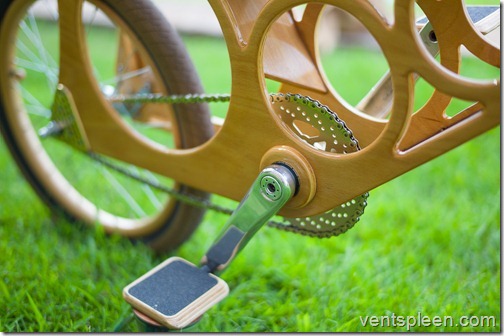 Unique internal crank keeps clothes clean and looks great.
The plywood frame weighs from just three kilos and although it might look complicated to build, it really isn't. The frame can be marked, cut out and glued ready for varnish is just a couple of days with little more than a drill and a jigsaw.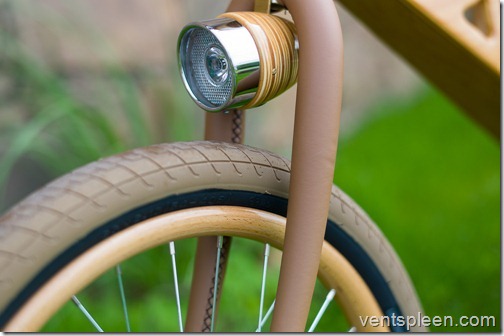 Gorgeous wooden rims from Ghisallowoodenrims.com Made of Slovenian beech. Wooden headlight and leather clad forks too.
The hollow frame has many advantages. It can be used for storage or even batteries and a motor for an electric conversion. No mudguards are needed. You can even cut your own designs in to it but the most unusual advantage is the central drive chain. No more greasy clothes or ripped trousers! It looks better too! The low shape makes it suitable for everyone as it's so easy to mount.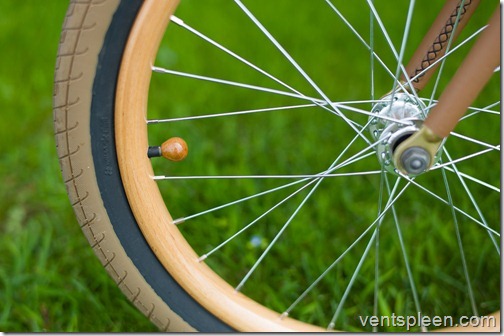 This Hoopy even has wooden dust caps for the valves!
About £100's worth of new parts must be bought but the rest can be from salvaged bikes or bought second hand. With care, it should be possible to build a basic single speed Hoopy for about £250 but as you can see from the photos it's possible to spend a lot more!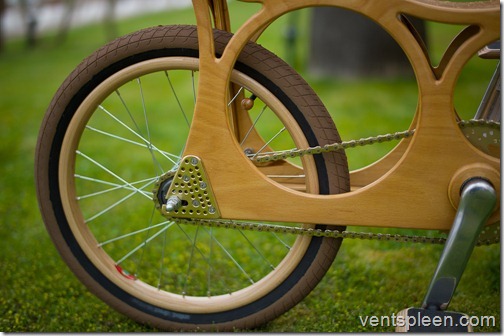 Brass dropouts, gold chain, wooden pedals.
The seat height is fixed yet works for the majority of adults, a taller rider simply sits a bit further back on the long seat. But if the builder preferred a more tailored fit it is possible to adjust the seat height during the build. That same seat is very comfy and long enough to easily carry a passenger. Or even a small third one on the wide crossbar.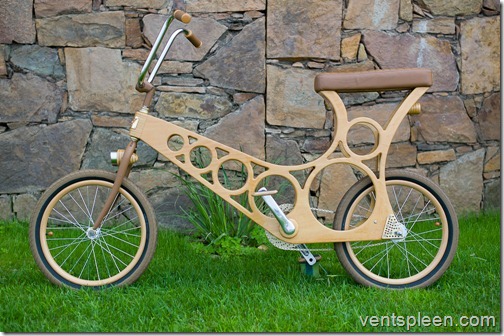 You can even cut your own shapes if you don't like the 'hoops'
As bikes go it might surprise you. It's very smooth, swift and comfortable especially with the 2 speed auto hub and wooden rims. It's nicely balanced and going 'no hands' is no problem at all.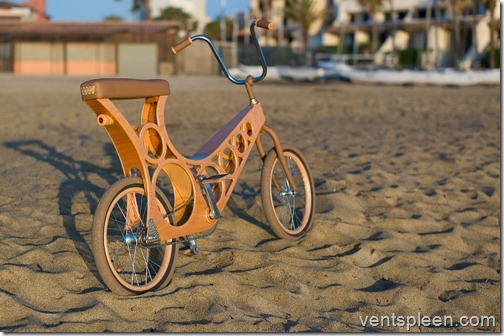 This one has no cables and a two speed auto hub.
Plans are available from Woodenwidget and if you buy Foldavan plans, you can get £10 off any of the other plans. Woodenwidget will also plant five trees on your behalf. At just £30 the plans are extremely good value with 30,000 words, over 200 pictures and 130 pages. Plus a huge amount of extra info about woodworking, tools and varnishing etc.
To find out more visit Woodenwidget.com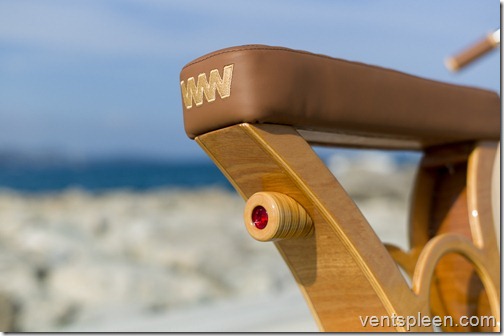 Even the back light is made of wood.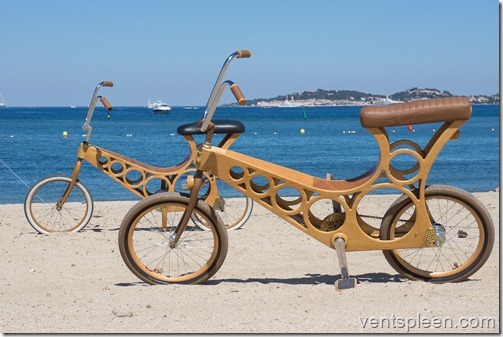 Hoopies on the beach.