The Woodenwidget 'Foldavan' bicycle caravan. Here it is in 'Road' mode. At just 30 kilos it is easy to tow.
For all of you out there who love bicycle camping but don't like the discomfort or the hassle that goes with it will rejoice in the news that Woodenwidget have just released the Foldavan folding bicycle caravan. No more struggling to find a flat stone free surface to pitch your tent. You can stop practically anywhere in a caravan. If you're thinking that towing a caravan sounds like hard work well think again. The Foldavan's pretty tear drop shape is aerodynamic and it only weighs from 30 kilos. The caravan also acts as a trailer and can carry 75 kilos with ease. To make it really effortless, use an electric bike and put a larger, long-range battery in the Foldavan.
If it's going to work in the real world, a bicycle caravan needs to be small enough to be transported easily and yet big enough for real comfort. Yet it mustn't be too big or you won't be able to get anywhere with it. It would also be nice if it was cheap to build, was aerodynamic and light so it was easy to tow. And wouldn't it be great if you could fit in a sailing dinghy and take that camping as well. Well you may not believe this but the Foldavan does all this and more.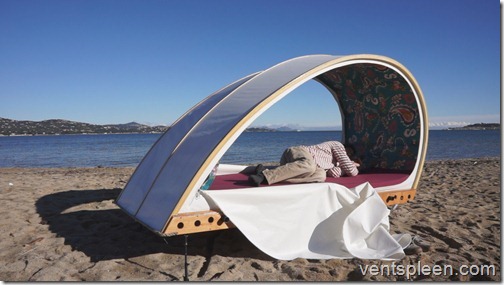 In full 'Camping' mode the Foldavan offers extremely comfortable and spacious comfort for two. Here it is shown with both sides unzipped to take advantage of the sunny weather.
You can't buy a Foldavan but you can buy plans that will tell you how to build one. The Foldavan has been designed to be easy to build and thanks to Woodenwidget's ingenious step by step illustrated instructions there is no reason why you couldn't make one for yourself and there is an important reason for doing so apart from saving money. You will achieve a great sense of satisfaction from building a Foldavan and you will revel in the pride that comes when you tell your impressed on lookers that you made it yourself. And when you think about how you used to rough it in a tent you will smile all the more.
Not everyone is going to start their biking holiday from their home base so it is imperative that the Foldavan can pack away small enough so it can be easily carried to another destination. The Foldavan compresses to just 210 mm wide and will fit on most car roof racks. It may even fit inside some estate cars. Another advantage of this narrow 'Stow Mode' is that your Foldavan can be safely stowed away somewhere indoors without it getting in the way when you're not using it.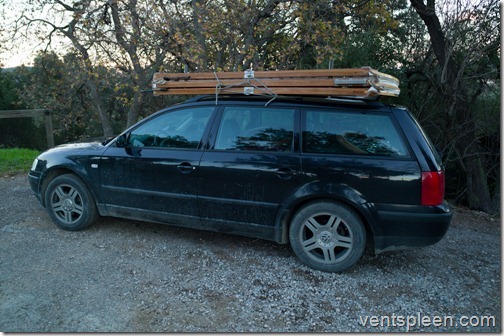 The Foldavan with wheels off, compressed down to 'Stow' mode and lashed to a roof rack.
On the road, the Foldavan opens to 60 cm. This is about the same as the width of most handlebars. If you can pass with your bicycle you can probably pass with the Foldavan. It has a low centre of gravity so it is able to negotiate even quite rough terrain (especially when laden) If it is windy you can unzip the sides to let the wind pass through and stop it from getting blown over. With a trailer you can carry a lot more stuff than if you only had a bicycle. This increases your comfort levels.
When you arrive at your chosen camp site it takes less than three minutes to put the Foldavan in 'Camping Mode', a full metre wide and over a metre of headroom. The thick mattress is in two pieces and ensures extreme comfort and jealous looks from your neighbours. You can camp in places where you wouldn't be able to pitch a tent. You don't have to worry about stones poking you in the back, rough terrain, insects, damp ground, sudden rain etc. If you would like a slightly wider version you can even build a Foldavan to be a wopping 1.2 metres wide.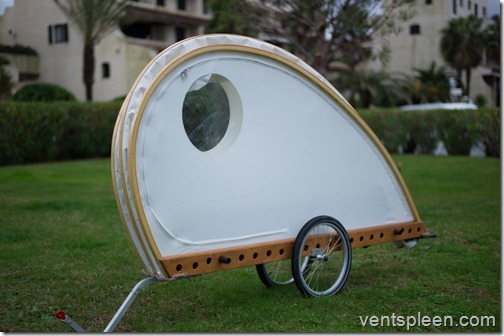 The Foldavan in 'Stow' mode. With the wheels off it is just 21 cm wide.
The concise illustrated plans cost just £30 and contain a wealth of information for the first time builder or the experienced alike. Lots of advice on where to find the materials you need. How to work with tools, advice on alternative building options, how to finish your Foldavan and lots more. Even if you've never made anything like this in your life, if you are prepared to have a go and have a few basic tools you can build yourself a Foldavan and personalise it in any way you like. You could change the fabric, cover it in a camouflage fabric and use it as a hide or just to blend in to nature better. You could have a pink one or have zebra stripes. You could do you own paint job on it. The choices are almost endless. The materials needed to build a Foldavan are all easy to find almost anywhere in the world in varying qualities to suit your budget. You could make a Foldavan for next to nothing using reclaimed timber and secondhand parts. It takes about 50 hours to build a Foldavan.
The Carbon Footprint of a Foldavan is small because all the materials are easy to find and can be sourced locally. As if this wasn't already fantastic enough Woodenwidget will plant 5 trees on your behalf when you buy plans. And if you buy the Foldavan/dinghy combo deal you save £10 and they will plant ten trees on your behalf. Plans can be bought on line and downloaded in a matter or minutes at www.woodenwidget.com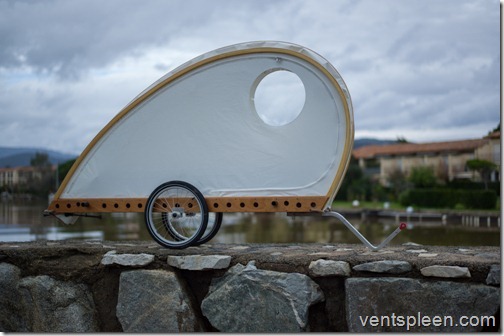 The Foldavan in 'Stow' mode.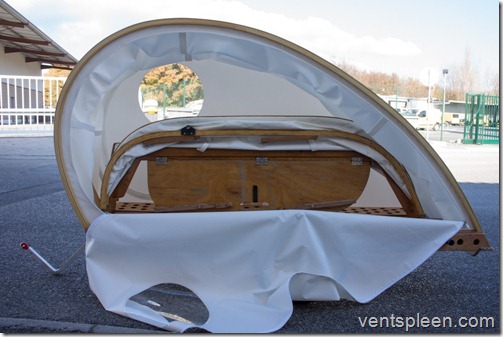 There's even room inside for a Woodenwidget folding dinghy. This is the Fliptail 6
Update 4/1/14
Some of the comments on various sites make interesting reading but what is becoming clear is that many people are quick to dis the Foldavan as a toy. These cynics have obviously not taken the time to find out more which is a shame but there will always be doubters even when the body of evidence is overwhelming.
Many people seem to think that it's going to be easier to carry a tent. Maybe this is true but the beautiful thing about a Foldavan is that you don't need to find a suitable surface to pitch your tent on. There is nothing worse that a stony or rough uneven surface for trying to get a good night's sleep. Having a Foldavan opens up a whole load of new environments that were previously unavailable to tents.
The advantages are massive. Apart from the divine comfort that having a full mattress allows, you are less affected by insects or sudden rain and uneven or hard ground.
I suspect that the same doubters that think it is better to carry their stuff on a bike rather than tow something. What may surprise these people is just how easy it is to tow a trailer with the added advantage that you need to brackets or panniers on your bike which means when you get set up at camp you can use an unencumbered bike to get about and explore on.
Another comment that seems to be fairly common is that it will blow over in the first bit of wind. Well, first of all if it's windy you probably won't even want to ride a bike, let along tow a trailer but again these cynics have not bothered to either think about this or look further. It's very simple. Just unzip the sides and the Foldavan is now extremely stable. Only 20% of the weight is above the base. It is a surprisingly stable trailer.
I hear the same comments about the Woodenwidget range of dinghies. Because they are light and made with fabric people simply assume that they must be unstable but I can tell you than a well designed light dinghy can easily be much more stable than a badly designed heavy one.
Obviously the Foldavan is only for those people who want to carry a lot of stuff and be extremely comfy when camping. Not everyone wants to rough it. The Foldavan is far from being a toy. It is far more sensible and practical than most people realise.
However I am not discouraged. They used to think the world was flat. Opinions change once the cynics and doubters have had their say. I do not know why people are so dismissive of new ideas. It's very simple really. If you don't like something. Don't buy it!
Update July 2015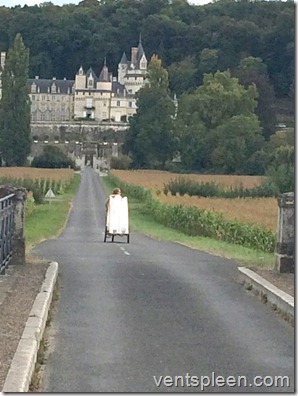 The Foldavan in le Loire (France) Summer 2014
Well it has been quite a year. The Foldavan almost outsold the Fliptail dinghy, Woodenwidget's most popular dinghy. The Foldavan has proved very popular, particularly in Germany and the USA.
One Foldavan was used by an American couple who used it to explore the wine regions of France. They amazed me by managing to put their Foldavan on the train. I knew the Foldavan was compact when folded but it is still quite long. However this didn't seem to matter.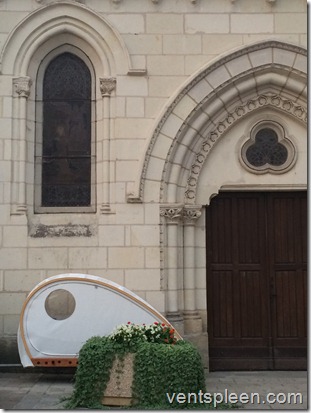 The Foldavan outside a church in the heart of France
Here's what they said about using their Foldavan:
Hello, I just wanted to tell everybody that my girlfriend and I took the foldavan on a two month trip through France in September/October and it didn't fall over once. Not once. Wind is not an issue. Also, when it was raining we stayed so dry and comfy and best of all off the ground! (Only way I could be convinced to camp). When we wanted to go to a different region we put the foldavan in stow mode and took it on the train. It even went on the TGV (high speed trains in France). Everybody along our route just loved it we made so many friends. We biked through the Loire, Alsace and Burgundy. I am not an experienced cyclist but I towed it 10 miles a day with relative ease. It was the coolest way to travel!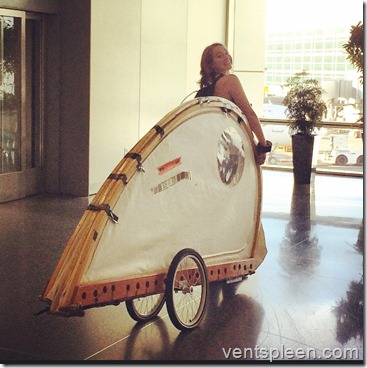 Here's their Foldavan arriving in California. You can even put a Foldavan in the hold of an airplane! That's versatility for you.
With almost 100,000 views of the Foldavan video on Youtube it seems that the Foldavan is gathering a steady following. The cynics are being out numbered and those who want to have comfort and cool when they go camping are seeing the sense in the Foldavan.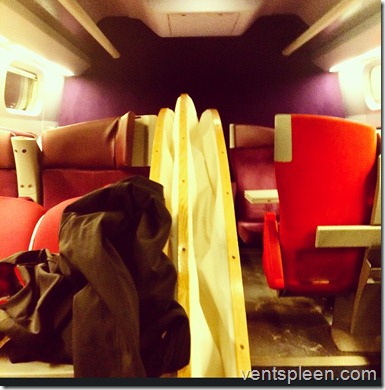 The Foldavan in Stow mode on a French train! How many caravans can you think of that would fit on a train?
Also there is the fact that you can't simply buy a Foldavan, you have to make it first. There is way more satisfaction to be had from using something you yourself have made with your own hands. The Foldavan may not be for everyone but it is certainly appealing to a lot of folk out there.