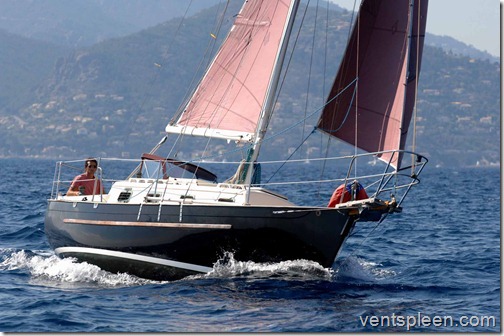 Doolittle sailing at Cannes. Pic by James Taylor This was before the roller furlers were fitted.
Doolittle has been sold
Over half my life has been spent living aboard boats. I make my living from working on them. But it's time for a change. Time to do something different. So Doolittle is up for sale. She is Dana 342 and one of the very last Dana's ever made. I bought her new and because of that I had quite a say in many of her details. Being a boat builder myself I was keen to use that experience and knowledge when I had her built.
The Hull. Topsides.
The most obvious difference to most Danas is the fact that her hull is black and she has no contrasting Sheer band. Most of the other Danas have cream hulls and either a green or blue coloured top section. Pacific Seacraft (PSC) do this to make the hull look lower and sleeker but I don't think that the hull is particularly high in the first place and to my eyes that coloured band serves to make the cabin look higher and boxier than it actually is. Boats are full of design compromises but this was one that I just didn't like at all so when I ordered Doolittle I asked that the hull be just one colour and not to bother with the contrasting band.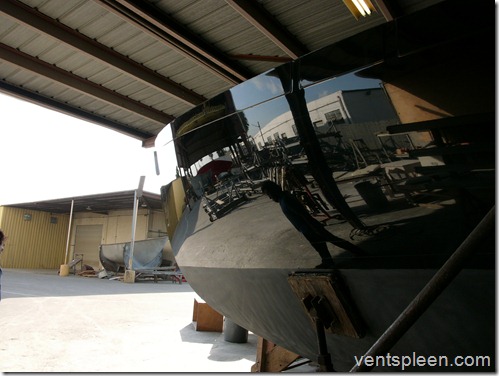 Doolittle's amazing hull finish. This was back in October 04 when she had just the day before been removed from the mould. This is an astonishingly good finish and shows not only the high quality of the Dana mould but also the skill of PSC.
Back in 2004 I visited the factory in California and saw her bare hull fresh out of the mould and was amazed at the finish that PSC had managed to achieve. I remember when Don Kohlman (the then CEO of PSC) asked me what colour I wanted the hull and I told him black, he said, 'Oh no, not black!' As a boat builder I understood his concern as black will show off every imperfection in a finish. He told me that they spent an extra couple of days polishing the mould in order to get the finish as good as possible. To have a black hull costs more. I paid an extra $2000 for the privilege! But to this day I have not regretted a black hull.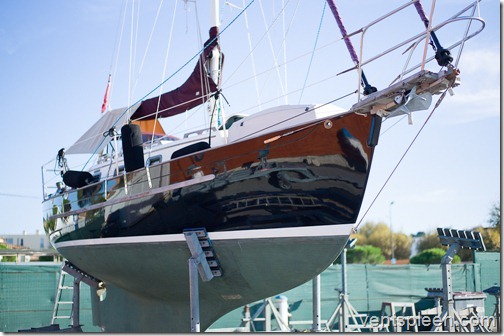 Doolittle in the boat yard October 2015. Original black gel coat still in fantastic condition. Thanks to great care and the quality of the work done by Pacific Seacraft. There is a reason why these boats are so expensive!
Many people think that a black hull means that the boat is very hot inside but this isn't actually the case. During the day when the sun is at its hottest, it is also at its highest so its the deck that takes the force of the sun and not the hull. I always wanted a black hull and I do think that Doolittle looks very smart in black and she really stands out against all the other white boats in the world. It gives her a classic and quality look which everyone admires.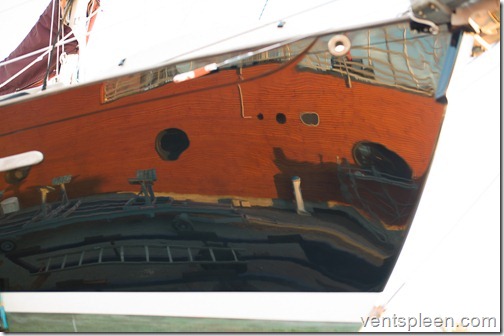 This picture taken October 2015 and shows the superb shine on the original black gel coat.
It's not so hard to keep it looking good as the hull is polished and waxed every year and has been since the boat was made. She also has full padded hull covers which protect the hull from the elements and incompetent neighbours in the marina. In the ten years that I have owned Doolittle she has never bashed into the quay or been bashed into. One of the advantages of living aboard means that I can keep an eye on her at all times. Considering her age, the hull looks absolutely fantastic.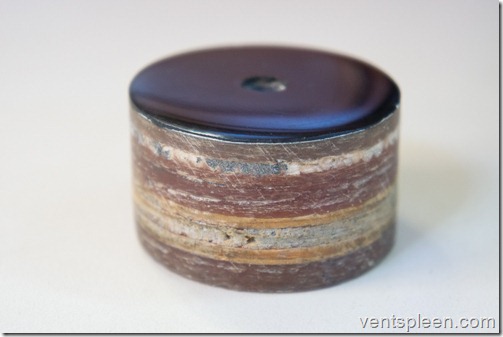 This is the plug that I cut out of the transom when I fitted the electrical socket for the shore supply. It is 30mm thick!!! The gelcoat is about 2mm thick. The Dana is one super tough boat!
When I collected the boat I was given some plugs that were cut out of the hull (I still have them) and they demonstrate many things such as the thickness and strength of the PSC hull but they also show the thickness of the gelcoat, the only part of the layup process which was sprayed. One thing you can say about PSC, and one reason why PSCs are such expensive boats is that they do not skimp on materials, not on their quantity nor quality. The gel coat on these plugs is about 2mm thick! No modern boat I have ever seen has such a thick coating.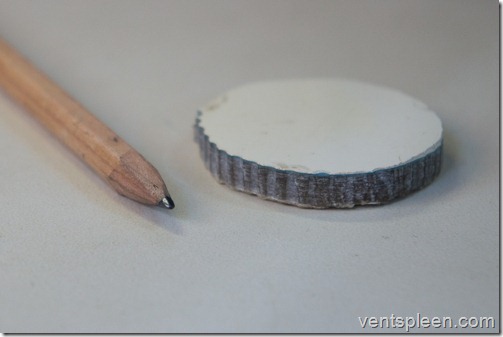 To give some idea of just how solid a Dana is, this plug was cut out of the engine instrument panel when I fitted the twist shower in the cockpit. I have seen boat hulls thinner than this and this is from a panel that just holds an instrument panel!
What this excessive build quality means is that there is plenty of gelcoat to polish over the years and even though Doolittle's hull is ten years old it looks better than many boats not even a year old! If it looks this good after ten years, then I see no reason why it still won't look excellent after twenty. So long as the hull is polished and waxed each year.
When I bought Doolittle, I was determined to make sure that no matter how long I owned her I wanted to make sure I took the best care of her. It definitely seems to be paying off. With a black hull, there is no hiding a lack of maintenance! If there is a problem you can see it right away. A cream coloured hull is much more forgiving in this respect. It hides damage and neglect much better. A black hull might be a bit more work to keep looking nice but it's well worth it.
In ten years I have gone through two tins of this excellent 3M wax paste on Doolittle's topsides and deck gelcoat.
One thing that may not be immediately obvious to the untrained eye is the fact that there are no skin fittings in the hull sides. What this does is allow a very clean profile look. It's a small detail but demonstrates nicely PSC's attention to detail and skill in building a proper boat. All the skinfittings (all solid bronze) exit at the transom where you will find exhaust, bilge and shower outlets. Also on the port side at the top, the Electrical socket for the shore supply. The cable for which is custom made and rope and leather covered. Every detail of Doolittle has been considered. There is also a range of marina plug and socket adapters and a 20 metre extension cable.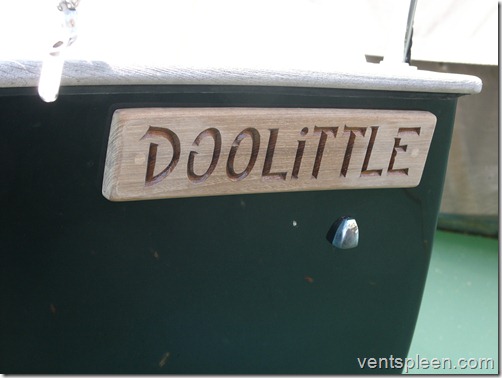 One of Doolittle's nicest features is her transom mounted name plate. Made from solid teak and hand carved by the renown Spanish artist, Natalia Avarez Garcia. The name plate might look rectangular but in fact the shape is slightly curved and tapered in order for it to look correct in place. It is a small yet much admired touch and so much more pleasing to the eye than a cheap plastic sticker! The above pic was taken when it was new.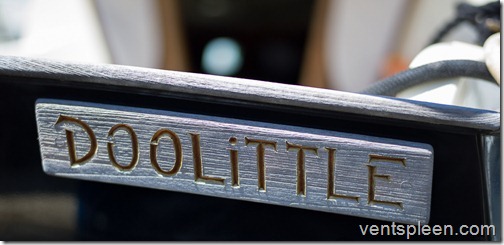 A lovely patina. The name plate as it is now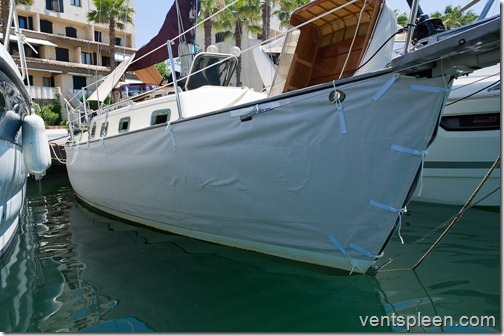 Padded hull covers protect the hull from careless neighbours and damaging UV light. Pic taken in June 2015
Recent pic of the transom and hull covers. Pic taken in June 2015
The Hull. Below the waterline
As with much of Doolittle, even under the water she is unusual. PSC take great care in making sure that Osmosis is never a problem for owners well into the future. For starters PSC us Vinyl Ester resin for the final layer of resin. It is more expensive than polyester resin but also more water resistant. Then on top of this they add no less than four layers of International Interprotect Epoxy Primer to further protect against water ingress. No wonder Osmosis is unheard of on PSC boats and also why PSC offered a ten year hull warranty, something no other boat manufacturer to my knowledge ever did.
As if this wasn't enough a further six coats of Coppercoat epoxy antifouling was applied. This is a special product that does away with the need to put noxious paint on the hull each year. There is no build up of paint so the hull stays much smoother and the boat sails better and consumes less fuel in the process. It is guaranteed ten years but many boats report 15 years or more and in Doolittles case I have never used a jet wash on the surface and every year I carefully remove and growth or slime by hand to ensure that I did not erode the Coppercoat more than absolutely necessary. I have no doubt at all that there is a good five to ten years left to go with it. Even if it did finally wear off it makes great economical sense to simply replace it with the same as the savings over the years soon mount up.
Coppercoat is much better for your pocket and for the environment! Last year I noticed that the Coppercoat performance was dropping off so I decided to carefully sand the surface down a little to expose fresh copper. This is the first time I had done this as I did not want to sand off any of the product! But it was well worth doing and since then the Coppercoat has been working very well indeed and the bottom has stayed very clean ever since.
There's not much to say about the hull under the waterline. It's clean, there is no Osmosis and the hull has never taken ANY impacts. I can count the amount of times the hull has been aground and it is very few and most of those times were in the French canals where the bottom was simply mud. Not that it matters if you do run aground in a Dana but I want to stress the care that has been taken with Doolittle throughout her entire life. Because she was new when I bought her I KNOW everything that has happened to her.
Deck
This photo was taken in June 2015. As you can the gelcoat is in fabulous condition and the bronze winches and port holes have a lovely patina.
Doolittle's deck is the standard Oyster gel coat colour offered by PSC as standard. It is a good choice because white is just too much to look at when it is sunny and the slightly cream colour of the oyster is a superb contrast with the black hull and grey teak. All the teak on the boat is bare and untreated. It's perfectly OK to do this with teak as it contains it's own oils which protect the wood. With time it simply goes grey and needs very little care. Some owners varnish their Dana's teak but it's a lot of work to maintain and if you're a sailor who would rather be sailing then bare teak is a fine way to go. Personally, I like the look of greyed teak. It gives Doolittle a rugged and purposeful look.
For a new owner who wants varnish, Doolittle comes with a complete set of new capping teak that could be fitted and varnished if required. What is more important on a yacht, is the gelcoat. Wood can be easily changed and green bronze can be polished but if the gelcoat has been left to fade in the sun, no amount of work will ever bring it back to its former glory. Doolittle has been polished and waxed very regularly and even after ten years her gelcoat is in better condition that many boats less than a year old! This is partly because of the high quality gelcoat PSC used but also the fanatical care that I have taken with the gelcoat over the years.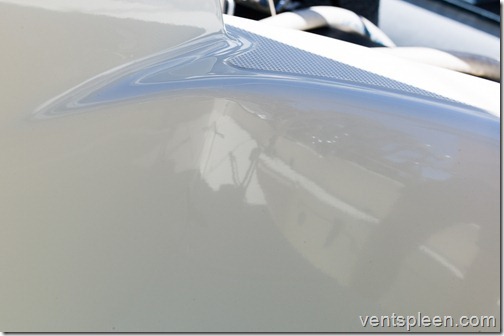 This photo was taken in June 2015 and is of the cockpit coamings. Not many ten year old boats with gelcoat this good!
There are a few very small scratches and a couple of cracks in the gelcoat, many of them were there right from the start! But it is hard to believe that Doolittle is ten years old as you can see from the pictures.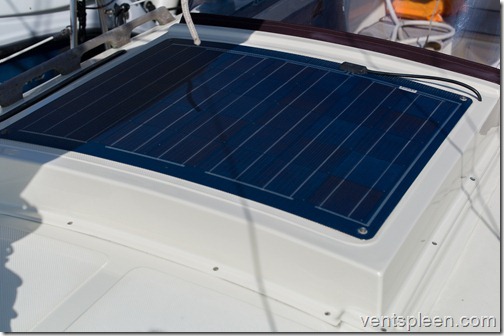 The Solara flexible solar panel fitted in 2008  It fits as if made for the sea hood. There is a regulator behind the electric panel. It is covered from the sun when not in use.
In front of the sprayhood and fitting as if made for the seahood is a solar panel made by Solara. It is a special flexible unit putting out 55 watts of power. It cost 800€ and has a regulator which is fitted behind the switch panel in the cabin. It might seem strange but it too has a custom cover for it. But why cover a solar panel I hear you ask?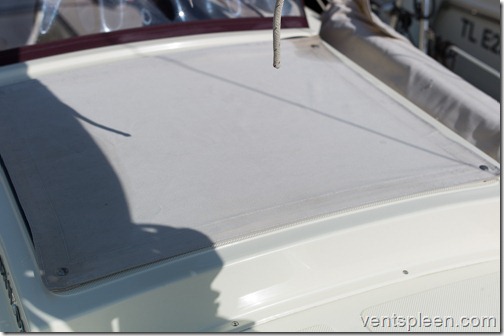 Doolittle's solar panel cover. Just pops on. Pic taken in June 2015.
The solar panel is supposed to have a life of 25 years or more but the simple fact is that the boat is not always at sea, in fact on average Doolittle has spent more than half of most years in a marina. And in a marina there is shore power so the battery charger is filling the batteries so there is simply no need to leave the panel in the sun. My thinking was if one can keep it covered when not using it, it's entirely possible that it will last 75 years! It was fitted about five years ago and has been no trouble at all and in reality puts in enough power in the summer to power the fridge which isn't bad at all.
Venting forehatch allows air to enter even if it's pouring down. Smoked lexan is very clear and undamaged. This pic taken in June 2015
Apart from the Bomar venting forehatch which allows 8 cubic feet of air to circulate even when it's pouring with rain, Doolittle's foredeck and cabin top is exactly like any other. The only real difference is the way the bowsprit platform and anchor assembly is attached.
This pic taken in June 2015 and clearly shows the much nicer bowsprit arrangement with better access for maintenance and varnishing. The Harken roller furlers were new in 2011.
Some Danas have had bowsprit issues. As the bowsprit is made of a soft wood it is prone to rot if not properly maintained. The standard bowsprit platform is simply placed on top of the bowsprit and bolted through. There are a few issues with this way of doing things. Firstly, it covers the bowsprit making access for maintenance and varnishing almost impossible. Secondly I do not think that any of the holes that were drilled into the bowsprit to mount the platform were sealed in any way at the factory and lastly it just looks awful.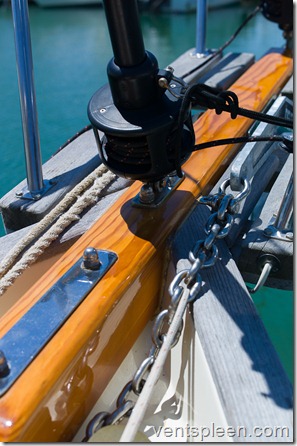 This pic also taken in June 2015. A close up of the bowsprit.
So I set to changing this. My solution was to cut a section out of the centre of the platform and then bolt it onto the sides of the bowsprit. This makes it sound much easier than it was to do. Like most things on a boat it was far from easy and involved remaking much of the stainless metalwork so that the anchor rollers and anchor would work and stow properly.
Despite the effort it was a job well worth doing. While the platform was off I plugged the original holes from above and below and even varnished inside all the other holes and the new ones as well. This was essential for the longevity of the bowsprit and platform and I am pleased to say that in the years that have followed I have never had any doubt about the structural integrity of Doolittle's bowsprit or platform. More than many other Dana owners can say with any confidence.
The whole assembly is much better looking too. Instead of covering the capping, now it is clearly visible and the boat looks better for it. The Dana already has a perky sheer and lowering the platform (and consequently the pulpit too) has improved the look of the boat as well. The life lines are lower and their line is much better than before. Not only that but it is also lighter as well. So better access for varnishing, better looks from above, less weight and a cleaner sheer line to boot. Well worth doing.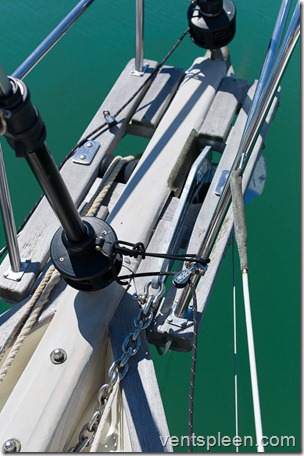 This pic taken in June 2015 shows the bowsprit cover. Doolittle has a lot of covers and these have helped to keep her in as new condition. The cover can be used when sailing or anchoring if required.
Doolittle has a 10 kilo Delta anchor. Not a cheap  copy but a genuine Lewmar version. This is completely oversized for the boat but works brilliantly. This is linked to 5 metres of 10mm stainless chain and around 30 metres of 3/4" nylon 3 strand anchor rode. There is also a Fortress anchor in the stb cockpit locker which is sized for use as Doolittle's main anchor but is normally used as a kedge.
Cockpit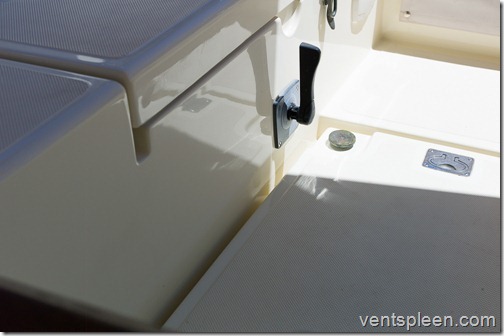 This photo was taken in June 2015 and shows part of the cockpit.
The Dana cockpit is a great place to be. It is long enough to lie down in and when sailing, the distance between the seats is perfect for your feet to wedge against when the boat is heeled over.
Doolittle's cockpit is pretty much standard but where she differs to other Danas is that she does not have a massive hole cut into the bulkhead on the starboard side with a big compass fitted. I never understood why PSC did this because it is a wonderful place to sit with your back against the rear of the cabin. With a big compass in the way, it completely ruins a great spot. The same is true of the port side where the instruments are normally placed.
I have a few issues with this compass and instrument placement apart from the fact that they ruin a great place to sit. I think it is criminal to cut holes in boats that cannot easily be repaired or filled in. So when I ordered Doolittle, I insisted that NO HOLES were cut for either a compass nor instruments. In any case having a compass on only one side means that on one tack it is very hard to read anyway and these days who steers to a compass anyway?
Doolittle has a steering compass of course but it is placed centrally and is readable on either tack. But more than this I didn't want a compass or instruments in the bulkhead because I wanted to be able to fit opening doors in place of the washboards normally fitted and they would not be able to fold back with stuff in the way. Also, times change and instruments evolve. A hole cut today may not work for a new instrument in the future. Far better not to cut any holes at all!
The cockpit has two lockers and a gas locker. The port side locker is massive while the stb locker is big but reduced in size as it contains the 40 litre holding tank, two 105 amp/hr lifeline AGM batteries, bilge and holding tank pumps and diverter valve. Both of these lockers have bronze lockable clasps and bronze hinges. The gas locker is vented and there is a 12volt solenoid which cuts off the gas when not in use operated from inside the boat.
There is a removable Spinlock engine control lever. This is different to most Danas as normally they have a double lever, one for the gears and one for the throttle. The single lever is much simpler to use and does not void the engine warranty as the double lever does. The lever is removable which is helpful. I use the lever for undoing the fuel and water filler caps.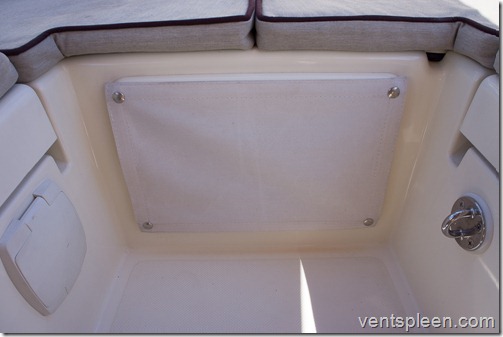 The engine instrument panel cover. Just one of the many covers on Doolittle which serve to protect her from the elements. Note the strong cast stainless pad eye on the right (one of two in the cockpit) and the bilge pump cover. Cockpit cushions are made from closed cell foam and covered with Beige Chiné Sunbrella fabric with black cherry piping. Pic taken in June 2015.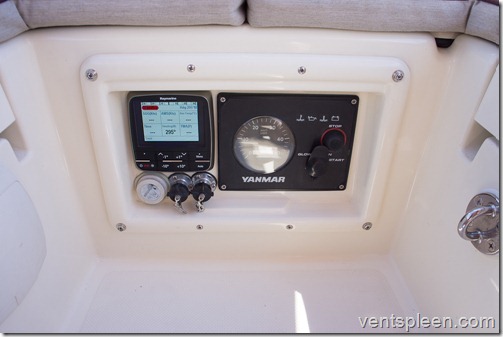 The engine instrument panel with cover off showing the new (2014) Ev 100 autopilot. Bottom left is the Whale Twist shower head and 12v and autopilot arm sockets. Pic taken in June 2015.
The engine instrument panel contains the Yanmar panel with rev counter and warning lights, the Raymarine EV100 display head, the twist hot/cold shower head, one 12 volt power supply socket and one socket for the EV100 tiller arm. It is covered by a pop on cover which keeps the sun off when not in use. The EV100 display has a cover as well.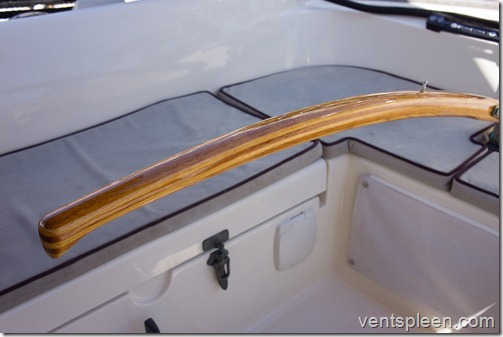 Many many coats of Epifanes varnish protect and prettify the laminated tiller. Note also the cockpit cushions. There are six in all. This makes it easy to access the cockpit lockers. Pic taken in June 2015.
The original two tone laminated tiller is deeply varnished and always protected by a superb zip on cover.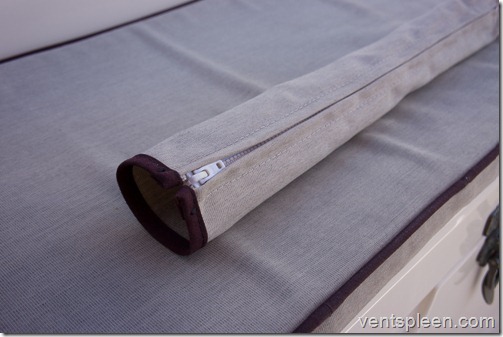 The bottom of the tiller cover. Note the wonderful detail of the sewing. This is typical of Doolittle. This pic taken  in June 2015.
Doolittle has a sunbrella cockpit cover which lays over the boom and can be left up even in quite windy conditions. It is perfect for keeping the rain out of the companionway when conditions are nasty. She also has a full summer cover made of lightweight white cotton which covers most of the deck and keeps the temperature right down in the summer. It needs to be taken down if the wind is much over 20 knots. Both covers are supplied with their own custom made bags.
Autopilots
Doolittle has three autopilots. She has Dave, her original Autopilot which is now over ten years old. He has had a hard life but has steered Doolittle through most of her adventures including right the way across the Atlantic, even bare poled for 24 hours during a gale. He suffers a little when the wind picks up and one must reef early to avoid stressing him. But all things considered Dave has worked well and I think the fact that he is still working after ten years says more about how easy a Dana is to steer than how good the Simrad TP30 is! Dave also has a hand made cover to protect him from the heat of the sun and from water. One thing these autopilots don't like is water!
Then there is Dave 2. He is also a Simrad TP30 which we bought when we bought Doolittle in 2005. He is Doolittle's back up pilot and has hardly been used. But Doolittle's main pilot is now the Raymarine EV100 pilot (new 2014). It has the latest 9 axis sensor technology and can steer Doolittle in more extreme conditions so that sail can be left up. The colour display unit is linked to the GPS and can display any amount of info. Between the Tack Tick display, the GPS and the EV100 there is a huge amount of info available. Dave 3 also has a remote control unit for the ultimate in lazy sailing.
Doors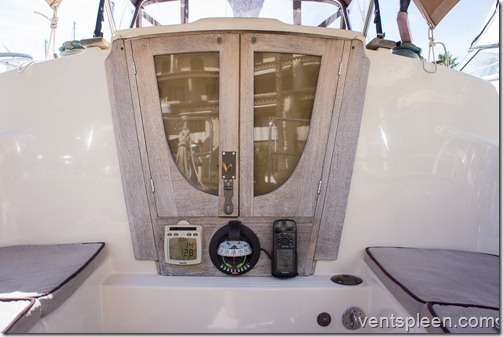 This picture taken June 2015 and shows the doors in situ. The glass is unbreakable lightly smoked henna lexan. The doors are lockable of course and open all the way to the bulk head thanks to there being no instruments or compass in them as is normal on all other Danas! There is a fixing system to keep them open when at sea.
Originally Doolittle (like all other Danas) had washboards, four of them which is fine I suppose if you don't use the boat much but a complete pain in the butt if you live aboard! So I set about trying to create something that worked better and came up with the doors you see today. They have been a great success.
In keeping with my horror of making holes I decided that the doors must not spoil the originality of the boat and that if anyone preferred wash boards then they could easily convert back to the original system. (Not that anyone would want to). So I made a frame which drops into the original slot where the washboards went so replacing the original washboards is as easy as undoing two small screws and simply lifting out the entire door assembly.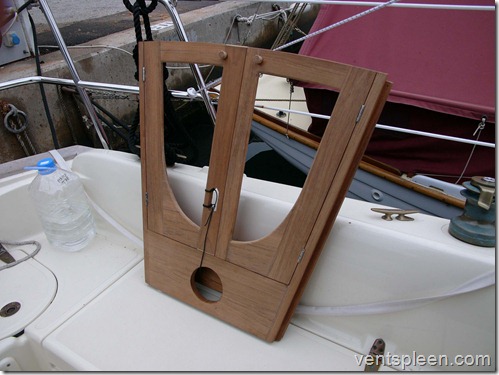 An old picture of the doors and frame during construction. Made of solid teak (like the rest of the boat) this frame simply drops into the original slot where the washboards used to go thus retaining the boat's originality
The added bonus of this system is that it meant it gave a place to put a centrally placed compass that was much easier to actually use along with some instruments. Not only that but it also allowed a seat which in practice is brilliant when you are at sea as you can keep a good lookout from under the sprayhood (dodger) while keeping out of the elements.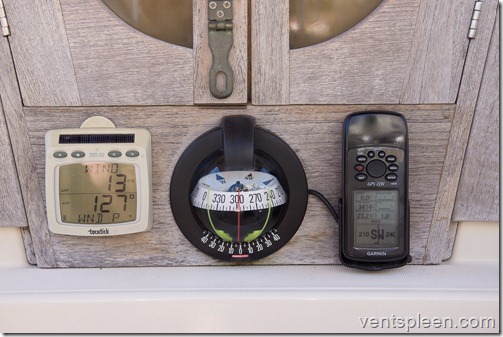 This picture taken June 2015 and shows the Suunto steering compass (has cover and is always on to protect the compass) the tack tick display that is linked by NMEA to the other instruments and GPS and can display any NMEA info. On the right a Garmin GPS unit. No holes in the boat yet a comprehensive set of useful info.
Yet another added bonus, apart from the obvious of being able to get in and out of the boat much quicker was the extra light that comes down below thanks to the two lexan unbreakable windows in the doors. Because there is no compass in the bulkhead nor instruments it means that both doors fold back against the bulkhead without sticking out which means one can lean back against the cabin bulkhead in the cockpit with the doors open or closed! All in all a complete success.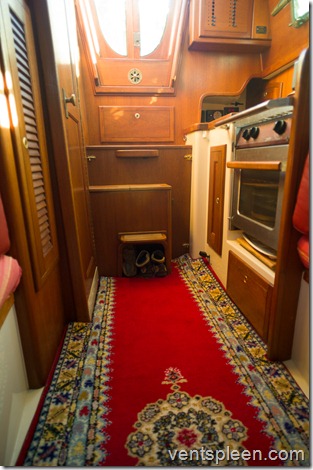 Even with the boat closed up, the doors let in a huge amount of light so that even on the grimmest days you never feel closed in. The hand made pure wool carpet protects the varnished floor and feels lovely underfoot.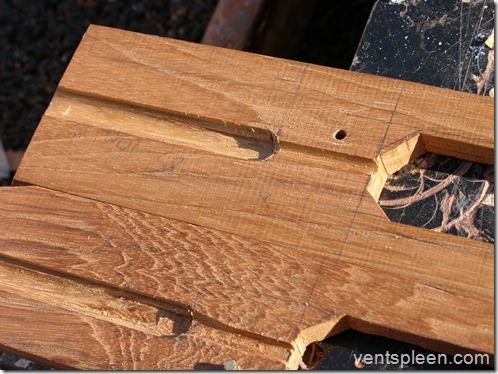 This picture shows how part of the door frame was hollowed out to allow for an invisible latch system built into the door. Once these two pieces were glued together they had a groove for the latch mechanism built in.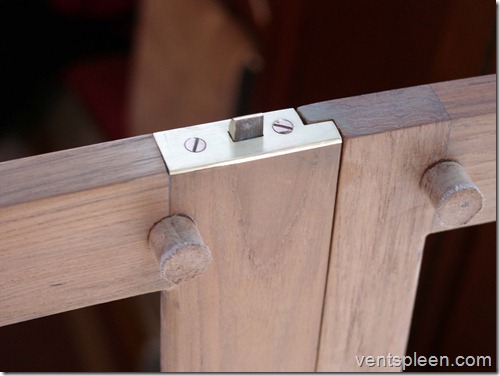 A close up detail of the top striker in the doors. The locking mechanism is hidden inside the actual door frame.
Since the doors were done many on the Yahoo Dana group have expressed their wish to have something similar on their Dana. Obviously it takes a certain level of skill to create something like this but that is my job so for me at least it wasn't too hard but it certainly has massively improved the functionality of the boat in the harbour and at sea. One of the best things I did to Doolittle in fact.
Spray Hood (Dodger)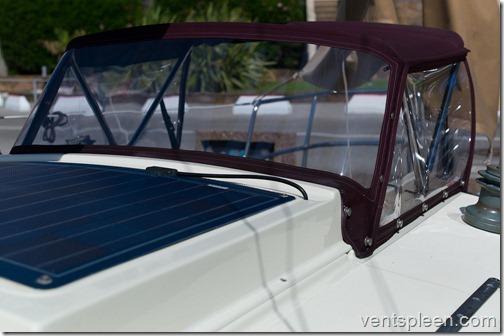 Doolittle's companionway sprayhood. The sides can be folded up or removed and the whole can be folded down flat if needed. New in 2012. This pic taken in June 2015.
Another one of the additions to Doolittle that has been brilliant. Normally a Dana has a full width spray hood which runs from one side of the cabin top to the other and while this set up offers a little more protection it does create a lot more windage and drag when sailing up wind. It also makes going forward from the cockpit harder and using the cabin top (staysail) winches very hard indeed. It also requires a hell of a lot of holes to be drilled in the cabin for all the various mounting points.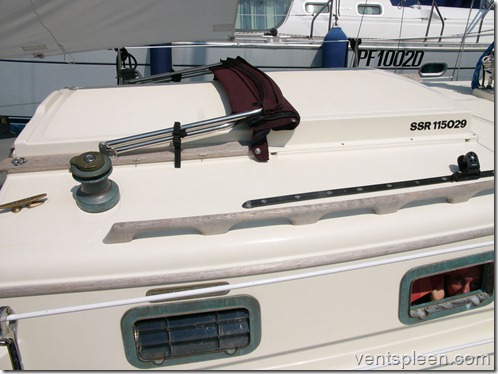 Here's a picture of the spray hood folded down onto the sea hood. The hatch opens as per normal.
By now you will know that I have a horror of making holes in boats, well holes let water in don't they? so you won't be surprised to learn that the entire spray hood is fitted to the boat without making one hole in the fibreglass! It is only screwed to the wooden parts which can easily be repaired or replaced if the need should arise.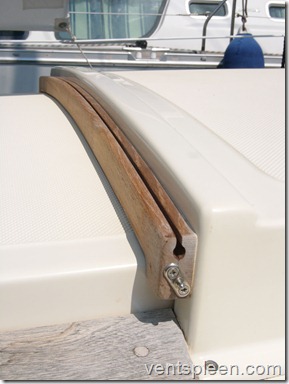 This picture shows how the front of the spray hood is attached. Originally this piece of wood did not have the groove in it. I removed it, and made this piece with a groove by gluing two pieces of shaped wood together. What you end up with is a very strong, clean and watertight way of attaching the front of the spray hood using keder tape and without making any holes in the fibreglass!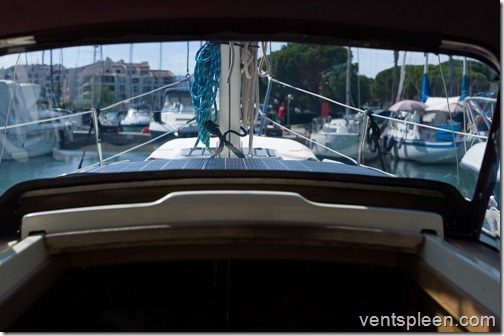 Pic taken in June 2015. Unusually clear spray hood glass allows a good look out to be kept whilst sheltering from the elements.
The spray hood has window glass called strataglass which is extremely clear and obviously more expensive too but by now I guess you are starting to see that only the best goes on my boat. It is a little bit stiffer than cheaper plastic window material but the sides of the spray hood unpop and unzip in moments and then the whole thing can be folded down to rest on the back edge of the seahood and doesn't interfere with the action of the hatch at all.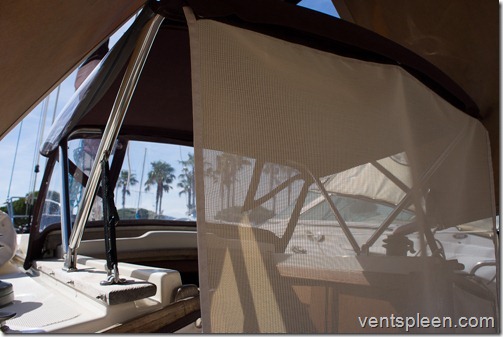 This is the spray hood with the sides folded up to let air through. The Phifertex privacy curtain just pops onto the spray hood. Note how all the spray hood fastenings and hinges are only screwed into the wood and not the fibreglass. Pic taken in June 2015.
The stainless hinge was custom made as were the hoops. The material used is Sunbrella black cherry to match the sail cover and other various pieces on the boat. It is very strong and in fact I use it to swing into the boat on a daily basis. It keeps out the worst weather and waves and has been absolutely brilliant. It was replaced a few years ago and like everything else on Doolittle is in excellent working condition.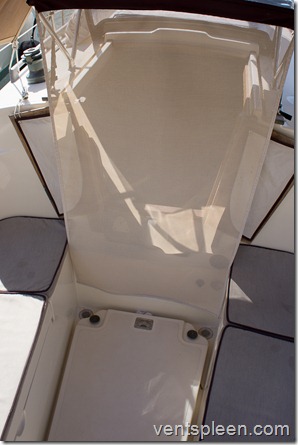 Phifertex privacy curtain just pops onto the spray hood. Pic taken in June 2015.
It has a drip flap so that rain cannot drip into the cabin. Onto this flap there is a privacy curtain which simply pops on. It is made of Phifertex and allows air and light through.
Engine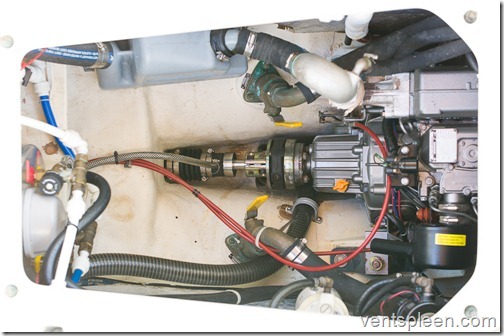 Pic taken June 2015 shows Doolittle's 3YM20 engine. Replaced under warranty in 2010 and has only done 700 hours. Vetus flexible coupling, Polyflex engine mounts, a PSS dripless stern gland (new 2015) and a special large bore bronze riser are just some of the mods. Note also the Isotherm 15 litre water heater.
Most Danas were fitted with the Yanmar 2GM engine which had two cylinders and 18 hp. The later Danas including Doolittle were fitted with the latest super efficient Yanmar 3YM series engine. It weighs about the same as the old 2 GM but has one more cylinder so is considerably smoother. It is slightly longer but weighs about the same. When I first bought Doolittle I thought it was a bit over the top, such a big engine in so small a boat but over the years I have come to relate to the decision.
The Dana is a heavy boat and there have been times when I have been welcome of all that power and there is an added advantage that the engine never has to work too hard to push the boat along. The original engine had a load of issues and was eventually replaced under warranty by Yanmar in 2010 so the current engine has actually only done about 700 hours and is barely run in.
Ever since the first oil and filter change I have had the oil analysed by a lab to ensure that the engine is always in the best of health. It costs a little but it is money well spent as it helps to nip any problems in the bud. I can supply these to anyone who is interested. Oil analysis can help identify problems before they arise. It's an excellent idea to build up a continuous history.
Modifications to the engine and bay are as following. There is a Vetus Bullflex flexible shaft coupling. This is a massive beast and allows the engine to be misaligned upto a few degrees. Not that it ever is. The engine has always been very carefully aligned. Proof of this is the fact that Doolittle still has her original cutlass bearing fitted and there is still no play in it at all.
The original and poor Yanmar engine mounts have been recently changed for Polyflex ones. These cannot come un glued unlike the Yanmar ones and are a much better and safer solution. They are made of polymers and plastics so don't rust either unlike the Yanmar ones. These were very expensive. The coupling and mounts alone came to well over 1000€!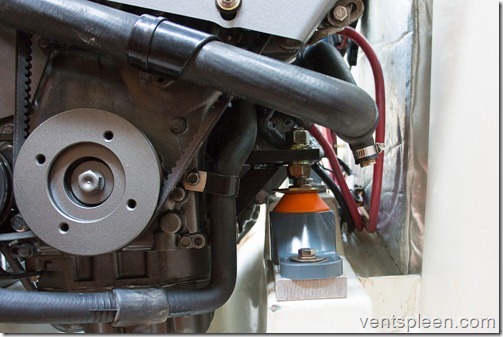 Just one of the Polyflex engine mounts. As you can see the engine and bay is immaculate. The engine is filled with waterless coolant. Note the Halyard soundproofing on the right.
Some of the engine improvements are invisible yet important all the same. Perhaps the most important is the exhaust riser. The original cast iron and frankly rubbish Yanmar one has been replaced with an Expensive cast bronze version from Norway. It should give no further trouble. This is an important and necessary modification for the Yanmar engine.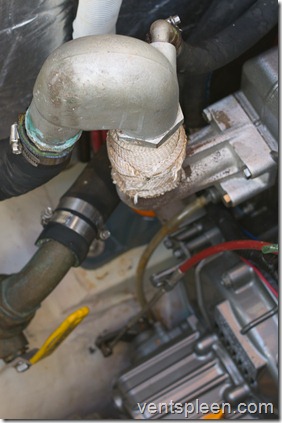 Special bronze large bore riser replaces the rubbish cast iron Yanmar one.
To help the engine charge better a Balmar 80 amp alternator has been fitted along with a stand alone and programmable regulator. There are spares for the alternator and even another spare regulator. These parts cost well over 1000€. The original 55 amp/hr Yanmar is on board as a spare and has never been used.
The engine has been filled with waterless coolant which stops the engine innards from corroding. It does not expand so doesn't stress the hoses. It never needs to be replaced for the life of the engine. It was yet another expensive thing but a good investment which should help the engine to last a very long time.
A pump for sucking out the oil has also been fitted which makes changing the engine oil a lot easier than trying to suck it out of the dip stick which is the way you would have to do it if the pump was not fitted. As there is no drain plug on the 3YM even this simple task was very complicated and costly to do.
The engine is also connected to the hot water tank and it will heat it up to extremely hot in about 15 minutes.
The engine has the usual water strainer and filters which are all replaced regularly. The later Danas have fibreglass fuel tanks which do not corrode unlike the alloy ones in most other Danas. In ten years there has never been the slightest issue with water in the fuel or any other kind of fuel contamination. The fuel tank has a gauge on the top of the tank (accessible by lifting the floor panel) and it also has an electrical gauge by the electric panel.
The entire engine bay has been soundproofed by the addition of fireproof 1 1/4"" thick sound proofing by Halyard marine. Again, the best quality product I could find.
The original stern gland and packing was replaced by the efficient and clever PSS shaft system. It is now ten years old and due for replacement at the end of this summer. The new unit has been purchased and will be fitted the next time the boat comes out of the water.
Behind the engine a plywood shelf has been glassed in and an Isotherm 15 litre water tank has been fitted. It is heated by an electrical element or by the engine. The Isotherm is maybe the best quality water heater on the market anywhere. It has a fully stainless tank within a stainless cover. It was fitted a few years ago and should last for many years to come. The 15 litres is more than enough to have two very hot and long showers. It is a very efficient system indeed.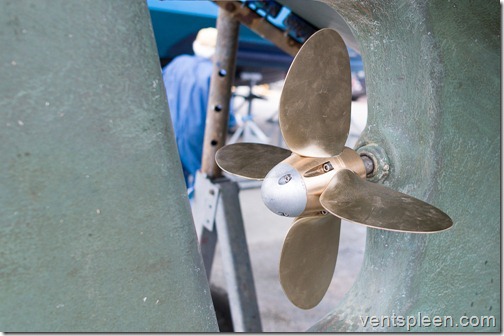 The very expensive 4 blade solid bronze feathering adjustable pitch prop. Extremely low drag under sail. Extraordinary efficiency and power when motoring. Strong astern power. Very smooth thanks to the four electronically balanced blades. It even has a shock absorber built in to reduce the stress on the prop when going from fwd to astern. Worth every penny.
The propeller on Doolittle is a superb feathering bronze prop made by Variprop in Germany. It is a quality product and works as you would imagine. It cost 3000€ so that should give you some idea of the level of quality. It can be adjusted for pitch in forward and reverse. It just works and it's one of the reasons why Doolittle sails better than all other Dana's as there is practically no drag from the prop. It was an expensive addition but the performance gain is large and the piece of mind that comes from having a quality prop cannot be measured.
Sails and rig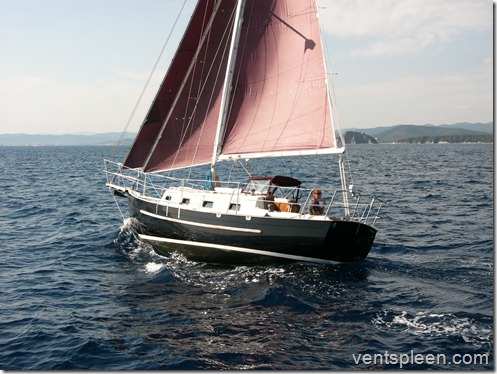 A pic from a few years ago showing Doolittle's cutter rig. The sails have since been replaced and furlers added but she looks exactly the same today.
Doolittle is cutter rigged and has tan coloured sails made by Ullman sails in the USA. They were new in 2011 and have been very little used since fitting. When not in use they have been removed from the boat, carefully folded and stowed. They are as good as new and have decades of life left in them.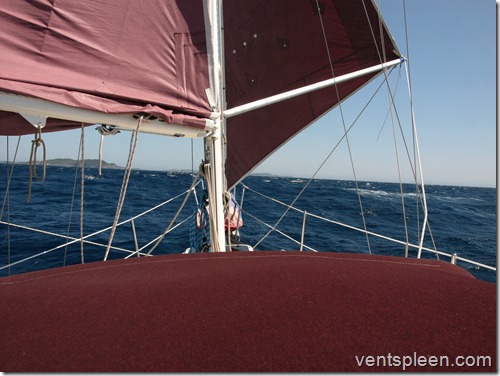 A pic from a few years back showing Doolittle stonking along down wind, a reef in the mainsail and the staysail poled out. She sails like a train downwind with very little effort.
The white painted aluminium mast is made by Lefiell and has all welded fittings. It is an extremely strong mast with massive fittings. The paint is in excellent condition. The boom is also made by Lefiel and is also painted white.
There is a mast head light, a VHF antenna and an 8db Omni directional wifi antenna with massive low loss cable which enters the boat through a deck gland. There is a 2 watt adapter which is massively powerful and allows Doolittle to capture wifi from as far away as three miles! Also on the top of the mast is a spinnaker bail and a Tacktick wind transducer fitted in 2013. There is a steaming light and a deck light and flag halyards on both spreaders.
At the front of the mast there is a large ring fitted for attaching the 16' long telescopic whisker pole and there are two Harken winches and a pair of jammers and various cleats. There are two spectra running backstays which are used if needed.
The mainsail has a black cherry cover and the jib and staysail have Tedlar UV protection strips attached. This is a transparent material which is very light and does not add much weight to the leech of the sails.
In addition to the three main sails Doolittle also has an Asymmetric spinnaker which is flown without a pole. It is a fabulous sail made by Momentum in 2008. It hasn't had a huge amount of use and is in excellent condition.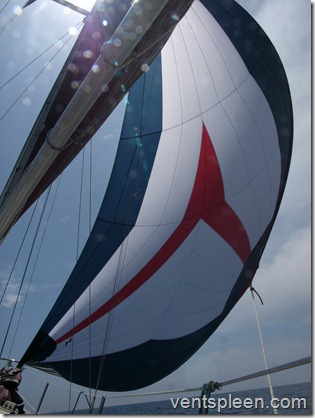 Momentum MPS asymmetric spinnaker. Beautifully made. As new condition.
On the cabin top there are the original Schaefer tracks and chariots for the staysail which lead to a pair of solid bronze Meisner 18 STB-15 winches engraved with the name of the boat. These winches are pure quality and extremely well made and very low maintenance. They have no bearings as such, just a special plastic sleeve. What this means is that they rarely need to be taken apart and greased. I do it from time to time but the grease is always good so I just put them back together!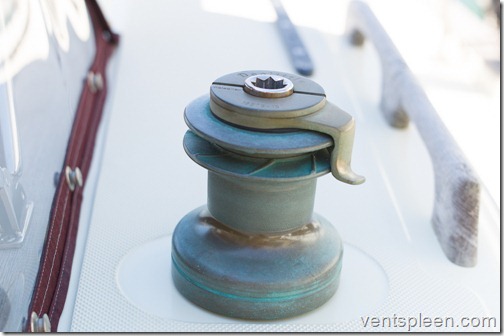 Just one of the four engraved 'Doolittle' bronze self tailing Meisner winches. Come with two bronze engraved handles with lignum vitae handles. Pure class. After ten years they have a superb patina.
In 2011 I fitted a pair of new and very expensive Harken furlers for both foresails. The original sails were hank on and I couldn't see the point of having them modified as they had done quite a lot of work. It seemed a good idea to replace the furlers and buy new sails to fit to them which is what I did.
In 2012 I got fed up with the original Genoa tracks and cars. They never slid well and had to be adjusted manually. A right pain in the butt. So I replaced them with a low friction Harken ball bearing system. What a massive improvement. Now a simple tug on a rope allows the adjustment of the jib sheet lead. This was an expensive system to fit but it was worth every penny.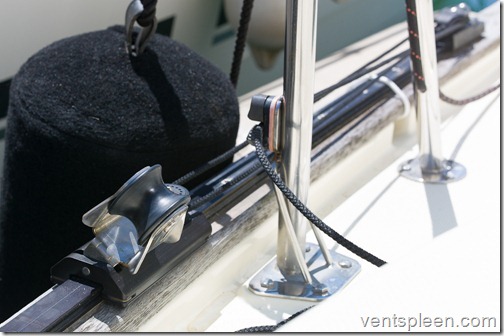 New Harken tracks and genoa chariots. Note the jamb cleat welded to the stanchion which allows for easy car adjustment from the cockpit. A massive improvement over the original system. An expensive addition but so worth it. Pic taken June 2015.
At the same time, I removed the stanchions and had them all modified to allow the furler lines to run through them. It was the neatest way to do this. Normally one needs to fit rollers and guides which never look very nice. This is a much more elegant solution and I am pretty sure you won't see many boats with this ridiculous level of detail.
In addition to the guides for the furling lines there is also a small cleat welded on which is used to tie the furling line to and there is also a small jamb cleat on the outside of the rear stanchion which allows quick and easy adjustment of the jib chariot. It was all a lot of work fitting the furlers and associated ropes and guides but it has been well worth it. The end result is very tidy and extremely functional.
Another addition is a back stay adjuster made by Wichard. Yet another ridiculously expensive part but the back stay is super important and one wouldn't want to lose any part of it so I decided to buy a slightly larger one than absolutely necessary but it was a good choice as it suits the scale of the boat and adjusts easier as it is not stressed.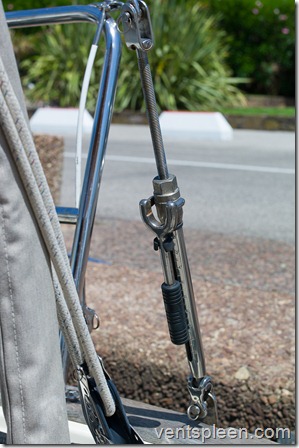 Wichard back stay adjuster. Meant for a bigger boat. This expensive bit of kit won't ever give any trouble! Pic taken June 15.
There are another pair of Meissner 18 STB-15 self tailing bronze winches in the cockpit, they are also engraved with the name of the boat, as are the two solid bronze winch handles with the boat name also engraved in them as well. These are expensive winches but they have never given a moment's trouble and have gone a lovely green colour with age.
Attached to the backstay chainplate is a special stainless fitting which allows the fitting of a mizzen mast. This was an experiment which worked well and all parts needed will be supplied with the boat. there is a two part carbon mast and an old sail which drops onto the fitting on the transom. Here's an article I wrote about it.
Doolittle is very well set up for sailing in all conditions unlike many boats whose rigs are not as sorted as hers. Many a time we have out sailed much bigger boats simply because her rig is so optimised and sorted for all points of sail and wind strengths.
The mainsail has three reefs although I have never needed the third one! The battens were placed in the leech parallel to the boom at my request. This makes it easier to flake the mainsail on the boom. This is typical of the attention to detail that has been lavished on Doolittle.
How the boat looks is as important as how functional it is. Doolittle is first and foremost a sailing boat but she is also very nicely finished in most areas.
Interior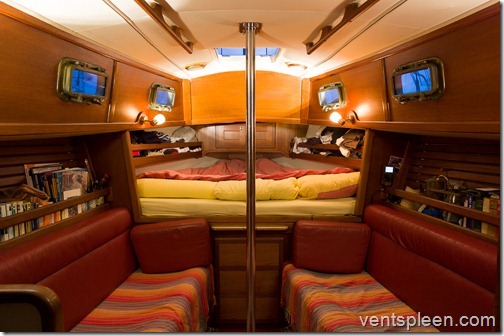 A very cosy and welcoming interior. Doolittle has teak cabin sides unlike many of the later Danas which have white cabin sides. Prebit LED lights spread a lovely glow or can illuminate fully the interior with a total of 8 gold plated lights!
Doolittle has many special features and modifications that are visible from the outside but perhaps some of her best features are down below. Doolittle is brighter down below than most Danas thanks to her doors with large windows in them. Before when the boat was closed up it felt a bit oppressive down below. Now it's possible to close up the boat even on the grimmest days and not feel penned in.
Perhaps the most noticeable change compared to most Danas apart from the doors is the companionway box which takes the place of the original steps. The steps were fine for getting in and out of the boat but they took up a lot of space in the galley and served no other purpose. On a small boat I believe it is important that everything does more than one job to maximise efficiency. The companionway box is a classic example of this.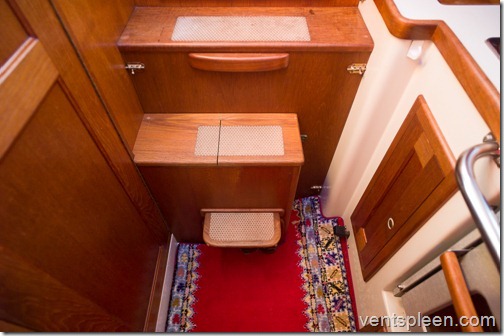 Doolittle's unique and practical companionway box. Divided into two sections, one for rubbish, one for recycling. Removable step and a nice space under for shoes. Whole box simply lifts out for access to the floor.
On most boats there is no where to put your rubbish and this always annoyed me so the box is primarily a place to put trash but it is divided into two sections, one for rubbish and one for recycling. Of course you don't have to use it for that if you don't want, you could simply have a double sized bin! The tops of the step have the original non slip surface flush fitted and they also have hidden hinges. The entire box just lifts out for easy cleaning or for access to the fuel tank under the floor.
The companionway box also has a removable step should the need ever arise and there is now a large space for shoes. The box takes up less space than the original steps so there is more room to work in the galley. It's a small thing but it really makes a difference. The old steps also used to rattle when the engine was running. The new more solid box does not and that is a great relief!
The only real visual difference between Doolittle and other Danas is the cupboard behind the fridge. Normally PSC made a special shelf dedicated to plates but this seemed to me a terrible waste of space and a very hard area to clean so I asked that they make this cupboard with a door instead. This is a much more practical arrangement altogether.
Other than this, Doolittle has an interior much like any other late model Dana with the excellent unzippable headliner and oiled teak wood work. Things one cannot see are the latex cushions throughout, an extra that I chose at the time which has proven to be excellent. Even after ten years of living aboard the seats and bunks are still springy and extremely comfortable. Doolittle uses a faux leather for the coverings in a nice red colour called Salsa. The seats always have throws on them so they do not show much wear considering the use they have had.
Doolittle has a teak and holly floor which has never seen the light of day. It has always been covered. What that means is that the floor looks like new despite its age. There are not many ten year old boats were near perfect wooden floors in them. Doolittle has a very expensive Moroccan pure wool carpet custom fitted which adds even more comfort and luxury. In the winter there is an special heating element which fits under the carpet. Getting up in the winter is a delight. Bare feet on pure wool is a luxurious experience!
There is also a small 400 watt heater that hooks on under the hanging locker. This and the RugBuddy under the carpet provide more than enough heat during the winter. Much of the cabin has extra neoprene insulation which keeps down condensation in the winter and keeps out the heat in the summer. Under the front bunk there is also a special layer which allows air to circulate under the mattresses.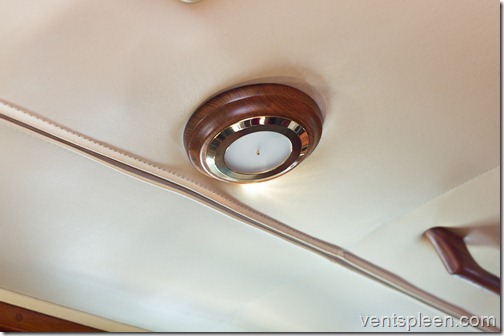 One of Doolittle's 4 prebit dimming gold plated down lights. Fitted to custom made solid teak surrounds. Note the excellent headlining which unzips for access.
In 2014 all the cabin reading and down lights (x8) were replaced at great expense (over 1000€!) with gold plated Prebit led lights. They all dim and are touch button. The hand painted glass shades throw a delightful colour on the oiled teak. You can read more about them here. They are extremely bright (if you want) yet consume very little power. Best of all, being gold, they are easy to clean and not likely to corrode or fail unlike the original lights!
Doolittle has an Isotherm fridge fitted and it is simply brilliant. It uses very little power and yet can even make ice cubes. It uses a special seacock to cool the gas and what this means is that any heat produced by the fridge does not find itself in the cabin like most systems. Nor does it make much noise. The compressor is fitted to a custom made shelf under the sink in the galley. It was extremely expensive but has been absolutely brilliant proving that you really do get what you pay for. Here's an article I wrote about it.
Doolittle came with a Force 10 two burner stove, oven and grill. It's a superb bit of kit and apart from having to replace the knobs and the sparker unit it has been as good as gold. Here's a recent article I wrote about it. Even after ten years of constant use, thanks to the great care we take over it, it is still in fabulous condition and in perfect working order. There is a wooden top which lives behind the stove that can be placed on top as an extra work surface.
The table which seats four slides out from under the bed and locks into the compression post. There are large lockers and cupboards all around. The hanging locker has been divided by the addition of shelves but these just drop in so if you wanted the full depth of the locker back it's easily done. Under the bed there is a huge locker and another one above the foot of the bed. Storage space is not lacking on a Dana!
The electric panel by the companionway has been completely remade in solid teak. The original one had a voltmeter but that has been replaced by more switches and a stand alone BEP meter which shows the levels of the Diesel and water tank (with option for adding another for the holding tank) but also volts and amps in and out so you can monitor the electrical system.
Behind the fridge there is the original 12V control panel with breaker switches and also the Mains power panel, made by Blue Sea Systems which has breaker switches and also a dimmable meter which shows volts and amps.
Toilet and head
Doolittle's head compartment is now fitted with a solid bronze Reinstrom German toilet. Unlike the original Grocco (as fitted to most Danas) this toilet is the Rolls Royce of heads. It costs nearly $2000 and comes with spares. The shower compartment has been modified so that one can actually shower in there without water falling straight out of the room into the cabin. The sink has a pull out shower head which replaces the original hand pump tap.
The original cheap white toilet hose has been recently replaced by Trident hose which is the best and most expensive that money can buy. Thanks to its construction it does not leach nasty smells which is why I bought it. It also remains flexible so it can be removed easily for cleaning if required.
Conclusion
That's about all I can tell you about Doolittle and her condition. She is VAT paid so what that means is if you are not an EU citizen you can use and leave Doolittle anywhere in Europe without worrying about a time scale. She can stay in Europe for as long as you want. VAT cost about $15,000 at current exchange rates.
Doolittle also comes with a rather spectacular and unique sailing dinghy which is very hard to put a value on but if I had to make one for a client it would surely be $10,000 as there is a months work involved! It was designed and made to fit perfectly on Doolittle's foredeck and has a cover to protect it from the elements. It rows and sails too and comes with all the necessary parts. It can be assembled on land or in the water. It rows and sails beautifully and will get massive attention everywhere you go.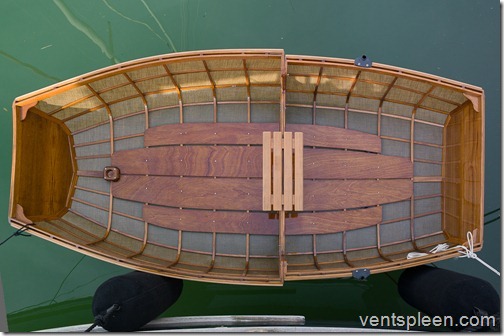 The Stasha Tweed. Made from teak and covered with epoxy coated Flax. It is made from two halves and nests on the foredeck. Here's an article all about it.
Doolittle would be the perfect yacht for an American couple who want to explore Europe and the Mediterranean, with the VAT paid there are no time restrictions on how long the boat can stay in Europe.
In addition to the seas of Europe Doolittle can also do canal trips and this is a massive bonus and a true delight. Read a little about one of the trips Doolittle has done in the French canals.
Doolittle is for sale for $120,000 which may seem like a lot but when you consider that a new Dana, if you could buy one, would cost upwards of $150,000 for the basic boat, and if you consider Doolittle's fantastic condition and very high spec and the fact that she is VAT paid AND comes with a nesting hand made sailing dinghy then she compares very reasonably with other recent Danas that have come up for sale.
Doolittle has crossed the Atlantic once and has covered about 15,000 logged miles. She has visited three continents and many countries. She's a brilliant boat and has been a good comfortable home for all that time. After spending more than half his life living aboard, the author and his partner want to try something new. Here is a unique chance to buy one of the best cared for and most beautiful Danas to be found anywhere in the world.
Should a prospective owner require I would consider delivering Doolittle to the East coast of America although that experience should really be for the new owner! Although I am asking $120,000 I am willing to discuss this with anyone who is seriously interested in becoming Doolittle's second owner.
If you want to know more about the Dana 24 then please read this very long article that I wrote. if after reading that and this post and you still have questions! Then please contact me. Doolittle is currently UK registered and moored nr St Tropez France. Viewing by appointment.
info (at) woodenwidget.com
Cheers
Benjy