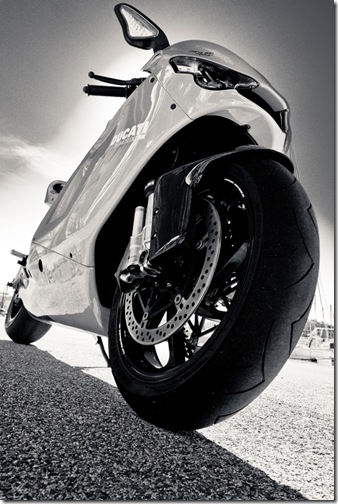 All shots: Leica M9 Elmarit 21mm Asph, 160 ISO.
When Yan turned up on his Desmo I had to take some pics. The light wasn't too bad and anyway, had it been raining I'd still have tried taking some pics. It's not often you see a Desmosedici in the flesh after all. The colour pics are cropped slightly but otherwise untouched. I couldn't decide which of the two pics in black and white I liked best so I posted them both. You decide.
The most amazing thing is the noise it makes, even with standard pipes. They exit at the back of the seat on top and are loud. This is at low revs, I simply cannot imagine the noise when it redlines at 14,000 revs. The engine itself fights for attention and between them the noise it makes hurts. It is quite extraordinary.
I heard Yan coming from a long way off and the kettle had nearly boiled by the time he actually arrived. If I hadn't heard him I would surely have seen him. This bike is RED. He tells me that the power it makes is incredible and it spends much of the time pointing at the sky. That must be why the front tyre looks hardly worn compared to the rear. Mind you I have never seen a front tyre with wear marks right down to the edge of the tread before.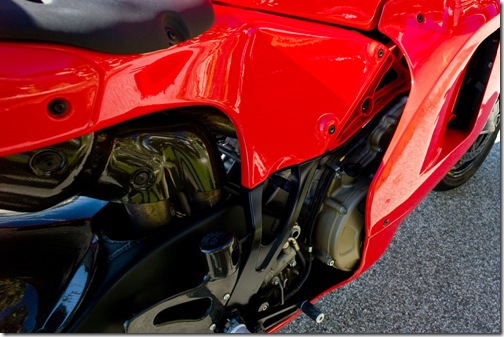 The bike abounds in tasty details, it's almost a shame it's faired so comprehensively, I'd like to spend an hour contemplating the engine. I told Yan that even if he offered me a ride on it, I'd refuse. There's no way someone my small size and weight could use it effectively on the road. A track day would be different but the adage 'you bend it, you mend it' would be always be there and if I damaged it even slightly it would no doubt cost an arm and a leg.
He did say I could sit on it. This alone is a mark of trust, even dropping the bike at standstill would probably do expensive damage. It really does seem quite delicate. Even though I'm only 5'4" short it fitted me really well. I could easily touch the ground and bars, pegs and levers all fell into place naturally. 'It suits you' says Yan. Yeah right, I'll just sell my home and buy one tomorrow. Oh, but wait I can't they only made 1500 so are as rare as rocking horse shit.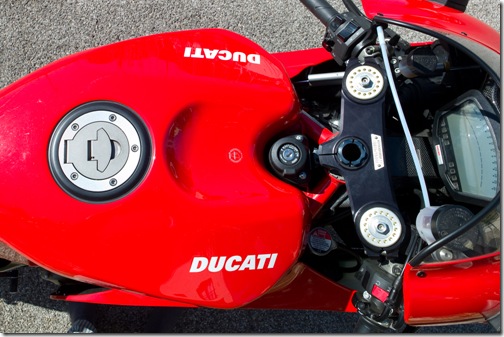 Even if I was rich I just couldn't see myself owning a Desmo, I really don't think I'm brave enough to even try and tame it but perhaps it's the worry that perhaps I could. Anyway it's academic as I very much doubt I will ever be able to spend £40,000 on two wheels. You can't take a passenger, or even a spare change of pants so it's obviously not a very practical bike to own.
Special 16.5 inch tyres are needed. No idea how much they would cost each. Don't suppose they last long either with nearly 200 horse power on tap. If Yan gave it to me I probably even couldn't afford to own it let alone ride it! No one in their right mind is going to service it themselves so it needs to go back to Ducati every year although they kindly take care of this for the first three years. The bike also comes with a 3 year warranty such is Ducati's faith in the robustness of their engine but what about insurance? I'd probably have to sell a kidney. Might be worth it though….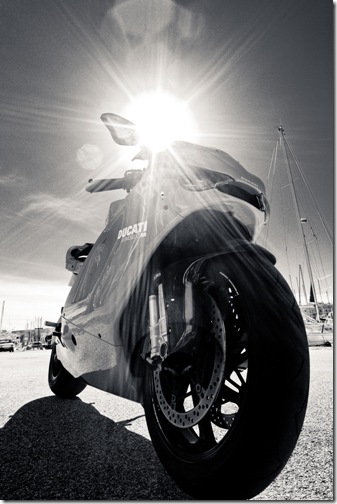 In many ways it's the Leica M9 of motorcycles. They are rare and hard to get hold of. They represent the best that money can buy. A no compromise product build to a spec and not a price and not everyone would recognise it for what it is. Serious wealthy loonies only need apply.