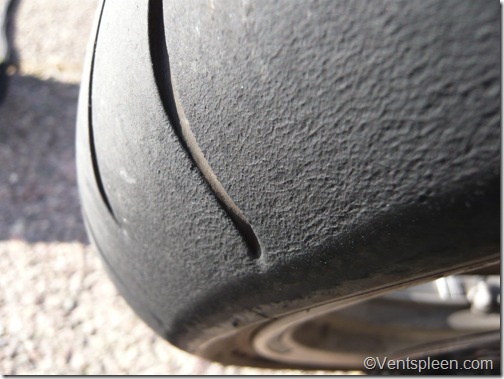 This is the front tyre. Worn almost flat on the sides. Very strange wear.
It's been a year since I bought a set of Bridgestone BT 016 tyres for the Monster. My initial thoughts can be read here. What do I think now after a couple of thousand miles?
Well, I'm still not convinced. These tyres just don't feel right. Admittedly they turn in faster now that they are scrubbed in a bit and it has become easier to get the bike through the corners but I still don't feel completely confident in them. Is this because they don't give much feedback or is it my built in survival instinct keeping me reigned in?
They have not frightened me or done anything untoward, though today the front end did seem to lose it's grip for a moment and I was surprised at that. The one thing these tyres don't lack is grip.
The back tyre is wearing well and evenly although there is actually a step where the softest rubber at the edge of the tyre has worn more than the middle compound. This has not yet affected grip or performance, or at least I am unable to detect it.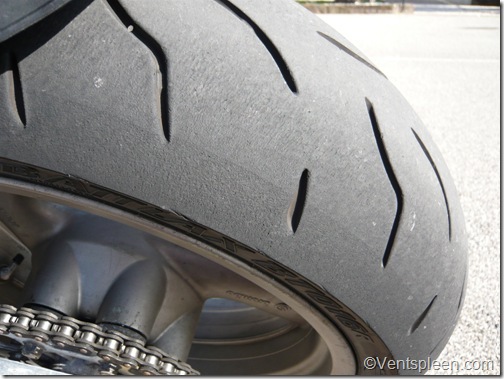 Back tyre wearing very well compared to the front although a slight step is noticeable between the softer outer compound on the outside edge and the slightly harder compound next to it. Softer outer edge quite visible.
The front tyre is another matter. The sides have a distinct flat on them. This is very unusual for me as I do not weigh much and am not a heavy braker. This must be why the turn is improved because of the slightly V shape the tyre now has. Normally when the back tyre is worn out I still have plenty or grip left on the front but with these BT 016s the front tyre is more worn than the rear already.
I'm not sure how many miles the tyres have done but it must be a couple of thousand so they are not doing bad. Mind you the bike is not heavy and neither am I. I'd like to think that my riding style is fluid and I don't brake much so in theory I should get a lot more miles out of a set of tyres than most.
The question is really; would I buy these tyres again? The answer is a most definite NO. Mainly because I don't like the way the front tyre is wearing unevenly and because the outer part of the rear tyre is at a lower level than the rest of the tyre but mostly because I just don't like the way they feel. The bike is twitchy coming out of bends and on uneven surfaces. It never did that with the Pilot Powers. I don't think it's a problem, it just takes the edge of one's confidence when the bike doesn't feel completely planted.
Perhaps I could mess about with the suspension settings but I hate to do that, especially when the bike was so well set up for the Michelins.
What will I replace these tyres with? A mate has fitted Continental tyres to his Paul Smart and he seems to like them a lot but I still think those Michelin Pilot Powers were an excellent tyre at least once they were warmed up. I think that triple compound is a bit overkill for the road so I will probably go for something fast street as opposed to road/race. I'll keep you posted on that!
So, conclusion:
The Good – Fast warm up. Excellent grip.
The Bad – Lack of feeling. Uneven wear. Slow turn in and direction changing.
Marks out of ten. A seven at best.