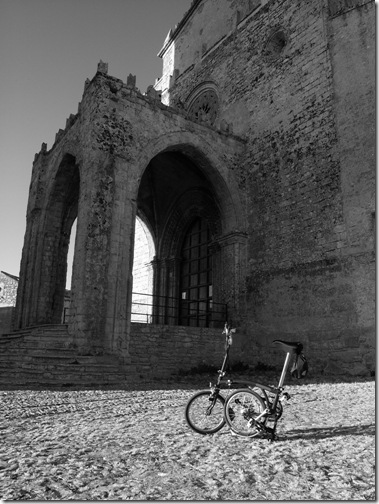 Leica Digilux 2. Brompton folding bike at the town of Erice above Trapani, Sicily, summer 2007
Bicycles are brilliant. They must be one of the best ever inventions that humans can be proud of. Now that we're getting wise to pollution more and more bicycle lanes are being constructed and this is good news.
Because we live on a small boat, space is at a premium and the bikes we need have to be small enough to be stowed in a cockpit locker. This seriously limits our choice of bike. Before we bought a pair of Bromptons I researched the market and soon discovered that there are not many bikes that fold to a package small enough to allow us to put them away when not in use.
The Brompton is a design classic. It is simply brilliant in every respect. The 16" Wheels are smaller than a mountain bikes but don't let that put you off. The wheels are small enough to allow a compact folded package but big enough to be completely usable in the real world. The tyres are pumped up to 100 psi which means you can really get some speed up on a Brompton. I simply love passing other bikes on my folding bike, they are always surprised.
The fold is fantastic, I think the record is about 8 seconds which is extraordinary but it will take most people a bit longer than that. Here's a video showing one being unfolded in about 12 seconds. This is perfectly obtainable by anyone with practice.
One of the best features of the Brompton is the way the rear end swings around for folding. This has the added bonus of being able to park your bike without the need for a tree, lamp post or bike stand. Some say that it's annoying when you lift the assembled bike because the swinging arm folds under. However it's really not difficult to hold it by the swinging arm and lift from there. That stops it swinging around. The advantages this system gives you far out weigh any slight inconvenience.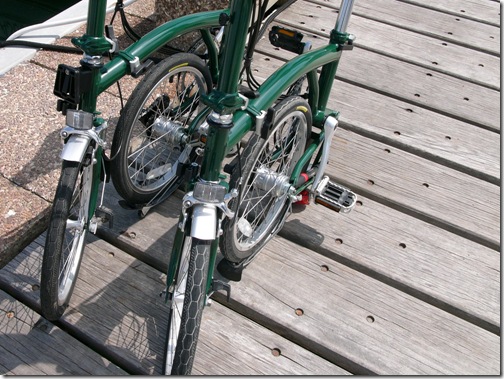 There are loads of options for the Brompton but even a standard bike will surprise you with it's speed. Even if the Brompton didn't fold it would still be a great bike. Made in the Uk with quality parts the Brompton could not be described as cheap but it is very good value for money.
You can personalise your Brompton when you order it. Various paint options are available and you can mix and match. You could have a red frame with black swinging arm for example. Or if you're feeling flush, get the Titanium version finished in varnish with the hand braised welds visible. This will save you almost a kilo.
The Brompton might fold to one of the smallest bike packages in the world but the practicality doesn't stop there. Oh no. You can buy any number of clever bags which simply drop into place on a plastic bracket on the frame. This is brilliant because the weight is low down on the frame and not the handle bars so even if it's full of heavy things the bike remains stable. The bag locks on and is easily released by pressing a clip.
Having a bag at the front is very helpful but you can also get a rear rack which can take a lot of weight. There are of course bag options for the rack too but it works very well on it's own with it's built in bungee cords. There is even a little bag under the saddle that is perfect for carrying the bike padlock and puncture repair kit. It really is quite incredible just how much stuff you can load up on a Brompton.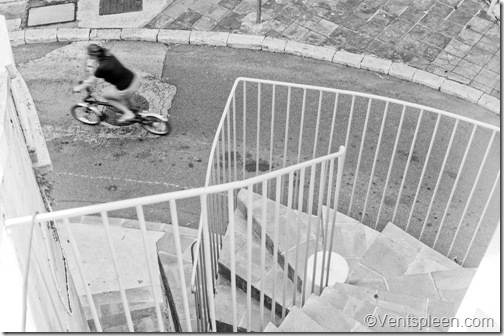 A Brompton in my Homage to Cartier Bresson.
They say that the Brompton is not an off road bike but I can tell you that they are surprisingly competent even off the smooth stuff and the rear suspension helps to absorb the bumps. We have even used them to cycle around islands and as usual find ourselves catching up and overtaking  mountain bikes.
Our versions have mudguards and 6 speeds which makes them pretty versatile. The Brompton is a brilliantly conceived and highly evolved bicycle. It's no wonder they are becoming ever more popular in our over populated and crowded world.
The Brompton does have a few minor niggles. The standard seat is simply dreadful and the sooner you invest in a leather Brooks saddle the better. The peddles are not too great either and wear out fast.
Obviously the cables are long and follow a fairly torturous route around the frame to allow the bike to fold and the front brake's cable comes up from underneath so water will eventually get into the cable and seize it up. There's not much you can do about this really, it's just one of the compromises that such a clever folding bike must have. Cables are cheap and easy to replace so this isn't a reason to not buy one!
The alloy rims have stainless spokes which I commend, living by the sea as I do. The brakes don't work very well in the wet and squeal in the dry. No doubt this could be solved with a different set of pads but I'm not replacing the original ones until they are worn out.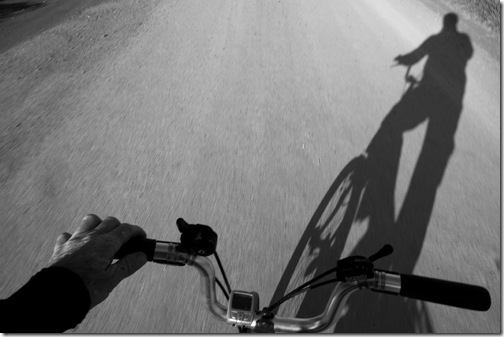 Leica M9, 21mm f2.8 Asph 160 ISO f8 @125 sec
Riding a Brompton is nice. It's a very upright riding position but this is wise when riding in traffic as you can see further ahead of you. Much of your weight is at the back of the bike and this tends to make the front end quite light. This and the bikes geometry means you need to take a bit of care on slippery surfaces such as gravel. Once you're aware of this it's no longer a problem. One thing about this which is good is that when you come to a curb, it's dead easy to lift the front wheel a few inches and mount it. I have ridden other folding bikes which won't do this and frankly I think that's dangerous. It's essential to be able to lift the front wheel up when going along. Quite good wheelies can be done with a Brompton!
You could go far on a Brompton, it's quite capable of long distances and as the Brompton becomes ever more popular more and more people are offering options for it. There is a very tidy 8 speed Sturmey Archer conversion and even an electric version with a small motor fitted to the front wheel. The battery is held in the front bag and it connects automatically.
We've had our Bromptons for a couple of years now and after 2000 miles of all sorts of varied riding I can confidently recommend one. Everyone is amazed when they see how it parks and they are even more astonished when they see the speed at which it folds and the tiny space it takes up.
I love to improve things and can usually see ways to make most things better but the Brompton has foxed me. The only thing I would like to see are markings on the seat post so it can always be set up in the right position rather than trial and error.
Conclusion: A brilliant bike even if it didn't fold. Fun to ride and surprisingly fast with excellent luggage carrying capabilities. On the down side, most parts not available locally but can all be easily ordered online from companies like BikePlus
You might also enjoy the post about the Brompton and the cycle lane to St Tropez