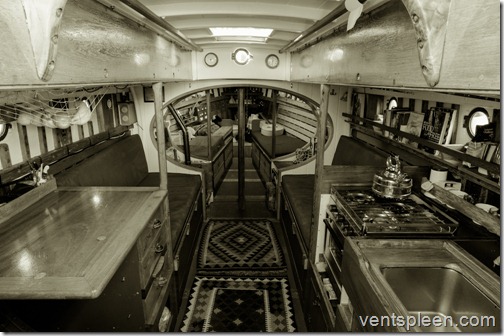 Waif was sold in 2013 but is now available again. Move fast, classic yachts like this don't come around very often. Contact info@woodenwidget.com
She might only be 28 feet long but 'Waif' is massive below and open right from the stem to the cockpit. Her decks are epoxy sheathed so she's dry and the wood burning stove makes Waif's interior a very cosy place to be.
Waif is over 80 years old but structurally is in as new condition. Her shipwright owner has improved her for the last 18 years with no intention of ever selling her. Now his family are getting bigger and sadly he needs a bigger boat so Waif is for sale.
One lucky person will get a real bargain. Every frame and floor is new and the boat has been entirely refastened with copper and bronze. Her amazing pitch pine planks are all one piece and 99% of her planking is original. Original too are the deck beams, deck and coach house. Her interior is of course not original but it has been built using as much of the original wood as possible.
There is much that makes Waif special, from her massive interior to her classic Edwardian looks but for me it's the quality of the woods used in her interior. Take the chart table for example. Made of one very wide piece of real mahogany trimmed with teak. You don't see wood like that these days.
Waif is full of beautiful details but she's also a very functional yacht which is ready to go sailing or act as a live aboard. Waif has been through the French canals a few times and is no stranger to the Western Med. With her long waterline she sails surprisingly swiftly and has a comfy motion. If there's no wind the trusty BMC 40 hp diesel will get you to your destination.
She's not perfect but all a new owner need do is steadily improve her details because they won't need to worry about the structure! It is very rare when one has the chance to acquire a boat of this vintage that is structurally so sound and so wonderful, spacious and bright below decks.
Here are a few photos but more info is available on her website here These pics were taken using only natural light which demonstrates just how well lit Waif is.