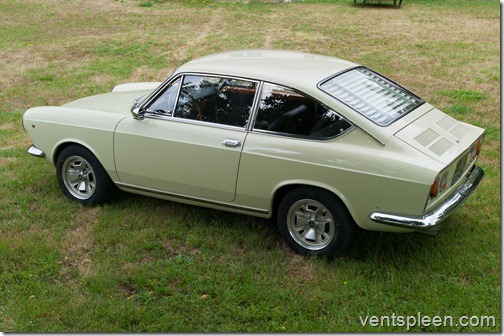 Primo has now been sold to a happy new owner!
'Primo' is a 1968 example of the Fiat 850 sport coupé. It is a second series model which in my opinion is the best looking of all the three series. He was originally painted in a very dull and dark green colour but is now resplendent in a period white colour which contrasts beautifully with the black leather and teak wood trimmed interior.
Primo is no garage queen, he is a well sorted and very reliable daily driver. He is fitted with the 70 hp Abarth engine from the Autobianchi A110. This gives him enough pep to keep up easily with traffic and because he only weighs 700 kilos he can often surprise much more powerful cars.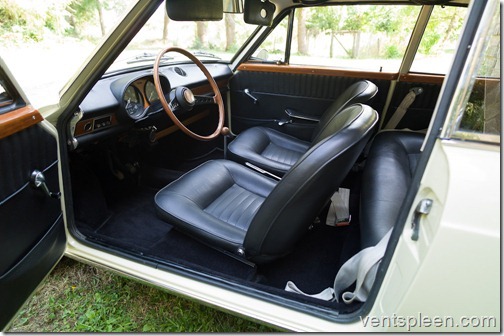 Primo's interior is a thing of beauty, made to a very high standard. In place of the standard plastic covered seats, all Primo's seats and door trim is real leather. Even the dash is leather covered. To set off this lovely leather is the varnished teak wood on the dash and on the tops of the doors. The leather trimmed carpets are made of wool. Soundproofing and sound deadening material has been fitted in many areas to reduce the noise and it helps to make primo quite a civilised car for his size and age.
Primo was bought as a project by me over six years ago and in that time a colossal amount of work has been done. He could never be considered an original car as too much has been done to him for that but he maintains the soul of his originality and in fact the only modifications done are ones that could be reversed easily enough one day should anyone ever want to. I was after a fun and cool car with a bit of class. To me that was more important than originality.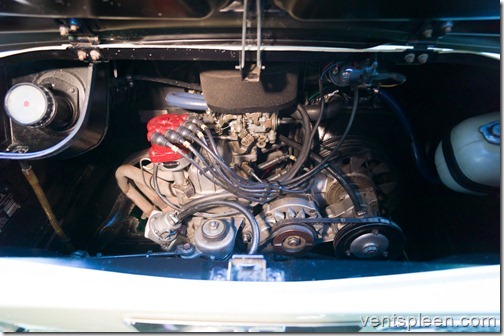 The motor was rebuilt by the previous owner who must have done a good job as Primo starts quickly and runs exceedingly smoothly. Since then the oil seals at both ends of the motor have been changed and the clutch, cable and thrust bearing. All gearbox seals and mounting rubbers have been replaced.
A new carb was fitted and the car runs very smoothly because of it and ticks over perfectly. No flat spots. The exhaust is a chrome 4 in to 2 pipe which isn't the quietest exhaust in the world but sounds great to everyone who hears it.
The conversion from the 850 engine to the A112 is not an easy one to do properly as they spin in different directions for a start. But the hardest part is the cooling system. primo has a modified 850 pump that has been cut and welded and reinforced. The pump has new seals too. What this does is give a car which never overheats even on the warmest days. For many years Primo was in the south of France and he never overheated once even in the heat of the day in a traffic jam. Very impressive. However it didn't hurt to fit an automatic electric fan too just in case although it has never heated up enough to ever come on.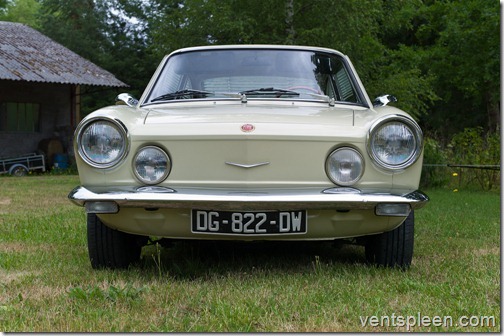 The exterior of the car talks for itself. All the stainless trim is in fantastic condition considering the car is over half a century old! The bumpers are straight but have small marks and scratches on them. This is called Patina and in no way spoils the car. It is a car to be used after all.
The interior was stunningly made by a professional upholsterer to the greatest level of detail. Black leather is sewn with polyester thread for longevity. The wood parts on the dash board and the door trims are made of solid teak by a professional boat builder and are deeply coated with marine yacht varnish. Compared to the nasty black plastic original trims they transform the interior.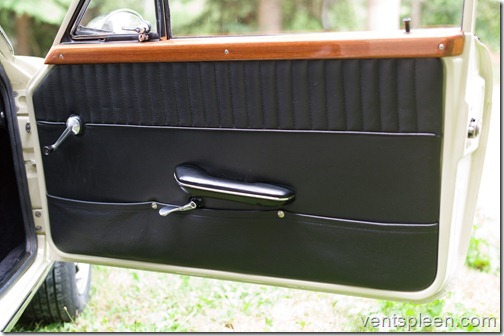 The door cards are also leather trimmed and made on marine plywood panels and not the cardboard Fiat used. Although they are lacking the two chrome trim pieces of the original card they mimic the scale and shape of them by using a leather piping. This would be too much black if not for the lovely piece of teak capping it. There is a full length map pocket sewn in on both doors.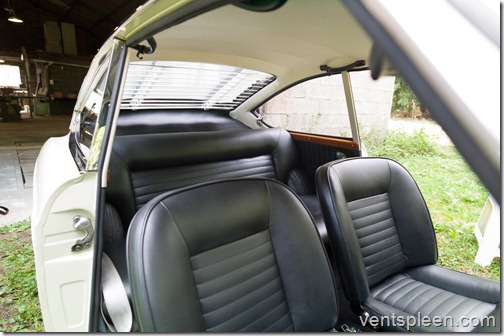 The dash on the 850 is often its weak point as they are made of card and over many years they warp and distort. The original mahogany wood trim pieces are also very hard to reproduce or restore so are often not done at all. Primo has solid teak pieces on the dash. It's a superior wood to mahogany and will fade much less with time.
The window channels and winders in the doors are all new and work perfectly. Thanks to new door seals, the sound deadening in the doors and no play in the door hinges the doors shut with a very solid sound. It's quite unexpected in a Fiat. The glass on Primo is all original and not surprisingly has some chips and scratches from five decades of use. The Chrome door mirrors are new and work well. The headlining and sun shades are new.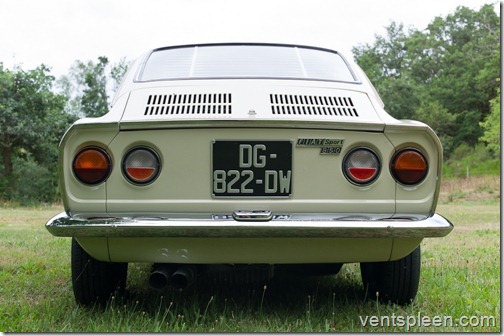 Primo must have been well cared for and kept in a dry place when not being used because apart from a few small welding patches on the floor the car is in incredible condition for a 50 year old Fiat. Since I have had the car I have sprayed waxoyl into all the holes I could find in the hope that it will slow the aging process a bit.
That covers all the visual stuff but there is very much going on that you can't easily see. Let's start at the front. The headlights have 60w halogen bulbs fitted as do the two spot lights. Main beam is really quite impressive now. In order to put such bright bulbs in an 850, first the electrics need to be improved. For some ludicrous reason Fiat put the power supply for the lights through the ignition switch. So now there is a direct fused feed from the battery to relays so that the system is not overloaded. Primo is fitted with an alternator and can easily keep up with the demand of the lights etc.
Much of the electrics have been improved and made safer. Even all the dash lights work! Where possible bulbs have been replaced with leds.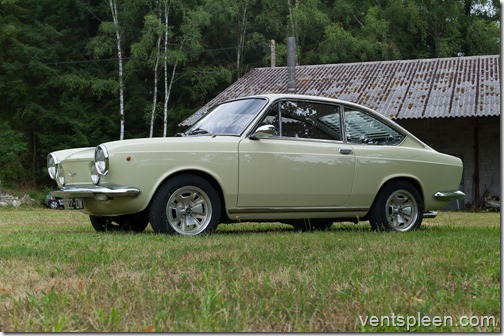 The front end has been lowered to create a better stance. This is an involved job requiring a good many new parts including Abarth front spring, lowering beam and staggered upper control arm mounts. All rubbers and seals have been replaced. All track rod ends and ball joints also replaced. Steering box adjusted and filled with fresh oil. New front shock absorbers fitted.
New front discs and pads. New wheel bearings. The steel brake lines were replaced by the previous owner. In place of the original rubber brake hoses Primo now sports braided ones which improve brake pedal feel.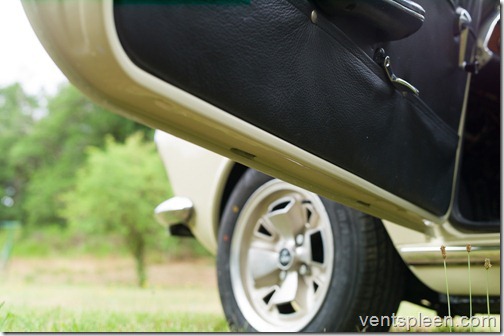 Primo's wheels are something special. Extremely rare and great looking. In my opinion the best wheels I have seen on any 850 sport. Spokes would be nice but these Azor wheels are far more practical. All four are true and very light.
The rear suspension has new adjustable Spax shock absorbers, new seals and rubbers and new wheel bearings, brake drums and shoes. New driveshafts and flexible couplings too. Not much that hasn't been changed!
The gear lever has been modified and now has a much shorter throw which is very much better than standard.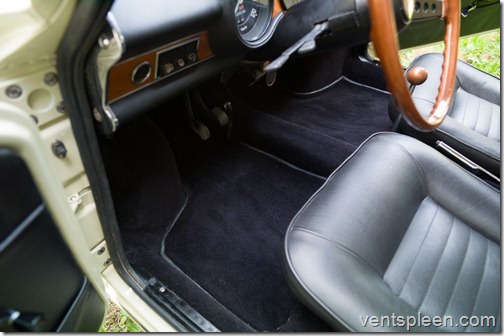 In the engine bay, the correct panels under the engine are fitted. These are often missing but are important if you don't want your 850 to overheat. New spark leads and coil have been fitted. The original distributor was sent off to Holland to have a 123 conversion. This is a very clever electronic ignition system which has transformed the way that Primo drives. Much of his smoothness and reliability comes from this superb mod. It wasn't cheap at over 600€ but it was well worth it. A standard distributor is supplied with the car just in case it should pack up. Not that there is any reason for it to do so. It has been fitted to the car for a number of years now and has behaved perfectly.
A reconditioned speedo was fitted soon after I bought the car and it reads over 11000 kms. The original speedo has 83000 kms which is probably right although this still equates to an average of just 2000kms a year!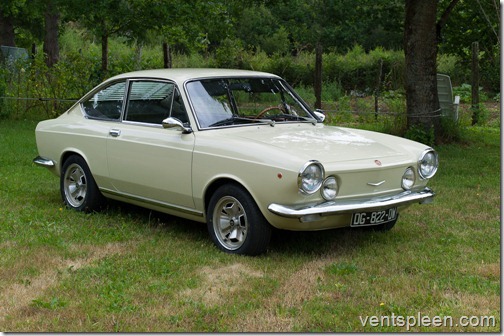 Primo is a lovely car to drive on small back roads. He's no fun on a motorway but he can do it just fine. In the time I have had Primo I have done about 12,000 kms which is not so much in 5 years but he has never abandoned me at the side of the road and has brought me much joy and pleasure. In fact he brings pleasure to everyone who sees him, especially kids and old people who always say they used to own one.
Primo is strange to drive if you're used to a modern car. The steering is heavy at low speeds and the brakes need some foot pressure to stop the car. It makes more noise than a modern car but much less than most old classic cars. But once on the move the steering becomes a pleasure, especially through a series of sweeping bends. The brakes work exceedingly well, pulling primo up straight and in a very short distance. The clutch is light and the gearbox a joy with its tighter and shorter throw.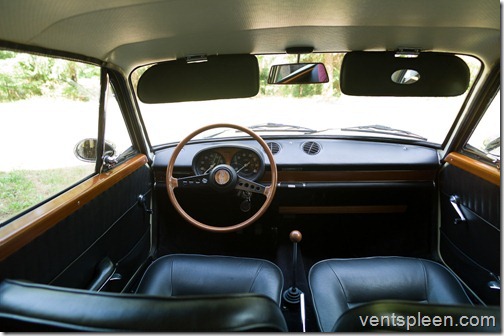 There are many Fiat 850 sport coupés for sale but few are as lovely nor as reliable and as well sorted as Primo, down to the fine details. With most of him replaced over the years there's no reason why a new owner couldn't have years of trouble free motoring with Primo.
It was never my intention to sell Primo. He was a long term project. A car to improve and make lovely. But as you no doubt know things change and now sadly I have to pass him on to a new owner. A new family means we can't all fit in him and so there's no point keeping Primo if I can't use it. He should be out on the road
He's not standard, he's better than that. With his 70hp Abarth engine, classic leather and wood interior and fabulous wheels and perfected stance he just looks the business. The 850 sport coupé is in my mind one of the prettiest cars ever made. It's also very clever for so small a car. Four seats and luggage space up front to boot. Fully independent suspension and disc brakes makes Primo about the oldest classic you can own without it feeling like an ancient car.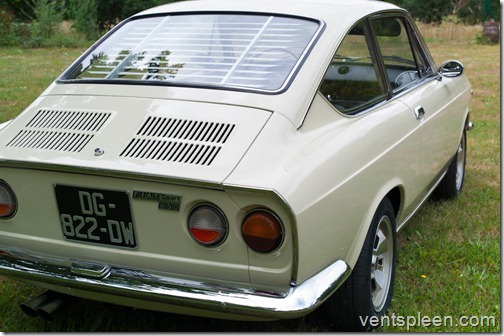 I am not saying primo is perfect. Is that even possible for any 50 year old car? But he's really very nice. He has a few issues but I prefer to think of them as character traits. The syncromesh on second is weak, a common problem with Italian cars but a change at the right revs and a gentle hand on the lever and it doesn't crunch. The windscreen has a few tiny stone chips and the drivers side window is scratched from being wound up and down many times. None of these faults spoil him and parts can still be found if the new owner wanted a really perfect car.
With the car comes the original tool kit and jack, an Abarth rocker cover, old carb and many other pieces. Primo also comes with a custom made heavy duty car cover.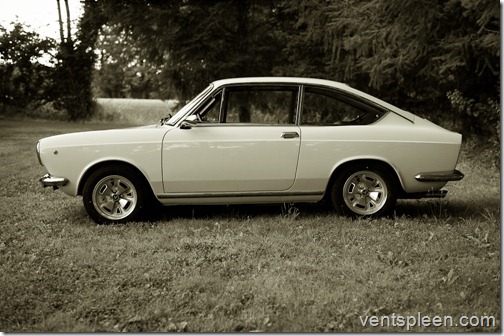 The 850 sport coupé is an appreciating classic. I have seen some selling for much more than I am asking for Primo. The price I am asking reflects the sheer amount of work and money that has gone in to him over the years.  As you can see from the pictures Primo is a really special little machine which looks standard but isn't.
Asking 15,000€
Email info@foldina.com for more information or pictures