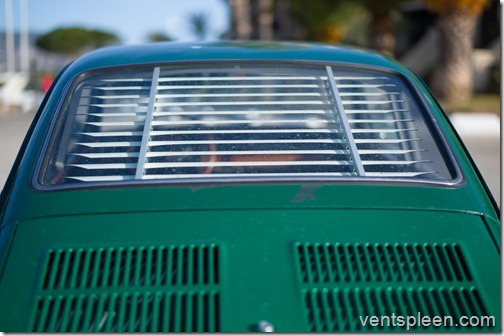 The sun is brutal in the Med and any car left outside will suffer from sun damage especially the interior. The rear screen on the Fiat 850 sport is very angled so the sun beats in mercilessly. A simple though ugly way to protect the seats is to cover them but it's far better to stop the sun coming in in the first place.
Many sports cars use a slatted black plastic cover that fits over the back window and it can look very cool. The Lamborghini Miura has and it looks great. This might look great on a 60s supercar but somehow it didn't seem to be quite right for the Fiat.
It occurred to me that I could make my own set of louvres but while researching this I came across a few pictures of an old French product from the 60s. Further searching revealed that Gradulux blinds were still made by a little company in Perpignon in southern France.
Their website is simple and there isn't too much useful info to look at and no way to buy online but there is an invitation to contact the company. Nothing ventured, nothing gained. I emailed to see if they made one for an 850 Sport. To my surprise I received a prompt reply. The price with tax and delivery was about 150€ which is not cheap but there is no way I could make something as nice for so little so I ordered one.
Being an old school company without credit card facilities meant I had to send a cheque in the post! Something I had not done for a very long time. About ten days later a small package arrived containing all the bits needed to fit your blind in your car.
Depending on the size of your back window there are two or four vertical supports to fit to the rear window. It's dead simple as you just pop the end of the support under the window rubber at the bottom and then slide the top tab in. This simple system is surprisingly effective. Then the bent metal slats are popped in to the rests on the supports. Simple. It took all of five minutes to fit the blinds.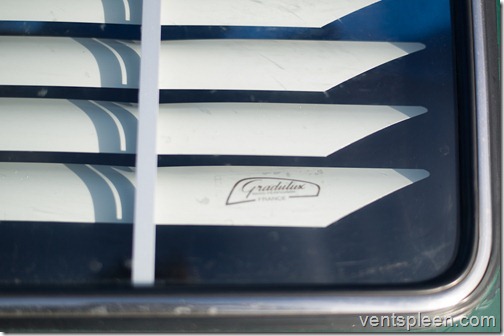 They look really nice and can be adjusted so that they do not restrict your rearward vision at all. The blinds cannot be closed completely as you can with a similar blind in a house but they can be orientated in the opposite direction enough to be able to cut out headlights behind you.
It's too early to say whether they will rattle with a window open at speed but the slats are well fitted and the vertical uprights are stiff to move without any play. There is no reason why they should make noise.
As far as period mods go, the addition of a Gradulux blind in the back window is a good one. It looks pretty rad and best of all keeps the sun off the seats and heat out of the car but if you want one they sometimes come up on Ebay for the Citroen DS or you'll have to do it the old school way and send a cheque but somehow even this seems appropriate when you consider the product.